As someone with oily-combination skin, large pores, and constant sebaceous filaments (the little worm-like things that come out of your nose when you squeeze them); clay masks are part of my weekly skincare routine. Clay masks help draw out impurities and absorb excess oils on the surface of the skin, which means its great for unclogging your pores and making your face look and feel better! As an avid clay mask user, I've tried quite a few brands. And today, I think the most affordable but great quality clay mask has to be from Innisfree, with its upgraded Innisfree Volcanic Clay Mousse Mask (Original).
CLAIMS
The Innisfree Jeju Volcanic Clay Mousse Mask (original) claims to be:
Excellent sebum absorbing effects thanks to the Jeju volcanic clusters
Helps unclog pores, reveal cleansed and healthy skin
Clay mask which is hydrating and non-drying, great for dry skin
Free from harmful ingredients such as Mineral oil, Animal ingredients and Artificial fragrances
INGREDIENTS
One of its key ingredients is the Jeju Volcanic Clusters which are natural ingredients that forms when lava from a volcano eruption solidifies on Jeju Island. It is known for its excellent sebum/oil absorption properties.
According to the COSDNA analysis here, most ingredients are rated a safety level of 1-2, except for Titanium Dioxide, Cyclopentasiloxane, Phenoxyethanol.
PACKAGING
So first off, most clay masks come in a tub… which as you open and close it, it will be exposed to air and eventually harden; making it hard to scoop out the product as time goes by. But with this upgraded version from Innisfree, I am super impressed as it immediately solves the problem with a vacuum squeeze type pump.
It comes in an aluminum spray paint like packaging.
As you can see, once you take off the cap it reveals a pump for the product to come out easily.
Other than that, there is also a small little 'open and close' cap to prevent the product from being exposed to air and hardening.
PRODUCT
The product pumps out easily with just a small pump. It looks creamy and greyish white in color. The product itself spreads easily without any effort, unlike most clay masks that harden over time. You can use a spatula or fingers to apply the product.
I apply the product evenly onto my whole face (except for the space beside my forehead as those places rarely are oily to me). For me, my oily zones are usually T-zone, forehead and the area around my cheeks can get congested with my large pores.
Once you've applied it evenly, leave it on for about 15 mins then rinse it off. Don't leave it for too long or else it will be quite hard to wash it off. It rinses easily with water and after that, I just towel dry my face.
My face feels clean, refreshed, and definitely less congested/oily/clogged pores immediately after using this. I definitely love the feeling of helping my face look and feel less oily. Although it is a clay mask, I like that this does not dry out my face either and still keeps it hydrated.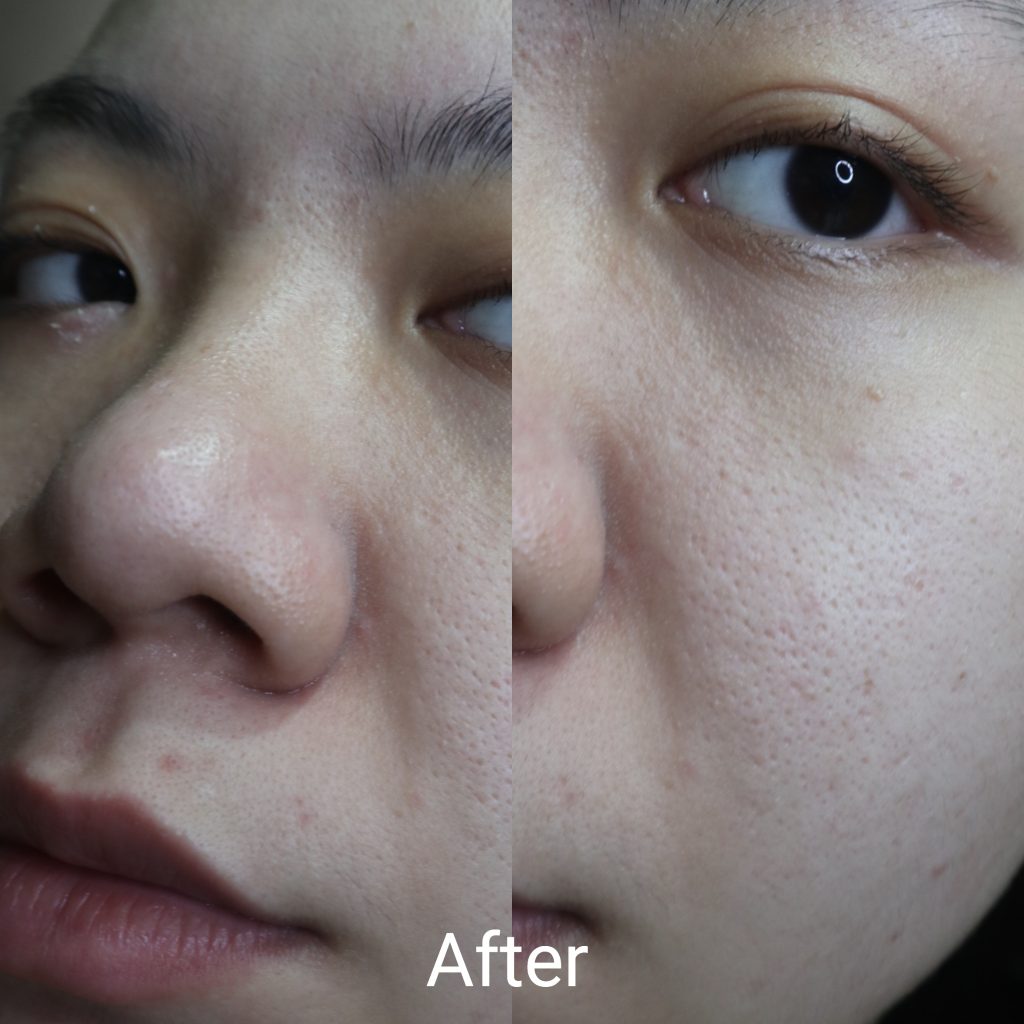 The before and after photos above do not show much visible difference, which is to be expected since clay masks are a temporary solution after all – they are not meant to be a long term miracle product that makes your pores look smaller with one use. In fact, pores usually don't change in size, and if you have big pores like me, its usually due to genetics and there's nothing much you can do about it. With that said, it's still important to use a clay mask and good skincare constantly to help keep sebum controlled and less congested.
pros.
Affordable
Excellent packaging and  doesn't cause clay mask to harden over time due to exposure to air
Spreads easily and doesn't harden like most clay masks which make it hard to scoop the product out
Help reveal cleaner, less oily/congested skin
Controls sebum and shininess
Doesn't feel dry on the skin either
cons
IN A NUTSHELL,
I definitely recommend the Innisfree Jeju Volcanic Clay Mousse Mask to everyone, especially those with oily, acne-prone skin, and large pores. I think it's a great affordable clay mask with great quality!
You can get it here!
Innisfree Jeju Volcanic Clay Mousse Mask [Original]