Looking for a shampoo to serve as a "reset" button for your scalp health, but not ready to invest in costly options? Well, let me introduce you to this affordable trial kit from Ryo, a hair care brand that focuses on scalp care for young, shiny, full and healthy hair. As every hair problem from hair loss, thinning and loss of hair, to rough and dry hair all stems from the scalp, it's vital to get your basics just right! Ryo brings the scalp back to its best possible condition. Vitality through harmony – that's what Yulryo (律呂) is.
So, if you find your usual hair or scalp care treatments losing its effiicacy, definitely pick up these babies for a much-needed deep cleanse and purification to rinse away all the built up grime!
This trial kit contains mini sizes of the Ryo Cheongamo Scalp Deep Cleansing Shampoo and Conditioner, a treatment that contains 100% fermented mint grown in Korea. Formulated with green grains, this formulation aims to cleanse away excessive sebum that causes scalp trouble.
Scalp purification + deep cleansing + sebum control!
1. Removing excess sebum from the scalp like scalp scaling.
2. 100% fermented mint grown in Korea! Upgraded 3-free formula.
3. Visual communication of more powerful and upgraded ingredients.
Both contain 50ml of product in a tube with a flip-top cap. Initially, you will find small aluminium foils stuck on the bottle opening inside, so do take them off before use.
The shampoo has a translucent bluish-green packaging which enables you to keep track of the product levels (yay!) with a gold cap, while the conditioner is packaged in an opaque forest green tube and cap. Both are travel-friendly, though do be sure to close the caps securely! Though, you can always just bring it inside the plastic outer box.
1. Scalp Deep Cleansing Shampoo: Apply an appropriate amount (recommended about a coin sized amount) on wet scalp and lather with an adequate amount of foam. Rinse thoroughly.
2. Scalp Deep Cleansing Conditioner: After shampooing, lightly remove excess water. Apply an appropriate amount of conditioner to the entire hair and leave for 1-2 minutes. Rinse well.
Both have a mild to moderate herbal-mint scent. The herbal notes are likely of the Ginseng extract included, which is the star ingredient of Ryo shampoos, however it's much milder in this than in the other lines, in my experience. The added mint gives a very fresh, natural scent and it does dissipate rather quickly after use.
1. Scalp Deep Cleansing Shampoo: Clear to pale yellow, light liquid-gel texture with turquoise-green micro capsules. Produces a mild foam once mixed with water and massaged onto the scalp. Also leaves a fresh, cool, minty feeling during and after use.
2. Scalp Deep Cleansing Conditioner: White, light cream texture that dissolves into a milky consistency once mixed with water.
Chemically-treated fine hair (dyed with permanent box dye a couple of times), so quite dry and damaged especially at the hair ends. Often frizzy due to humidity (even pre-dye). Scalp/roots considered normal (used to be more oily), but sometimes flaky. Hair loss is also an issue.
I think the most important questions when it comes to deep cleansing hair care products – especially if you have chemically-treated hair – are "is it gentle enough?" or "will it only dry my hair out more?" among many others. And to this, I say, I personally think this line of Ryo manages to achieve a sort of balance that was honestly a pleasant surprise!
Let me break it down individually for you.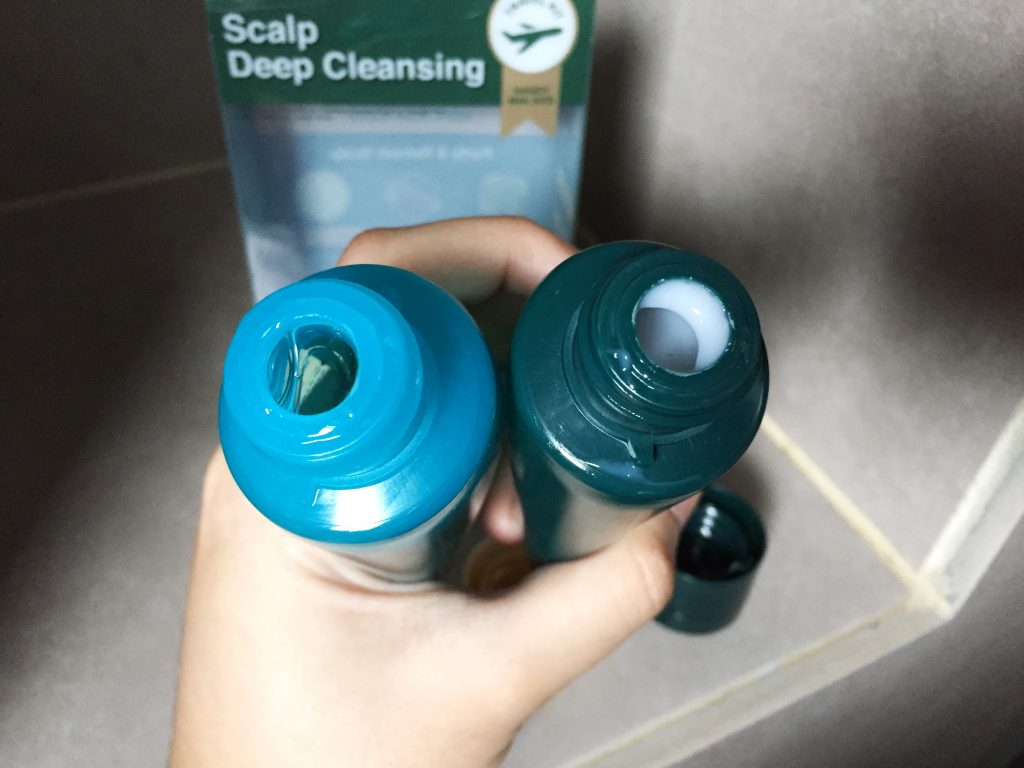 1. Scalp Deep Cleansing Shampoo:
Despite containing Sodium Laureth Sulfate as its second ingredient, this shampoo only produces a mild foam, unlike normal SLS shampoos. However, it still feels like it's cleansing your scalp sufficiently.
 If your hair is on the drier side, I definitely would not advise shampooing more than once with this because it can be quite drying on hair strands, even if you try your hardest to only focus on the scalp. Hence, don't shampoo-rinse-shampoo!
If you're prone to product build-up or face oily scalp problems, I definitely recommend this! I personally find that if I have days of not washing my hair and my hair becomes a limp, oily mess, cleansing once with this shampoo will instantly remove all that grime.
I also find this shampoo much gentler and more forgiving on my hair than other "deep cleansing" or "clarifying" shampoos that have repeatedly stripped my scalp worse.
1. Scalp Deep Cleansing Conditioner:
Usually, after a clarifying shampoo, my hair needs a thick, heavy duty conditioner to combat the dryness and tangles. However, to my pleasant surprise, this light-textured coidtioner actually pairs well with the shampoo, leaving my hair minty clean and soft.
I've also found that the instruction of using it all over the hair works much better than if I just apply the conidtioner on the mid-to-end of my hair like I usually do. No greasiness, promise!
Also do leave it on for a few minutes as directed, as this helps the conidtioner penetrate and absorb more into the hair to lessen the dryness from the shampoo. Pro tip: Use a moisturising hair treatment in between this shampoo and conditioner for extra softness! A hair oil afterwards would be great too.
 (4/5)
Overall, this is a good shampoo and conditioner combo to use, and the affordable trial kit serves as a great tester if you're interested in trying this hair duo out! However, if you have coloured hair, I wouldn't advise using this shampoo frequently as it may strip the colour of your hair with the SLS content in the long run. Though, if you're like me and the scalp area now only has natural hair… then, be my guest! It's definitely great to use for instant hair purification once in awhile.