Have you ever experienced where your day was ruined because of your eyeliner? I've experienced it a lot! I even practiced to draw nicely but suddenly the ink would dry up. The eyeliner tip became too thick and even worse it's completely uneven. I've been looking for THE perfect pen eyeliner for daily use and after a few trials, I think I have found the best one!
Since I love to create natural eyeliner, I have encountered a product from the city of K-Pop Lilybyred AM9 To PM9 Survival Pen Liner in shade Matte Brown. I love to choose brown eyeliners to create a natural eye look because brown shade can make our eyes look bigger and more natural compared to use the black shade. Most brown eyeliner I have tried are less pigmented and too watery which really failed to impress me. But do you think this pen liner managed to impress me?
PRODUCT INFORMATION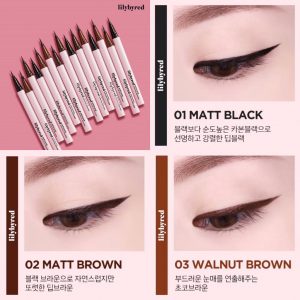 Lilybyred is known for their aesthetic campaign and good product formulation. Lilybyred AM9 To PM9 Survival Pen Liner claims to be long lasting that could last long from 9 am till 9 pm without any smudge. Without smudge means that it is waterproof!
It comes in three shades; Black, Matte Brown and Walnut Brown. I decided to review Matte Brown because Black seems too common for eyeliner colour and Walnut Brown is not available in Hermo. It has a matte finishing and dries quickly so I don't have to wait for it to dry.
It claims to have the thinnest tip with 0.1mm size which I really like because it's so easy to control it. I like to create wing eyeliner hence the thin tip will help a lot in creating sharp and clean wing eyeliner. Usually, wing eyeliner will not create a clean line but this is an exception.
PACKAGING
Although their packaging seems boring and too simple, but their formulation that we aim for. Firstly, we are going to go deep into their 0.1mm thin tip brush. I can say that this thin tip is a promising brush because you can see how I control this thin tip brush. There are three types of thickness I could get from this AM9 To PM9 Survival Pen Liner.
Did you know that their tip brush is highly elastic with a ultra fine brush that will ease your application? When it is highly elastic, you can keep the consistency of the application which you will easy get almost the same eyeliner shape every time. You will feel more comfortable when the tip of the brush is elastic.
SWATCHES
As you can see, I love their pigmentation! It's matte and pigmented. Although it is pigmented, it is smudge proof which is it won't easily leave any stain. I like how it is waterproof because I used to sweat a lot on my under eye and usually I had a problem on my inner corner. But using this liner, it remains there without leaving any stains.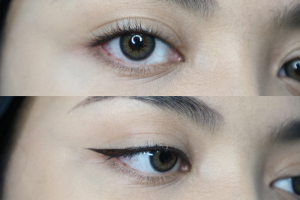 INGREDIENTS
WATER, IRON OXIDES(CI 77491), STYRENE/ACRYLATES COPOLYMER, BUTYLENE GLYCOL, IRON OXIDES(CI 77499), BLACK2 (CI 77266), ALCOHOL, BEHENETH-30, SODIUM POLYASPARTATE, PHENOXYETHANOL, ACRYLATES/OCTYLACRYLAMIDE COPOLYMER, PENTYLENE GLYCOL, 1,2-HEXANEDIOL, CAPRYLYL GLYCOL, ETHYLHEXYLGLYCERIN, DISODIUM EDTA, SODIUM DEHYDROACETATE, SODIUM HYDROXIDE, XANTHAN GUM
RATE
I would love to give this 9/10. I really love the formulation that is hardly seen from other brands. It glides smoothly on my waterline and remains on my lids without smudge. The majority of Koreans love to get this because of the shades that they provide and their thin brush tip that helps a lot for them to create a soft puppy eye look. I have tried the puppy eye look using this eye liner and I can say it is easily achievable.
I believe this Lilybyred AM9 To PM9 Survival Pen Liner should really be used by everyone and especially to those who love the Korean eye look. It will make your eyes look bigger without making any smokey stain because it is smudge proof.
However, I would love it if this eyeliner packaging is fancier. The packaging is in plain pink with minimum details so it looks a little bit boring. As someone who loves fancy packaging, I would say this would be the only brand that didn't really catch my attention regarding their packaging. But, like I mentioned before, their formulation is the most important part.
SHOP HERE