I heard a lot about the brand Klairs but haven't tested anything from this brand yet. I'm waiting for any upcoming promotion and I will grab their toner and cleanser instead! So meanwhile let's try out their mask first. 
Klairs Midnight Blue Calming Sheet Mask is formulated to calm the skin with ingredients that decrease sensitivity. With BHA derived from Willow Bark Extract and Erythritol, it helps to clear out pores and minimize oiliness and relieves skin redness. I'm dying to try this mask because of my acne prone skin since young. Sometimes, I really sad to look at my own skin. I wish I had a clearer skin and a drier skin instead of an oily skin. But on the other hand, a dry skin might cause my face so flaky. Arghh, this is so frustrating.
What is BHA?
BHA stands for beta-hydroxy acid. Almost found in all acne agent cream or gel. BHAs are organic carboxylic acids that work on skin's surface and deep inside the pore. They are oil-soluble, preferred for normal to oily skin that's prone to bumps, clogs, blemishes, and enlarged pores. But overdose or over using it may cause burned on skin. Tea tree oil and Centella Asiatica Extract also one of the effective ingredients used to fight acne and heal breakouts or irritated skin. Great for after-sun use or anytime you need some cooling, calming relief. I love to test out new mask before I buy the full pack. In case, they're not suitable for my skin.
Recommended for:
1) For skin that is easily heated due to irritation.
2) For skin that feels clogged when applying oil products.
3) For oily skin with active sebum secretion.
4) For skin that frequently undergoes facial extraction.
How to use:
BEFORE OPENING, RUB LIGHTLY FOR THE SHEET AND LIQUID TO MIX WELL. 
1) AFTER CLEANSING, PLACE THE SHEET ON CLEAN/TONED SKIN. 
2) WAIT 15-20 MINUTES, AND GENTLY REMOVE THE MASK. TAP LIGHTLY TO LET THE ESSENCE FULLY ABSORB.
My thoughts:
The biggest improvement I saw from this single application was calmness of my skin. Redness was completely gone and my skin tone looked healthy and even. There wasn't any brightening effect to my skin though. I think it looked slightly plumper and slightly smoother skin texture after application. Not really a strong smell for this mask. Almost odorless I would say. But one thing I dislike was the sheet does not fit my face nicely, especially on nose area and jaw. Seems like out of shape and does not cover well. It was a mess when applying the mask as it was separated to two different pieces which is the upper and bottom part. But overall, this is a good mask and I will repurchase in future. But kind of pricey for a piece of mask.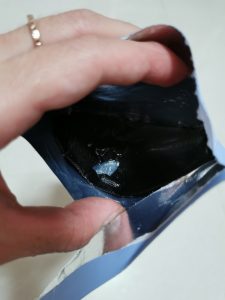 Full ingredients:
Water, Butylene Glycol, Methylpropanediol, Glycereth-26, 1,2 Hexanediol, Salix Alba (Willow) Bark Extract, Glycerin, Erythritol, Arginine, Carbomer, Carrageenan, Betaine, Allantoin, Ethylhexylglycerin, Propanediol, Polyglyceryl-10 Laurate, Glyceryl Acrylate/Acrylic Acid Copolymer, PVM/MA Copolymer, Disodium EDTA, Dipotassium Glycyrrhizate, Melaleuca Alternifolia (Tea Tree) Leaf Oil, Centella Asiatica Extract
*Please refer to the ingredients list on the product packaging for the most accurate list of ingredients.