Have you ever wondered why your skin feels so dry as if its lack of water? Do you feel itchy, increase appearance of wrinkles and dullness? These are the signs that you may have dehydrated skin. Dehydrated skin means your skin is lacking of water. Your skin maybe appear unhealthy complexion and uneven tone.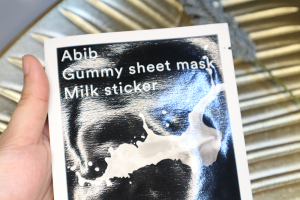 Introducing, Abib Gummy Sheet Mask Milk Sticker that specialize in Revitalizing which to helps moisturize your skin. Abib is a company from city of 'Skin Care Heaven' and Abib means 'the first moon' that aims to make and complete the most perfect and pure cosmetics from starting point of beauty cycle process.
PRODUCT INFORMATION
Abib Gummy Sheet Mask comes in 4 variants to match to your skin concern; Aqua, Heartleaf, Madecassoside and Milk. But today, in our humid country mostly experiencing dehydration due to scorching weather. Hence, we need Milk to help restore moist in our skin.
When it comes to hydration, our most essential ingredients needed in our skincare routine is Hyaluronic Acid (HA). The Gummy Sheet Mask Milk Sticker contains Sodium Hyaluronate(SH) which is a derivative of Hyaluronic Acid or specifically a salt form of Hyaluronic Acid. It will penetrate easily into the skin, especially, into the pores as it has lower molecular weight than HA and hydrolyzed HA.
This ingredient will help speed up in reducing fine lines and wrinkles and also boost up moisture into our skin. Comparing to Hyaluronic Acid, Sodium Hyaluronate does the same like Hyaluronic Acid but in deeper level. However, some would be intolerant towards Sodium Hyaluronate but their skin would suit the most with Hyaluronic Acid. This is because a theory was discovered that lower molecular size of sodium hyaluronate could cause inflammation to the skin.
PACKAGING
In this sleek matte embossed packaging, it is label with information as such ingredients and how to use. Although Abib is origin from Korea which they would use Korean lettering, but they're also considerate towards their international users. That's why they provided English translation for their product information.
Do you know that this sheet mask seems special because they are using microfiber sheets? This is because the rate of active ingredients in the sheet mask pack depends on the sheet adhesion. Gummy Sheet Mask is known to be woven using a special technique so it will effectively absorb the product into the skin.
CLOSE UP
The mask itself is packed with a blue plastic sheet which you need to remove before apply it on face. The blue plastic is to avoid the sheet mask from sticking together which I find very convenient.
It fits perfectly on my face with just a little amount of extra sheet which does not really bother me. At first, the mask is kinda slippery which moves around easily but after awhile it adhered to my face and did not move an inch just like the concept, Gummy Sheet Mask Milk Sticker. And here is a close up version, as you can see the sheet mask is not too thin but not too thick and it restore a lot of milk essence on it.
INGREDIENTS
Water, Dipropylene Glycol, Glycerin, Caprylic/Capric Triglyceride, Cetyl Ethylhexanoate, Niacinamide, Glyceryl Stearate, Polyglyceryl-3 Methylglucose Distearate, Glycereth-26, Dimethicone, PEG-100 Stearate, Butylene Glycol, Panthenol, Paeonia Suffruticosa Root Extract, Centella Asiatica Extract, 1,2-Hexanediol, Carbomer, Chamomilla Recutita (Matricaria) Flower Extract, Pyrus Malus (Apple) Seed Extract, Milk Protein Extract, Glyceryl Caprylate, Xanthan Gum, Ethylhexylglycerin, Potassium Hydroxide, Hydroxyethylcellulose, Allantoin, Sodium Hyaluronate, Hamamelis Virginiana (Witch Hazel) Extract, Ethoxydiglycol, Pyrus Malus (Apple) Fruit Extract, Silica, Prunus Serotina (Wild Cherry) Fruit Extract, Ammonium Acryloyldimethyltaurate/VP Copolymer, Polyquaternium-51, Disodium EDTA, Phenoxyethanol, Fragrance
RATE
I would rate this 7/10. According to their description, "the mask deeply hydrates your skin, resulting in more revitalized appearance". It really makes my skin hydrated and look fresh through out the day. If I don't use this mask at night, I would be facing dull skin in the morning! But after give this a try, my skin looks youthful and plump right after I woke up. Abib really did a good job in providing sheet mask with the best formulation.
Besides, they are using microfiber sheets which is a good sheet to be use as a mask because all of the products will easily be collected. Hence, when we apply it on our skin, it will transfer all the products and let it absorb easily into our skin.
SHOP HERE