Are you familiar with the brand SNP? Have you tried their highly raved about bio-cell sheet masks?
Well SNP is a Korean professional cosmeceutical brand which always researches products for healthy skin through understanding of client's skin concern. Its visions are: prioritizing client's skin, only using ingredients that are safe, verified to be effective, and making skin pure. Its mission is to supply optimal solution for healthy skin by developing safe and scientific formula based on experience of skin specialist and scientific research.
So I tried their bio-cell sheetmask, the #doublenutrition variant.
Ingredients
Water, Dipropylene Glycol, Butylene Glycol, Glycerin, Niacinamide, Glycereth-26, 1,2-Hexanediol, Hydroxyacetophenone, Propanediol, Betaine, Methyl Gluceth-20, Hydroxyethyl Urea, Polyglyceryl-10 Laurate, Carbomer, Arginine, Adenosine, "Cocos Nucifera (Coconut) Fruit Juice," Dipotassium Glycyrrhizate, "Hydroxyethyl Acrylate/Sodium Acryloyldimethyl Taurate Copolymer," Cocos Nucifera (Coconut) Water, Xanthan Gum, Fragrance, Panthenol, Allantoin, "Persea Gratissima (Avocado) Fruit Extract," Sodium Hyaluronate, Sorbitan Isostearate, Palmitoyl Tripeptide-5, Theanine, Milk Lipids, Glutathione, "Hydrogenated Phosphatidylcholine," Caprylic/Capric Triglyceride, Sucrose Stearate, Centella Asiatica Extract, Cetearyl Alcohol, Asiatic Acid, Asiaticoside, Madecassic Acid, Disodium EDTA, Madecassoside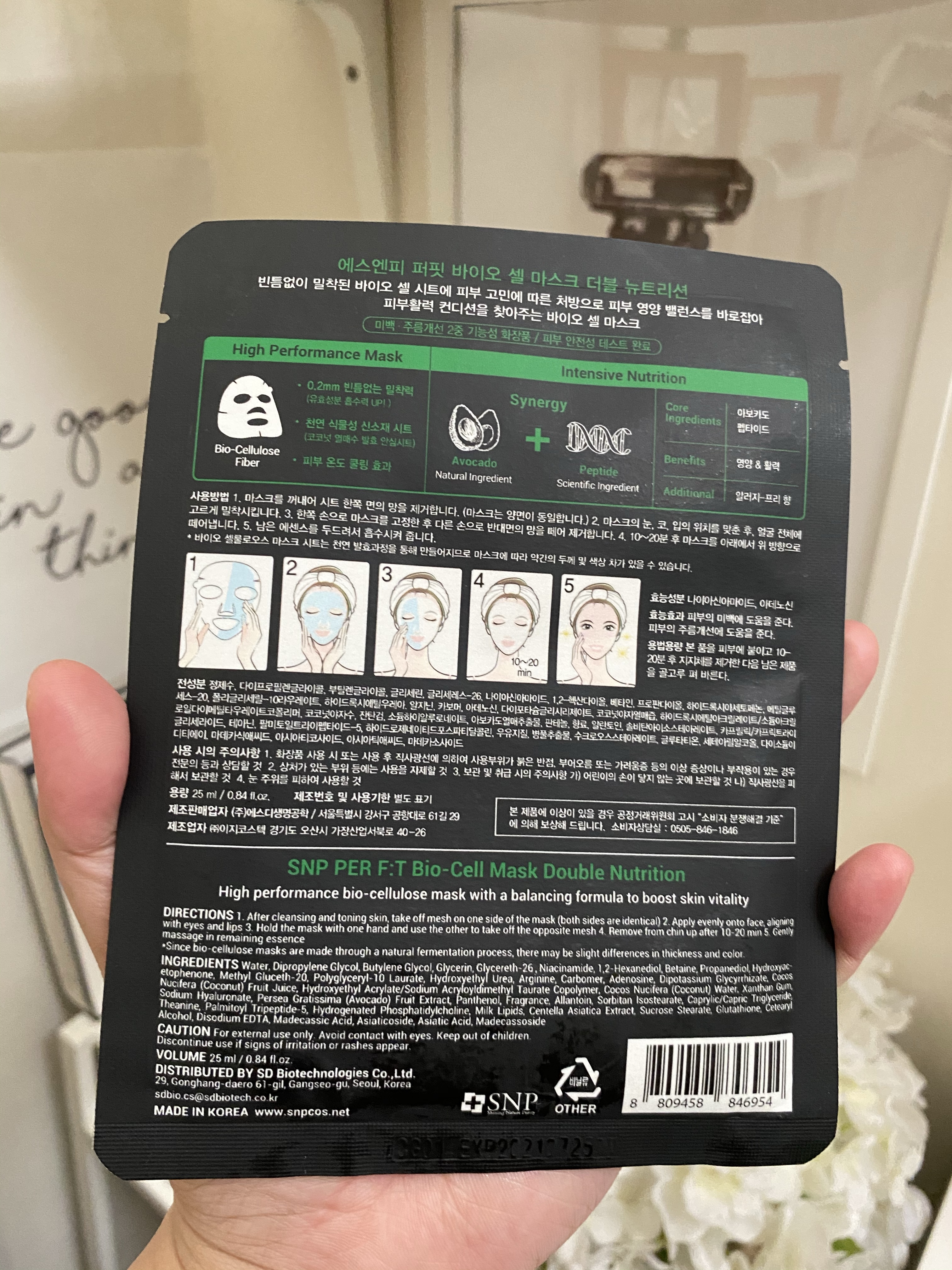 As seen on the packaging, key ingredient for this mask is avocado extract which is good for skin nourishment as according to this website:
The natural oils in avocados can deeply penetrate the skin to nourish, soften and hydrate, Eyerman explains: "The hydrating properties may reduce fine lines and wrinkles, help keep skin smooth and boost skin's immunity against stress and other environmental factors." Specifically, antioxidants such as vitamins E and C help protect cells from free radical damage—one of the best anti-aging methods, points out California-based dietitian and nutritionist Jessica Gust, MS, RDN. Avocados also contain lutein, a carotenoid that promotes skin elasticity, while oleic acid and chlorophyll help to reduce redness and inflammation.
This mask provides powerful nutrition with the combination of avocado extract and added peptides. Both ingredients work together to provide extra double nourishing properties. Other notable ingredients include niacinamide, centella asiatica extract, asiaticoside, madecassoside, and panthenol.
Here is what I think of this mask:
Sheet: 6/5
This is hands down the most unique and comfortable sheet I have ever tried. It looks and feels high-tech. No wonder SNP calls this the "next generation in sheet mask technology"! To compare this with cotton type sheet and hydrogel type sheet, this bio cellulose is the best for me.
It is transparent. When you touch it, it is extremely moist, and when I apply it to my face, it feels instantly refreshing and cooling. This is no joke, man. I wish you can try it yourself and see what I am hyping up about.
Originally developed as an artificial skin to treat severe burns and chronic wounds, bio cellulose is now used for sheet masks as well. It is derived from fermented coconut and has the ability to tightly conform to the skin. It is super thin and soft and feels like jelly to me. It retains water and moisture so the sheet always feels so cooling.
The bio cell is sandwiched between two mesh separators so I can apply it easily without any worry of tearing it or making it lose its shape.
I took off and it is still damp. I give it 6/5 because it feels so so so wonderful!!
Adherence: 5/5
As the sheet fabric is like jelly, it clings to the skin like a second skin.
It does not slide down when I am standing up and moving about so I love how this beautiful adherence gives me freedom to do just about anything. It also gets to every part of my face, adhering to it very tightly. As a mother, I really really appreciate this as no house chores can stop me from sheet masking. Adherence for me is very important for the masking experience and also to deliver the benefits of the ingredients in the essence successfully.
Fitting: 4.5/5
The sheet is quite elastic so I can pull it to make the eyeholes fit as I wish. I am also glad that the size is big enough for my enormous round face. It fits my nose and mouth just fine, I experience no difficulty placing and asjusting the mask on my face.
However I wish that it is a lot bigger to cover my whole forehead hahaha
Essence: 4.5/5
This sheet mask contains 22ml of essence. There is no leftover essence in the packet because I think the bio cell sheet absorbs it all and retains it.
A nice subtle avocado smell detected. Essence not drippy and not runny, which is super comfortable for me. Essence texture is quite viscous, feels quite tacky but it gets better as I take it off and it dries down nicely.
Overall:5/5
I've used two packets of this #doublenutrition variant and it really lives up to its claim of skin nourishing and moisturising as my skin feels really chok chok the moment I took it off. I feel that the moisturising power is deep and long lasting. I also observed that skin feels plump indeed. The second time I used this I massaged my face with a jade roller after taking it off and it leaves my skin feeling firm and truly bouncy. The masking experience is also a hassle-free and relaxing one so it scores a lot for me. For me this mask is definitely a perfect choice BOTH for a pamper session with a jade roller or if you're a busy bee, just slap on this mask and go about doing house chores!
SHOP HERE
SNP Double-Synergy Bio-Cell Mask