Have you ever wondered why your lips would crack after using lipstick/lip creams especially with matte formulation? This is because our lips are not hydrated and did not apply any proper base to coat your lips before the application. It will look uneven especially you are having chapped and cracked lips. It will enhance your flaws instead. Hence, you need to use a lip primer before the lipstick. Yes, before lipstick application we do have lip primer which not really common in our society. But once you are introduced to this product, you would definitely need lip primer all the time.
3ina introduced their amazing and helpful product into beauty society which is 3ina Lip Primer. This Spanish brand carries many types of makeup but their lip primer is one of the best seller. Lip primer is purposely to smooth our lips texture and give you mattifying effect. However, it will not dry up your lips even though it is mattifying.
PRODUCT INFORMATION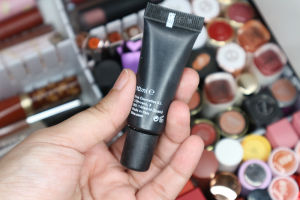 3ina Lip Primer is a vegan lip primer that only use natural ingredients. The key ingredients in this product are cornstarch and hyaluronic acid. Cornstarch is included is to give a silky but dry feel texture. Also, some would find it is better at absorbing excess oil without looking cakey. Cornstarch is also used as a thickening agent. As for hyaluronic acid, it is to help moisturize your lips because it works as an agent to restore the moist because it could reduce the appearance of dry or damaged skin and reducing flaking.
In this water-based lip primer,  it will give you a coat of silky texture yet hydrating. After leave them dry for few seconds, you can see the difference when you apply your matte lipstick. It is not only make your lipstick looks more pigmented, but also make it look fresh and soft.
PACKAGING
It is small black matte tube with 10 ml only. But do yo know, the worth of 10 ml could last more than 6 months daily usage? You only need a pearl size to apply on both upper and lower lips. To control the products from coming out, they using a funnel shape so we could easily drop it on our lips.
It has silky-thick texture with pink tint (oh don't worry, it is part of their formulation). When you apply it, it requires few seconds to dry up before lipstick application. Once it dries up, you can feel how plump and soft your lips. However, due to their funnel shape applicator, I barely squeeze it a bit hard causing them to overflow (hmm what a waste).
It is also palm size which it can fit into your palm. By meaning you don't have to worry about it to take up spaces in your makeup bag because it will not take any spaces. I can say that it is travel-friendly size due to small size. It is also have a little fragrance. In my opinion, it is not disturbing but depends. I find it is comfortable even though there is fragrance.
BEFORE AND AFTER
As you can see, my lips without 3ina Lip Primer. It is dry and cracked. But after using it, you can see my lips soft and plump with a hint of pink tint.
You can the difference when you apply lip primer on your lips. You lipstick will look smooth and moist compared to without lip primer. 3ina Lip Primer's formulation could reduce appearance of wrinkles and fine lines on the lips.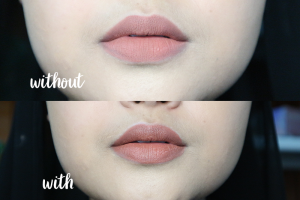 INGREDIENTS
AQUA (WATER), ALUMINUM STARCH OCTENYLSUCCINATE, PROPANEDIOL, DICAPRYLYL CARBONATE, PPG-3 CAPRYLYL ETHER, PHENOXYETHANOL, MICA, GLUCONOLACTONE, POLYACRYLAMIDE, C13-14 ISOPARAFFIN, SODIUM BENZOATE, PARFUM (FRAGRANCE), LAURETH-7, TIN OXIDE, CALCIUM GLUCONATE, XANTHAN GUM, SODIUM HYALURONATE, CAPRYLYL GLYCOL, GLUCOSE, ETHYLHEXYLGLYCERIN, CHONDRUS CRISPUS POWDER. +/- (MAY CONTAIN): CI 77891 (TITANIUM DIOXIDE), CI 14700 (RED 4).
RATE
I would rate this product 9/10. This would be the best lip primer I've every tried because it blurs out all the fine lines and wrinkles on my lips. Besides, this product is very underrated when actually they are so good in formulation. Usually, lip primer will leave you white casts and make our lips even obvious with chapped lips. But using 3ina Lip Primer, I would say that there is not white casts on our lips after application.
Do you know that my lipstick last longer when I use along with 3ina Lip Primer? I have compared with and without lip primer and the winner would be with lip primer. Usually, few spoon after eating, it will slowly faded and leave patches. But when I use 3ina Lip Primer, it last longer and did not leave any patches. I would really recommend this if you feel like to try a lip primer.
SIMILAR PRODUCT