Out of all the sheet masks that I have seen on social media and online shopping platforms, there is one mask that I am curious to try. It is black and it is meant to calm the skin. Yes, you got it right! It is the Midnight Blue Calming Sheet Mask from the brand Klairs.
Finally, I purchased it to satisfy my curiosity. So, today I am going to share my experiences with this mask.
What is it? 
An anti-inflammatory & cooling care 'Blue Calming Mask'.
Whether it be internal or external factors, our skin is exposed to various irritation on a daily basis.
For these everyday stimulations, daily care to ease the irritation is necessary.
Low irritating and cooling ingredients such as Erythritol is used to rapidly lower the skin's temperature and reduce irritation. The sheet to maximize the softness is used to increase calming and balance out the cooling effect of the mask. Bamboo Charcoal on the low irritant sheet makes it comfortable for sensitive skin, and maintains moisture for a long time.
Recommended for:
1) For skin that is easily heated due to irritation.
2) For skin that feels clogged when applying oil products.
3) For oily skin with active sebum secretion.
4) For skin that frequently undergoes facial extraction.
– Hermo
Key Ingredients: 
Salix Alba (Willow) Bark Extract – gives sebum and pore care
Erythritol – lowers the skin's temperature
Dipotassium Glycyrrhizate( licorice root extract) – helps even out skin tone
Melaleuca Alternifolia (Tea Tree) Leaf Oil – controls blackhead and oil production
Centella Asiatica Extract – helps in calming and healing the skin
Volume: 25ml
The Sheet:
It is made from soft and plush rayon sheet. Bamboo and charcoal powder is added to keep the skin balanced and hydrated. That explains why is it black.
It comes in 2 separate sheets;
1 for the upper face that covers forehead, upper cheek and nose areas
1 for the lower face that covers the lower cheeks area, mouth and jaw
The Essence: 
Lightweight, clear and viscous with mild scent of oitment.
My Experiences:
When I first took out the sheet mask from the packet, I am quite surprised seeing that it comes in 2 separate sheets. Good thing about it is it makes it easy to adjust the sheet mask to cover my round face perfectly. The material is a soft rayon that adhered well to my face, it did not budge at all.
The sheet is packed with essence since there is no leftover in the packet. I did not experience any drip of the essence.
I love the instant cooling upon applying rhe mask. I usually refrigerate my sheet mask for extra cooling sensation.
The mask started to dry up on the 15th minutes, especially around the nose area, so I removed both the pieces that are still damp.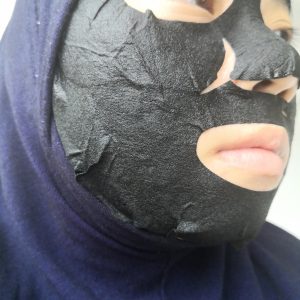 I pat on the remaining essence on my face that absorbed into my skin within 1-2 minutes. It leaves an initial tacky finish that subsided as it is fully absorbed.
I love how my skin is hydrated, cooled down post-masking. I can definitely see my pimples look calmed and soothed. My skin felt softer and smoother. I'll repurchase it for an instant SOS for my angry pimples or calming heated skin.
Rating : 5/5
SHOP HERE
Klairs Midnight Blue Calming Sheet Mask