SUNSCREEN! SUNSCREEN! SUNSCREEN! It is the most important basic skincare that you need to wear everyday! There are reasons why you need to wear sunscreen daily no matter you will be indoor or outdoor the whole day. Sunscreen is a must because it could prevent your skin from exposing to the UV rays that will cause skin cancer. Besides, it will reduce the pigmentation and slowing the process of aging. Majority are having skin concern at the old age because when they are younger, they did not practice to use sunscreen in their skincare routine.
But, you are keen on sunscreen that's not sticky, moisturizing and giving glowing effect without leaving a white cast?
Say hello to Canmake Mermaid Skin Gel UV SPF 50+ PA++++! A lightweight sunscreen that will make your skin feel fresh through out the day. It didn't leave any stickiness or white cast because it is a watery gel texture. By meaning of mermaid skin, you can achieve a clear glowing skin like a mermaid. Usually, sunscreen that sold at the store will have a thick texture that will leave you uncomfortable feeling. But Canmake Mermaid Skin Gel UV SPF 50+ PA++++ is the same like others?
PRODUCT INFORMATION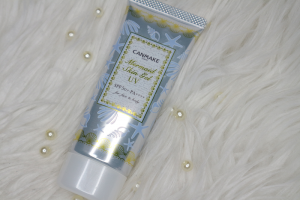 This Mermaid Skin Gel UV SPF 50+ PA++++ will break down into watery texture when you apply onto your skin. It works as moisturizer too because it could infused their moisture into the skin. Some would use this as a make up base because the moisture that they stored could make you make up last longer and helps your foundation to stay still. But what's even good is that they have UV protection. Besides from working as a sunscreen, it is also works as make up base.
What I love about this product, it does not contain ALCOHOL; it is not good for sensitive skin especially. When there are too much alcohol in a sunscreen, it may irritate the skin and leave our skin extra dry. It is not advisable to use sunscreen that contained alcohol because alcohol in skin care and cosmetics can be considered harmful to the skin.
But this sunscreen is advisable to be used indoors or less exposure to sun. In my opinion, when I tried this sunscreen for outdoor, I tend to sweat and it cause the sunscreen to melt. Also, it is not waterproof so it is not suggested for outdoor that need activities because it will slides easily.
PACKAGING
It is made into squeezable portable tube with amount of 40ml per tube. For me it is quite expensive. You'll probably need to wait for a sale. And if you're using it daily and often, it will finished within a month or so.
Also, the tube is super adorable. It is exactly the theme of a mermaid. A combination of silver tube with some seashells pattern printed on it. It is also have some fragrance, but based on their ingredient lists, there is no fragrance mention. Most probably the scent comes from the natural ingredients that included in the sunscreen.
SWATCHES
It may look like creamy but actually it has a watery gel texture which easily absorbs into the skin. It gives a glowing effect that not all sunscreen may have. You may also realized that my hand look slightly brighter because in my opinion, it also brighten up your skin.
INGREDIENTS
Water, octinocate, butylene glycol, uvinal a plus, zinc oxide, methylheptyl ester of lauric acid, titanium dioxide, dimethicone, Tinosorb S, polymethylsilsesquioxane, cyclopentasiloxane, sodium hydroxyethyl acrylate / acryloyldimethyl taurate copolymer diisostearyl malate, hydroxide Al, PEG-60 hydrogenated castor oil, stearic acid, phenoxyethanol, polyglyceryl-3 polydimethylsiloxiethyl dimethicone, polyhydroxystearyl acid, jojoba ester, xanthan gum, arginine, hyaluronic acid, alpha-glucan, phytic acid, saxifraga sarmentosa extract, glucosylceramide, cherry leaf extract, job's tears seed extract, morus alba root extract, onethera biennis seed extract, silver oxide, Queen of the Meadow flower extract, bilberry leaf extract, artichoke leaf extract
RATE
This is my favorite sunscreen especially for indoor activities, so I could give 8 out of 10. It gives me a full moisture that I need and I could feel that they absorbed quickly into the skin. It leaves you dewy effect but if you have oily skin, most probably you need to use a little amount because it has super duper dewy effect.
However, I could sense a little texture of silicone in it which I don't really like it. It could be found in any sunscreen, but compared to any other sunscreen, I would say this would be the lightest silicone texture I've ever tried. It is nothing to be bothered actually because probably it is infused to give silky-like and smooth finishing. Other than that, it is a perfect lightweight sunscreen for daily.
SHOP HERE