Have you ever wondered how Japanese and Korean ladies achieved their flawless makeup look besides a strong skincare routine? As you can see, their makeup regime is not heavy as ours. Basically, they would use primer and cushion to complete their makeup look. But how did they managed to get through with only two products through out the day?
In 2015, Cezanne introduced this Make Keep Base which is a makeup base that hold your makeup while giving flawless finishing without drying. In 2018, Cezanne had won a Cosme award for their Make Keep Base which highly raved among Japanese because of their formulation. We can achieve no make up look with a healthy feature by using Make Keep Base from Cezanne. Wow! But how? Here are the points that you really need to focus on…
PRODUCT INFORMATION
Don't be afraid if you had a problem in finding the right make up base for your skin because Cezanne Make Keep Base comes in two types to help color correct your skin; Pink and Blue. Blue was introduced in 2018 due to high demand from fair skin tone.
Pink: It is made for oily skin which it will helps in controlling sebum and it will bright up your skin naturally. Pink has slight beige undertone to match Asian skin tone. Hence, it will color correct your skin and glows up naturally as if it is your real skin. Also, it will not leave unnatural white cast on your skin while it brightens up your skin.
Blue: It is made for dry skin that helps in moisturizing your skin and also it is made for natural fair skin. As we know, Japanese has fair skin, more to milky tone. If they used the Pink version, they might had darker face compared to their neck. Hence, Blue was made for natural fair skin. It has their own color correction to tone up fair skin.
Although it is volume at 30 ml per bottle, I can say this would last up to 9 months. A minimal volume needed to apply on your face, hence, that is the reason it could last up to 9 months. I would wear this daily as it contains SPF28 PA++. Do you know that this Make Keep Base won't leave any white cast even you are wearing along with your sunscreen? That is the best part of this make up base because it will not ruin your base skincare.
PACKAGING
I really like their small tube that even look like a bit plump, but easily to put in our makeup bag which it will not take too much space. Since it is watery texture, they are using funnel-type to bring out the products. All you need to shake to mix the formulation before pouring it on your face.
Even though it is watery texture, we can still control the product dispensing with controlled pressure. It won't spill easily because you need to pinch the tube. I find it is very practical and convenient to use.
SWATCHES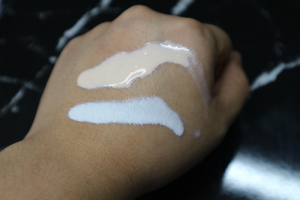 You can see the difference between the two tubes; Pink (top) and Blue (below). Pink has natural shades that easier match to your skin tone. It will helps your skin glow up naturally with a hint of pinkish tone. Compared to Blue, it has blue tint that match to fair skin tone especially Japanese and Korean skin which they really have fair skin compared to our skin tone.
INGREDIENTS
These are the major ingredients in Cezanne Make Keep Base:
Cyclopentasiloxane, water, zinc oxide, BG, titanium oxide, PEG-9 polydimethylsiloxyethyl dimethicone, dimethicone, PEG-10 dimethicone, silica, trifluoroalkyldimethyltrimethylsiloxysilicate, acetyl hyaluronate Na, camomile flower oil , Sage leaf extract, tocopherol, glycyrrhizinic acid 2K, hydrogenated polyisobutene, polymethylsilsesquioxane, hydroxypropyl cyclodextrin, Al hydroxide, hydrogen dimethicone, iron oxide, Novara oil, ethylhexyl glycerin, propynyl butylcarbamate
RATE
I would rate this 10/10. This is the best makeup base I've ever tried. Despite their moisture, texture and formulation, everything is perfect. Did I mention that it is water-resistant? By meaning that it will last long even though you are sweating. Sometimes I would wear it without foundation because this makeup base works wonder like a tinted primer. Basically, I don't need to use foundation just to brighten up my skin.
I was surprised that they actually blurs out my pores even they are in watery texture. Their formulation makes it easily absorbed into my skin and stay hydrated through out the day. I would really recommend this product especially you are someone who wore light makeup. You won't need to apply foundation; just top it off with finishing powder to complete your make up look.
SHOP HERE