The flushed orange makeup look has been super trendy on the korean makeup scene for awhile now and I've been wanting to try out the look for the longest time, but have failed multiple times simply by being unable to find the right blush colour. I always chose coral tones but it ended up being too pinkish despite the swatch showing overwise. Finally, I stumbled across Lilybyred's Luv Beam Cheek which features a flush orange shade blush which perfectly met my needs. 
Lilybyred's Luv Beam Cheek is definitely true to its shade based on the photos and actual, with the swatch looking real similar as well. The blush can be easily layered for natural build up, suitable for makeup beginners like me! Surprisingly it's powder base doesn't make my skin dry or cakey while creating a subtle glowy after look.
Here are some blush shades that they have: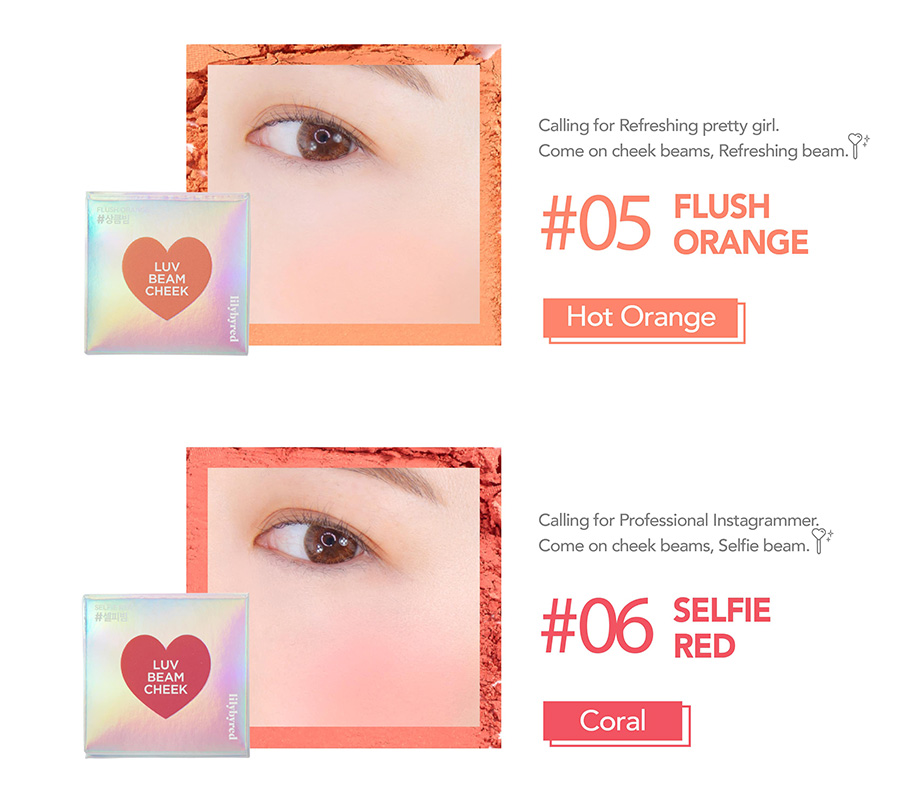 How to use:
Roll the brush into the heart zone 4 ~ 5 times with one touch and spread it naturally! 

If you want rich color expression, layering several times thinly!
How you can wear the orange makeup trend:
The orange makeup trend starts with the same shade of orange blush on the cheeks and eyes. For an enhanced look you can either choose to add shimmer to the eyes or strong highlighter on the cheekbones. Finish off the look with a MLBB shade of lippie and you're good to go!
As for the finishing touches, I drew a simple mini wing liner, added some highlighter on the cheekbones and finished off the look with setting spray for a dewy finish.
Overall I really like this flushed orange look as it's very easy to achieve with minimal products, which is perfect for when you're going on vacation and won't be able to bring your entire makeup stash. It's also able to make me look well put together and ready to go in a matter of under 10 minutes!