*In this post I will review 2 products from Biore, so let's start with their makeup remover first!
For people who wear makeup, makeup remover is something that everyone needs. But when I ran out of my makeup remover, I went to local drugstore to pick up one, and the first brands that came in my mind are Biore's. I've heard many great things with Biore's makeup remover even their face cleanser. Good things must share so I will review their Milk Cleansing Makeup Remover, so let's get into the review and see if this product lives up to it's hype.
Description of product:
"#Pure Hydration
-Biore 3 Fusion Milk Cleansing Makeup Remover is an innovative 3 layer cleansing milk!
-1st layer (Milk Cleansing layer) : Milk texture infused with cleansing oil has high cleansing performance to break down and lift off waterproof makeup and dirt from skin.
-2nd layer (Lotion layer): Formulated with Jojoba extract to hydrate and refreshes skin with no sticky feeling.
-3rd layer (Powder layer): Leaves skin soft and silky smooth after use.
-It is also Allergy tested, Non-comedogenic tested, Ophthalmology tested.
– Suitable for Dry to Normal skin"
Amount of product:
300ml
Ingredients:
#Pure Hydration: Water, Isododecane, Butylene Glycol, Dipropylene Glycol, Silica, Alcohol, PEG-12 Laurate, PEG-40 Hydrogenated Castor Oil, AcrylatesC10-30 Alkyl Acrylate Crosspolymer, Adipic Acid, Fragrance, Potassium Hydroxide, Simmondsia Chinensis (jojoba) Seed Oil, Methylparaben.
How to use:
Shake well before use. Apply onto cotton pad and gently wipe over face. For eye makeup, place soaked cotton pad onto closed eyes and hold for 5 seconds before gently wiping off. Repeat until all makeup is removed and cotton pad is clean.
Product packaging:
The packaging from Biore's is always simple and appealing. This makeup remover comes in a simple fat bottle. The bottle is sealed with this cap which has a tiny opening to squirt out the product.
Before use, you must shake it well.
Texture/ Finish:
Sometimes when you use oil based makeup remover it will leave a very oily residue which kinds of bother me. If you feel the same like me, then I will recommend this product to you. This makeup remover did not leave that same oily residue. In fact, the texture is very watery and kind of the combination of powder and water (obviously) combined together which leaves the skin softer after I wipe off my makeup. The makeup comes off effortlessly, even long-lasting eyeliner and waterproof mascara.
Fragrance:
The smell is very nice. The scent does go away after it is applied onto the skin and it isn't overpowering at all.
When you are taking eye makeup off, make sure to not rub it!
Just let the cotton sit for 10 seconds and then wipe away gently.
Wow that was easy and effortless!
This makeup remover does a great job in removing simple and heavy makeup. I did not experience any breakouts, no skin reactions, and the makeup came off with no problem. This makeup remover from Biore is definitely worth the hype. The price is affordable and the product is easy to use and make up melts off like butter. Overall, I really love this product and I'd definitely recommend this to you.
Pros:
– Very affordable price
– Good amount of product
– Easy to use
– Can wipe off heavy makeup very well
Cons:
– Nothing
Rating: 4.5/5
There are 2 types to choose which are Airy Fresh and Pure Hydration.
SHOP HERE
Biore 3 Fusion Milk Cleansing Make Up Remover 300ml 
Let's move on to Biore UV Perfect Protect Milk Cool SPF50+ PA+++!
Sometimes people might be confused but the fact is Sunscreen or sun creams mean the same thing! People use to avoid wearing sunscreen because the texture is thick and the smell very strong. Nowadays, you can get sunscreen based on what you need for your skin. They come in many forms including spray, essence milk, gel, gel stick, you name it! So, today I will review a sunscreen from Biore. Let's start the review!
Description of product:
"An ideal lightweight & non-sticky sunscreen for daily usage with high protection against UVA & UVB rays. Infused with refreshingly cool sensation for comforting wear.
Its airy light texture that gives instant matte, velvelty complexion coupled with SPF50+ PA+++ protection works wonders as a daily sunscreen! High resistance against sweat & water, even upon contact, its durable formula has high staying power on skin to provide continuous UV protection.
Infused with Vitamin E & Rice Germ Extract, it doubles up as moisturizing primer to smoothen uneven skin texture & prevent skin dryness."
Sunscreen:
SPF50+ PA+++
Amount of product:
25ml
Country of Manufacture:
Made in Japan
Ingredients:
Cyclopentasiloxane, Alcohol, Water, Zinc Oxide, Ethylhexyl Methoxycinnamate, Lauryl Methacrylate/Sodium Methacrylate Crosspolymer, Dimethicone, Talc, Glycerin, PEG-12 Dimethicone, Methicone, Polysilicone-9, PEG-3 Dimethicone, Menthol, Fragrance, BHT, Tocopherol, Oryza Sativa (Rice) Germ Oil, Phenoxyethanol, o-Cymen-5-ol
Product packaging:
The packaging for this sunscreen is simple and basic. It comes in a vibrant yellow tube with a twist off cap. The sunscreen is dispensed through a tiny hole by squeezing the tube. This type of packaging won't make the application messy which is definitely a plus.
Simple and basic packaging.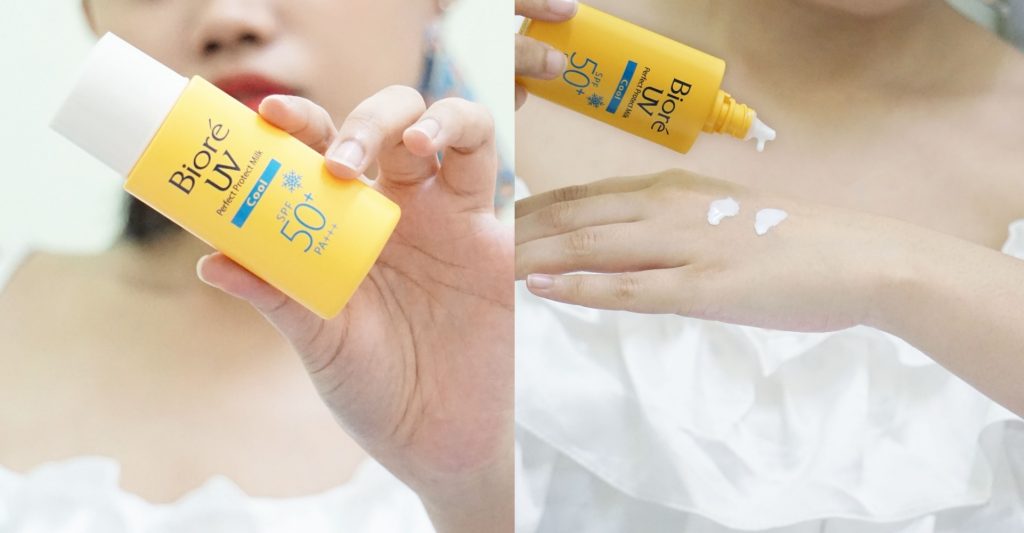 Texture/ Finish:
The sunscreen comes in white color and the texture is very runny. This one from Biore is very comfortable on the skin, doesn't dry my skin out, or has that weird oily finish. If no one told me this is a sunscreen, I will think that this was just another milky toner since it doesn't have that gross smell and absorbs into the skin and doesn't leave a greasy finish. Another thing that I like about this sunscreen is the finish is matte and has that cool sensation which is favorite. My skin definitely feels moisturized and doesn't have a white cast.
I think this product worth a review because it really good. It doesn't have that gross oil finish, the price is super affordable and definitely worth a buy. Overall, I like this sunscreen and I give these two thumbs up.
Fragrance:
There is a scent of sunscreen but still bearable.
Pros:
– Lightweight packaging
– Moisturizing
– Doesn't leave a white cast
– Price is affordable
– High SPF
Cons:
– Nothing
Rating: 4/5
SHOP HERE