During my first episode of allergic reaction over a year ago, all that I have was several pieces of soothing and calming sheet masks among my abundant stash because I have always been known to hoard brightening and hydrating sheet masks almost exclusively.
This Midnight Blue Calming Sheet Mask and from Klairs is actually one of the soothing sheet masks that was gifted by a fellow skincare enthusiast when I was looking for one that can also help with sudden oily T-zone situation. What's more? It's a 2-piece sheet mask so I highly doubt it if the sheets can't be positioned well onto your facial curve but that's not all so let's get right into this, shall we?

What's to love about this sheet mask?
It's specially designed to calm irritated skin and helps to clear out the pores.
Pore Purifying – White willow bark extract gently exfoliates and clears excess sebum that clogs the pores.
Cooling effects – with Erythritol that serve as cooling agent, this mask immediately cools the skin.
Bamboo Charcoal Sheet –  the black and soft charcoal sheet which comfortably adheres to facial curve gives long-lasting hydration.
How to use:
After cleansing and toning, pull out the mask and unfold carefully.
Evenly place the mask over the facial area; adjust the upper part to the eyes while the lower part to the mouth.
After15 to 20 minutes, remove the mask sheet and gently pat any remaining essence into skin.
Follow up with the rest of your skincare routine.
Water, Butylene Glycol, Methylpropanediol, Glycereth-26, 1,2 Hexanediol, Salix Alba (Willow) Bark Extract, Glycerin, Erythritol, Arginine, Carbomer, Carrageenan, Betaine, Allantoin, Ethylhexylglycerin, Propanediol, Polyglyceryl-10 Laurate, Glyceryl Acrylate/Acrylic Acid Copolymer, PVM/MA Copolymer, Disodium EDTA, Dipotassium Glycyrrhizate, Melaleuca Alternifolia (Tea Tree) Leaf Oil, Centella Asiatica Extract
Now, I only bought the sheet mask loosely i.e. without the box and it came in a simple packet with product description and the ingredients list printed in English at the back side of the packet for your reference.
There's supposedly expiry date printed a the bottom part of the sheet in the format of YYYYMMDD (year-month-day) so make sure to take note of that because some sheet masks have shorter shelf life; some have 24 months while other have 30 or 36 months.
The sheet mask does not come with a plastic separator but it is still easy to unfold the sheet and apply onto the skin.
The serum contained is clear, with a subtle tea tree scent to it but I'm thankful it's not too overpowering nor linger throughout the minutes I've had it on my face.
To my observation, the sheet is so soft, adhered onto my facial area so well as I fit it along my facial curve.
I've noticed that after taking the sheet off, my skin feels less irritated, slightly toned down the redness that went on along my upper cheeks but most noticeable would be minimised pores around my nose areas.
If you have normal to oily skin like myself then do stick with 15 to 20 minutes of having this sheet mask on your face otherwise charcoal sheet might drying out the skin instead so to those of you dry skin people, you might want to avoid this altogether or maybe do a patch test first.

Overall, I give this sheet mask 4/5. It works well but while it does help with soothing and calming my dehydrated skin, I was just hoping that this sheet mask was a little bit more hydrating. There's of course Glycerin and betaine contained in the serum but it's awfully lacking to smooth out my dry and flaky facial area. Although I have to point out that the 25ml worth of serum contained in the sheet mask was ample enough and the sheet didn't dry out after 20 minutes of application.
I'd say this sheet mask is just perfect for those people like me that have occasional irritation as I can just pull this out for a morning skincare routine, apply my favourite hydrating serum afterwards then a lightweight moisturiser prior a milky chemical sunscreen to finish off.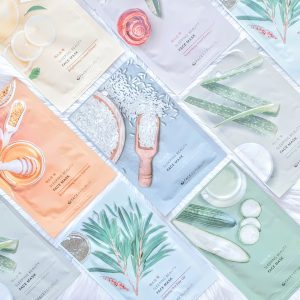 Review
If you're following me on social media like Instagram then you probably noticed that I am such a #sheetmaskjunkie and I do at least use
Read More »