Aside from the usual cotton tencel sheet masks, there are other kinds of face masks that I haven't tried myself such as character sheet mask and point-pieces face mask.
So when these SLICE MASK SHEET from KOCOSTAR caught my eyes in a beauty shop at the mall I decided to get some. There were so many choices to pick from but in the end I finally picked one. So here's my thoughts on the #APPLE slice sheetmask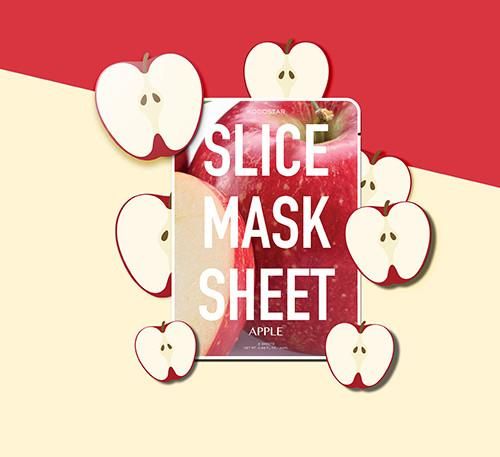 Twelve individual point-style mask or patches that can be worn whenever hydration is needed – face, neck, arm, leg or body to promote gloss and vitality on the skin
Water, Glycerin, Butylene Glycol, Pyrus Malus (Apple) Fruit Extract, Neofinetia Falcata Callus Culture Extract, 1,2-Hexanediol, Sodium Hyaluronate, Ethylhexylglycerin, Centella Asiatica Extract, Polygonum Cuspidatum Root Extract, Scutellaria Baicalensis Root Extract, Camellia Sinensis Leaf Extract, Glycyrrhiza Glaora (Licorice) Root Extract, Chamamilla Recutita (Matricaria) Flower Extract, Rosmarinus Officinalis (Rosemary) Leaf Extract, Tremela Fuciformis (Mushroom) Extract, Allantoin, Betaine, PEG-60 Hydrogenated Castor Oil, Carbome, Arginine, Cellulose Gum, Caprylhydroxamic Acid, Caprylyl Glycol, llicium Verum (Anise) Fruit Extract, Disodium EDTA, Fragrance
PYRUS MALUS (APPLE) FRUIT EXTRACT is rich in vitamin C and antioxidant to fight free radical and UV damages that cause the breakdown in the skin that leads to fine lines and wrinkles
NEOFINETIA FALCATA CALLUS CULTURE EXTRACT is an excellent ingredient that create moisture retentionfilm which is helpful to condition and nourish dry rough skin
CENTELLA ASIATICA EXTRACT is a commonly used ingredient to help with skin-soothing and regeneration of new skin cells to prevent scarring. It also has anti-inflammatory properties and help boosts up antioxidant activity at the site of wounds
Fit : 2.8/5
Comes in two sizes of individual patches. Provide good surface area
Material : 3/5
Soft and drenched with essence. Doesn't tear easily
Adherence : 4/5
Stick really well on skin and easy to smooth out without any air bubbles trapped
Scent : 2.5/5
Sweet perfumey apple scent, does lingers when applied on skin and some might find it a bit strong
Texture : 3.5/5
Essence is clear with good level of viscosity. Feels quite tacky on the skin
Recommended Skin Types
For all skin types
Recommended time : 15-20 minutes
Apply each slice onto cleansed, dried face
Leave on for 15-20 minutes
Massage any excess serum into the skin
You may apply to any area of skin where treatment is needed
Dehydrated-combination, oilier on nose and cheek area. Prone to redness and mild acne.
OMG I can't get over how CUTE these slice mask are! 
Okay first off I can definitely see myself buying these mask for relaxing and enjoyable ladies night or with family sleepover to have fun with cousins and kids. One pack contains 12 pieces, 6 pieces back-and-front with a plastic separator in between. 1 pack is good enough to cover the surface area on the face but what's more exciting is these aren't exactly to be wore only on the face but can be wear on elsewhere too for example your hands or décolleté (neckline area) for a cheeky welfie 
The mask pieces' material is soft and the essence is very moisturizing. I do find the sweet scent lingers when I had it on my face so for those who have sensitive nose might want to avoid this. After a good 15 minutes, it left quite tacky finish on my skin eventho I tried and patted in the remaining essence
However this can be easily fix with a spritz of face mist to minimize the tackiness. My skin is well hydrated and plumped. Pores are visibly minimized and my skin looks bright and glossy (reminds me of lip gloss hence the tacky feeling maybe?). Sealed off with a light moisturizer and I'm good to go
Overall, they are pretty good and I really did enjoy myself having fun with these slice mask. They're affordable and would make a cute bonding session with friends especially on bachelorette night 
P/s: All opinions and thoughts are based by my experience and solely mine.