Have you ever thought of using a stick on Ion Patch to have a better air inside the house?
Well, I've seen such product before but never have the chance to try it, so I'm excited to finally experience how a Negative Ion Patch would improve the air that surrounds my family and I.
Quantum Nanomax™ Negative Ion Patch can clear the air of mold spores, pollen, odours, cigarette smoke, bacteria, viruses, dust and other hazardous airborne particles by attaching to these positively charged particles in large numbers.
This causes it become too heavy to stay airborne helping you to breathe cleaner, healthier air and protect yourself from exposure to allergens and viruses.
The Benefits of Negative Ions:
– Clear the air of airborne allergens such as pollen, mold spores, bacteria and viruses – Clear the air of dust , pet dander and cigarette smoke
– Reducing symptoms of depression for some body systems and cognitive performance
– Help regulate sleep patterns and mood
Boost immune system function
– Reduce stress
– Hermo
Quantum Nanomax offers two choices of Negative Ion Patch:
1) Negative Ion Patch 
This patch is for indoor use where you may stick it on areas with increased airflows such as fan and air-conditioner.
1 packet of the Negative Ion Patch contains 4 Patches for individual usage.
2) Automotive Negative Ion Patch
This patch is for car use where you may stick it on the air-conditioner's outlet .
1 packet of the Automotive Negative Ion Patch contains 6 Patches for individual usage.
Packaging:
Both of the Negative Ion Patches comes in a simple carded, small packet with a pull-to-open flap at the bottom.
The sizes of the 2 variants of Negative Ion Patches also differs where the home Patch is bigger than the automotive Patch.
How to Use:
1) Take out 1 patch and remove the sticker.
2) Stick patches to areas with increased airflows ; air-conditioner , fan, mobile air-conditioner, etc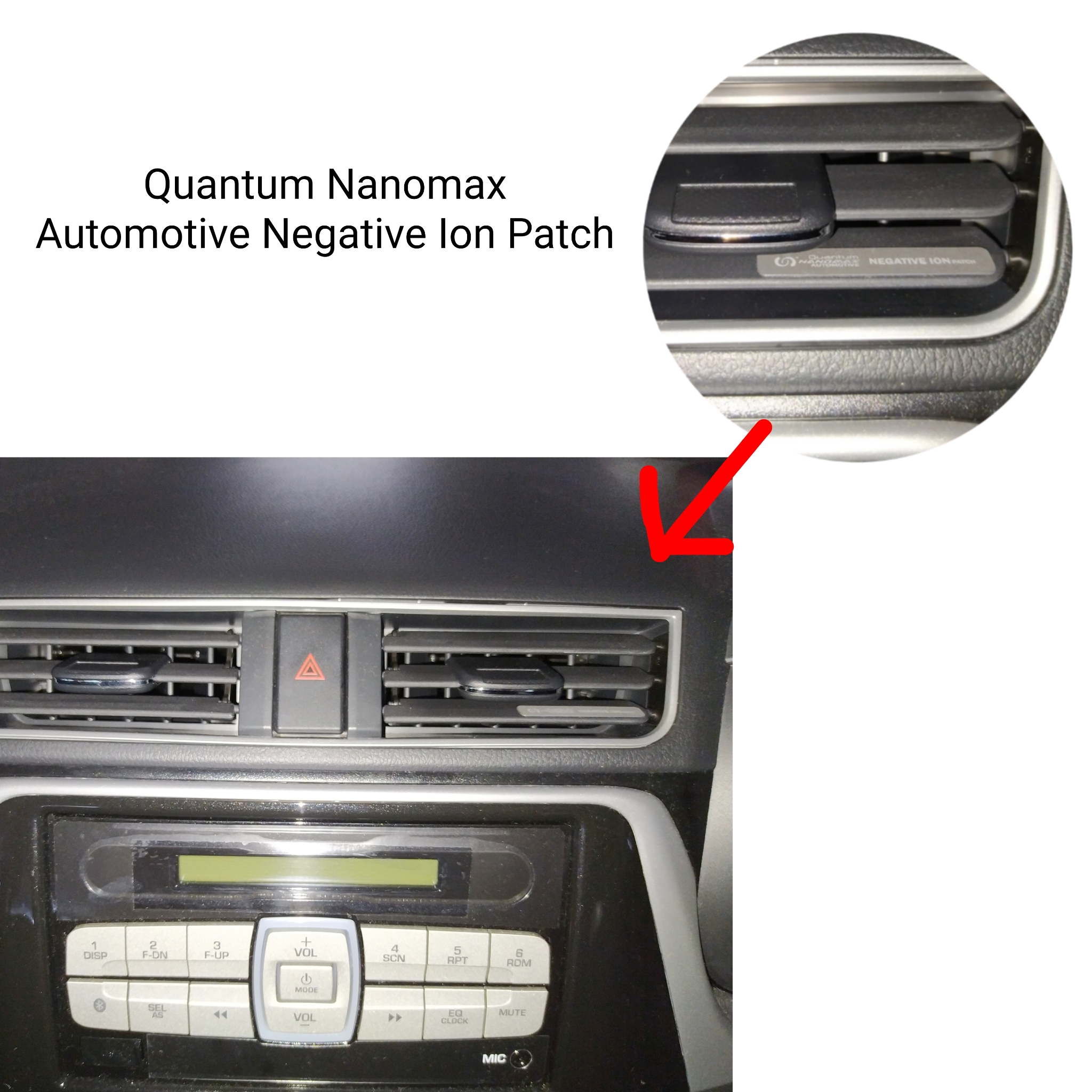 My Experiences:
After 2 weeks of using both the patches inside my room and car, I do acknowledge how it keeps bad odour away. I usually spray air freshener in my room and car to get rid of any possible odour, so I stop using it for a while to test the patch. I am surprised that my room does not have the usual vacuumed room/car smell, so that's good!
As for the quality of the room, I have not noticed any much changes, probably because my room is quite big and I only use 1 patch that I stick on the air-conditioner's outlet.
As for the car, I do feel that the air is better after I stick 1 patch of the Negative Ion Patch at the air-conditioner's outlet. It feels less dusty as well. I am loving it inside my car.
Before using the Negative Ion Patch, my child is always sneezing when he is inside the room, probably due to the dust. Now, he sneezes less and he sleeps better. He is in a better mood too, so when my child is happy, I am happy.
I also feel less stressed out when I am driving inside the car. The Ion Patch has helped to make my feel better when I am breathing a clearer air.
Rating:
4/5 for both patches
SHOP HERE
Quantum Nanomax Negative Ion Patch