Masking became a part of my daily routine and I hardly skip a day without doing a mask. Maybe I got used to it? Malaysia weather is always hot and humid, so I don't really prefer using those thick and heavy duty mask. So it says here the green tea is watery essence, so great! I'm going to try this out today. 
I have tested almost all of Innisfree My Real Squeeze range mask and this is one of it that I yet to try. This mask contains essential moisture squeezed from fragrant green tea to make skin smooth and radiant. Yes, I mentioned it many times. Green tea is rich in antioxidants and has moisturizing and hydrating properties. It detoxify skin and helps maintain its moisture levels, keeping it smooth and soft.
I personally quite love this mask compared to the rest of their Real Squeeze sheet masks. They are so light to put on and comfortable to wear in this heaty weather. This thin sheet mask is made of eucalyptus, the sheet mask was so so thin and holds the essence really well, all soaked. As you can see from my picture below, the sheet mask was thin and near to transparent that you can see through my hand.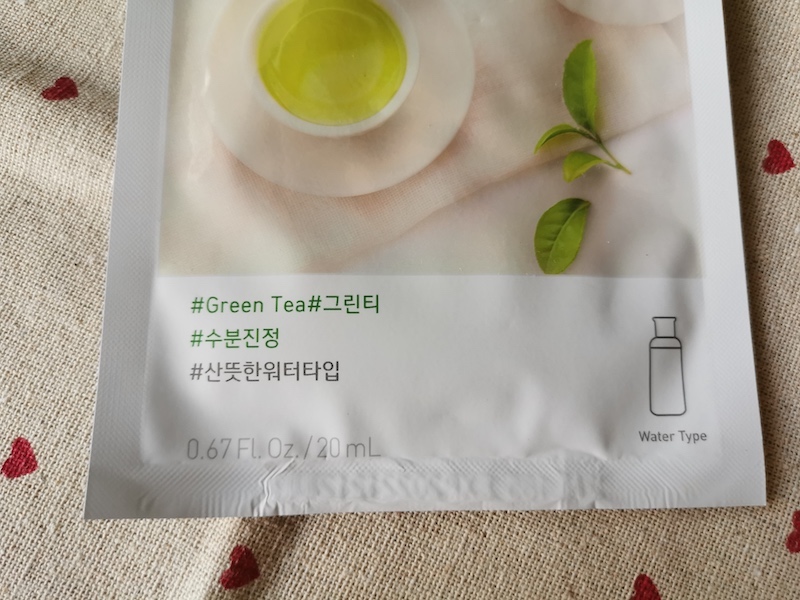 How to use:
After washing your face, even out the skin texture with a toner, and if you use a first step serum be sure to use it before the toner.
Then take out the mask and tightly place it onto the face, avoiding the eye and lip areas.
After 10 to 20 minutes, remove the sheet from the face and gently pat your face to let the remaining gel absorb into the skin.
My opinion:
With that expectation in mind, this sheet mask is great for my skin. When I opened the mask itself is very thin and light, which is comfortable to wear, but don't expect a great fit. The smell is so refreshing and relaxing, not those with pungent strong smell. Well, the mask is drenched in essence as I said. Essence was dripping when I took it out from the packet, so better to open it in front if a sink. Don't waste the essence though, I poured it out and applied it all over my neck area. 
I had a red pimple scar the other day and I purposely choose to apply this mask to see the effect. I'm amazed, it does soothe and calm my skin a little. Redness was reduced and a slight glow on my cheek too! Those essence absorbed and penetrates really well into deep down my skin. I would say that this mask is not really doing a good job for skin hydration but soothing the skin instead. I highly recommended this mask if you have a redness on my your skin. Rate 5 stars for this mask! They're pretty affordable, decent quality, and great for daily use too.
Full ingredients:
Water, Glycerin, Butylene Glycol, Alcohol, Citrus Paradisi (Grapefruit) Fruit Extract, Betaine, Camellia Sinensis Leaf Extract, Xanthan Gum,peg-60 Hydrogenated Castor Oil,1,3 Propanediol, Ethylhexylglycerin, Sodium Hyaluronate, Citrus Unshiu Peel Extract, Orchid Extract, Camellia Japonica Leaf Extract, Opuntia Coccinellifera Fruit Extract, Citrus Aurantium Bergamia (Bergamot) Fruit Extract,citrus Aurantium Dulcis (Orange) Fruit Extract, Citrus Tangerina (Tangerine) Extract, Lactic Acid,ascorbic Acid, Citric Acid, Disodium Edta, Phenoxyethanol, Fragrance
*Results from the use of beauty product above may vary depending upon the individual and will depend on multiple factors, including your age, gender, skin type and condition, use of other products used, health history, lifestyle, diet and others