Okay I admit, I'm obsessed with concealers (proven by another article I've written about Maybelline Super Stay concealer here). However, I couldn't get this concealer out of my mind because of the price for a drugstore concealer! Very pricey leh for drugstore concealer. I couldn't fathom it at all. But well, here I am, writing this article to decide if it's really worth it.
For me, I prioritise 3 things in my concealers: blendability, coverage, and non-creasing. As long as it's easy to blend, has good coverage, and doesn't crease from my dry skin, I'll rate it 5/5 stars for sure. And for you to take note, I'd normally get a concealer that's 1/2 shades lighter than my skintone as I use it for highlighting my face besides concealing as well.
Applicator
First off, I'm in LOVE with the applicator. It's huge and picks up a lot of product, so you don't have to keep dipping back in if you're a concealer queen. It reminds me a lot of Tarte's Shape Tape concealer applicator, which I heard a lot of beauty gurus raved over. So I think this is a great dupe for its applicator.
Blendability
How I determine the concealer's blendability is by my normal makeup routine. So first, I'll apply my foundation and then proceed with concealer on places I want to conceal/highlight., which are the forehead, eyebags, nose bridge, mouth discolouration, and any visible pimples. The photo below demonstrates my routine.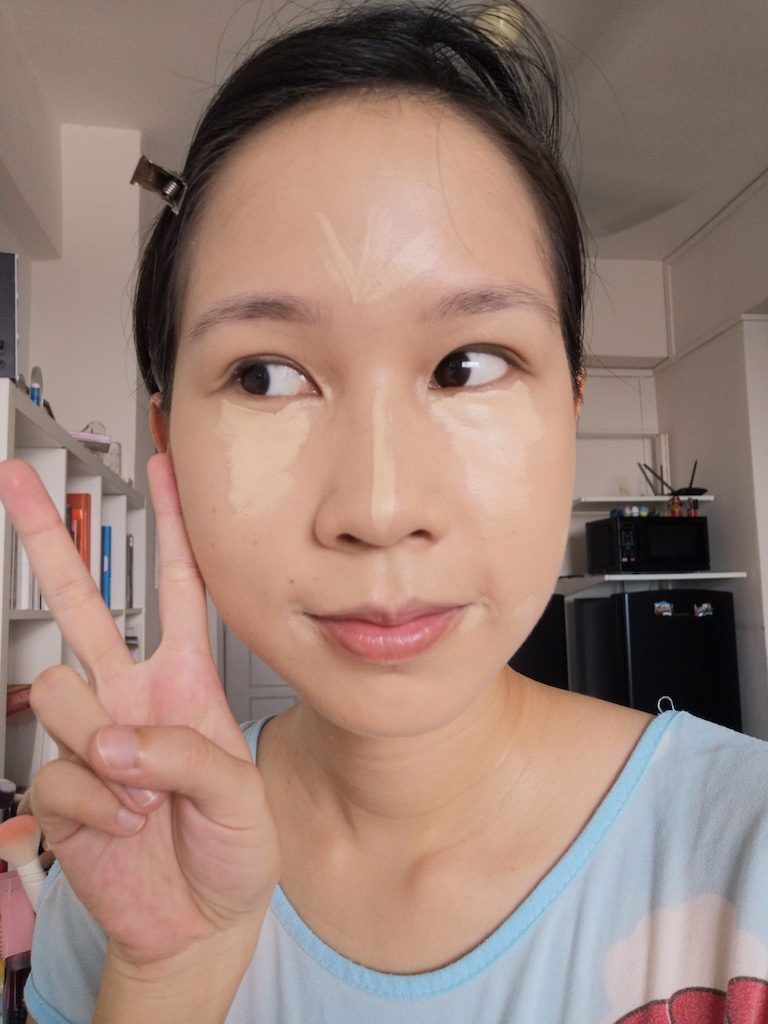 When I blended it out, it was a bit tricky because it dried down rather quickly. So I was putting quite a lot of effort to blend away any weird patches.
My advice to those who are planning to get this concealer is to work in sections. For example, you apply it to your forehead, blend it out first, then move on to your eyebags, blend, and so on.
And another advice; Use. Sparingly. A little bit of this concealer really goes a long way. The amount I've used in the photo is actually waaaaaaaay too much, without me realising *nervous laughter*.
Overall, it's not too bad besides the fact it dries down quickly. This worried me a little as my skin is super dry, so quick-dry formulas tend to not work well on my skin. But let's just save the results for later.
Coverage
The coverage is freaking amazing, like oh my goodness. Just look at how much the eyeliner swatch got covered. Although you can still technically see the eyeliner swatch, it's like 70-80% covered, which I think is super rare for concealers. I believe the thick and quick-dry formula plays a part in its coverage.
Crease test
Usually, concealers with a thick formula creases underneath my eyes after a long day, which I HATE. Creasing makes my makeup look go from perfect to disaster. And I look like I aged another 5 years. So yes, this test is important to me as well.
Also, shameless plug. If you're interested in seeing my makeup looks, feel free to follow me on @lilymiaus.
For this test, I've applied a full face of makeup to see how well it wears after 6 hours. The photo above was taken at about 4pm, and the results were taken at 10pm.
Please ignore the faded patch of foundation. I was wearing my spectacles the whole day so it got rubbed off.
Anyways, as you can see, the creasing is quite bad underneath my eyes 😅. Probably because I was laughing and smiling a lot, but either way, I'm not surprised at this result. So I decided to give it another shot and baked underneath my eyes, since it's supposed to reduce creases. However…
This was AFTER I used my brush to sweep off my bake. Can you see how obvious the lines underneath my eyes are? Even without a wear test, I know it'll look terrible by the end of the day. And I'm honestly very sad because this concealer's coverage is legit one of the best I've tried 😭. I guess we can't have it all in life right?
Alright! My final thoughts! If you have super dry skin like mua, I wouldn't recommend this. BUT! If you have combo/oily skin, this concealer will work perfectly for you! Overall, I'd give this a 4/5 stars because it looks so good. However, to be fair, I still need to deduct points for the creasing. Please let me know if there are any good concealers for dry skin.
SHOP HERE