Not a fan of heavy makeup but still want to look less dead in front of the general public during short trips out the house? Well, let me introduce you to this nifty blue baby from Face Republic! With the aim of providing a lightweight, even-toned, youthful glow to your naturally melanated skin, it's sure to make you look and feel more alive!
The Face Republic Glow-Up Cream is a cruelty-free, lightweight makeup base that tones up dark spots and evens out your skin tone.
Other benefits:
Tone up, evenly


Glutathione is commonly known to make your skin glow from inside out. This is a go-to antioxidant that evens out uneven skintone!



Youthful glow


Pearl Extract is known to naturally be the powerhouse of vital minerals that increases regeneration of collagen. It helps in calming acne and fights signs of aging like wrinkles!



A true skincare superstar


A known skincare multitasker, not only does Niacinamide have anti-aging benefits, but it also plays a role in minimizing pores while promoting both a healthier skin barrier and better hydration.
PERIOD AFTER OPENING (PAO):
Sleek, slim matte light blue tube to fit Pantone 2020's colour of the year! Not exactly the exact shade of blue, but it's definitely an aesthetically-pleasing, instagrammable treat! It has a matching glossy twist-off cap with a fine-tipped nozzle dispenser, which is initially covered with an aluminium foil when first purchased.
At the last step of your skincare routine and before makeup, apply the Glow-Up Cream evenly using clean fingers. You may even opt to go make-up free with this baby, though it also works well as a base for an even smoother make-up application.
*TIP! One of the best ways to achieve that #InstantGlowUp and #InstantToneUp is through proper cleansing. So make sure you strip your skin of dead skin cells to show off your bright and glowing skin!
Soft, floral fragrance, which is a little too strong for my sensitive nose, unfortunately.
Light, smooth white cream which spreads easily onto the skin and absorbs nicely, leaving a moisturising and soft, tone-up effect.
Sensitive (prone to redness and irritation), combination-dry, acne-prone and dehydrated.
OVERALL THOUGHTS & EXPERIENCE:
To be frank, I'm not usually the type to invest in tone-up creams, so this Glow-Up Cream from Face Republic might be my first full-sized try, which means that I can't properly compare it to other products in the market. However, I did enjoy having this on hand for those times when my face fails to match my neck – especially when all I want to do is go for a quick jog and my waterproof sunscreen bequeaths me a ghostly white cast!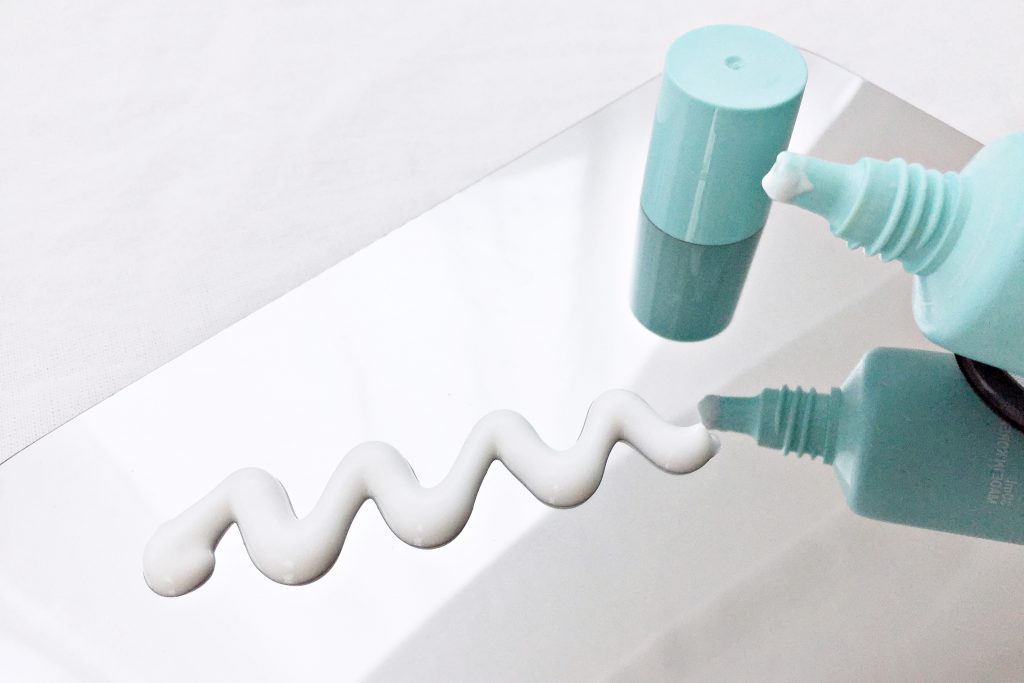 Did I find this a staple in my makeup or skincare bag? No, not really. But whenever I did choose to use it, I enjoyed how smooth and soft my skin felt, and how my base makeup does indeed just glide on – note: it does contain silicones which is ever-present in primers! I also find it to be particularly useful under foundation that's now too dark for you (hello, lack of sun from MCO!) as a kind of airy pigment lightener.
However, a huge drawback for me personally is definitely how strong the floral scent is! But if you're less scentsitive (ha, get it?) you'll definitely enjoy it more than I did.
🌕🌕🌕🌕🌑 (4/5)
Overall, Face Republic's Glow-Up Cream is definitely worth a try if you're looking for a very affordable tone-up cream! It won't conceal any blemishes, but it does fill in the appearance of pores decently while brightening up your skin tone! Hopefully, they'll come up with a fragrance-free version someday for those with sensitive noses like me. Kudos for this bright blue baby being cruelty-free, though! Love the movement towards a kinder cosmetic envionment.