Who loves clay masking? How do clay masks work? Clay help to detoxify the skin and draw out impurities and oils from the surface of the skin. This is especially helpful to those people with acne or oily-prone skin. But even if you're not plagued by breakouts, clays can be rich in minerals and acids that can benefit other skin types too. There are many clay masks in the market with different type of clays. So today I'm going to show you guys Axis-Y Mugwot Pore Clarifying Wash Off Pack – which contains Kaolin and Bentonite.
Product Description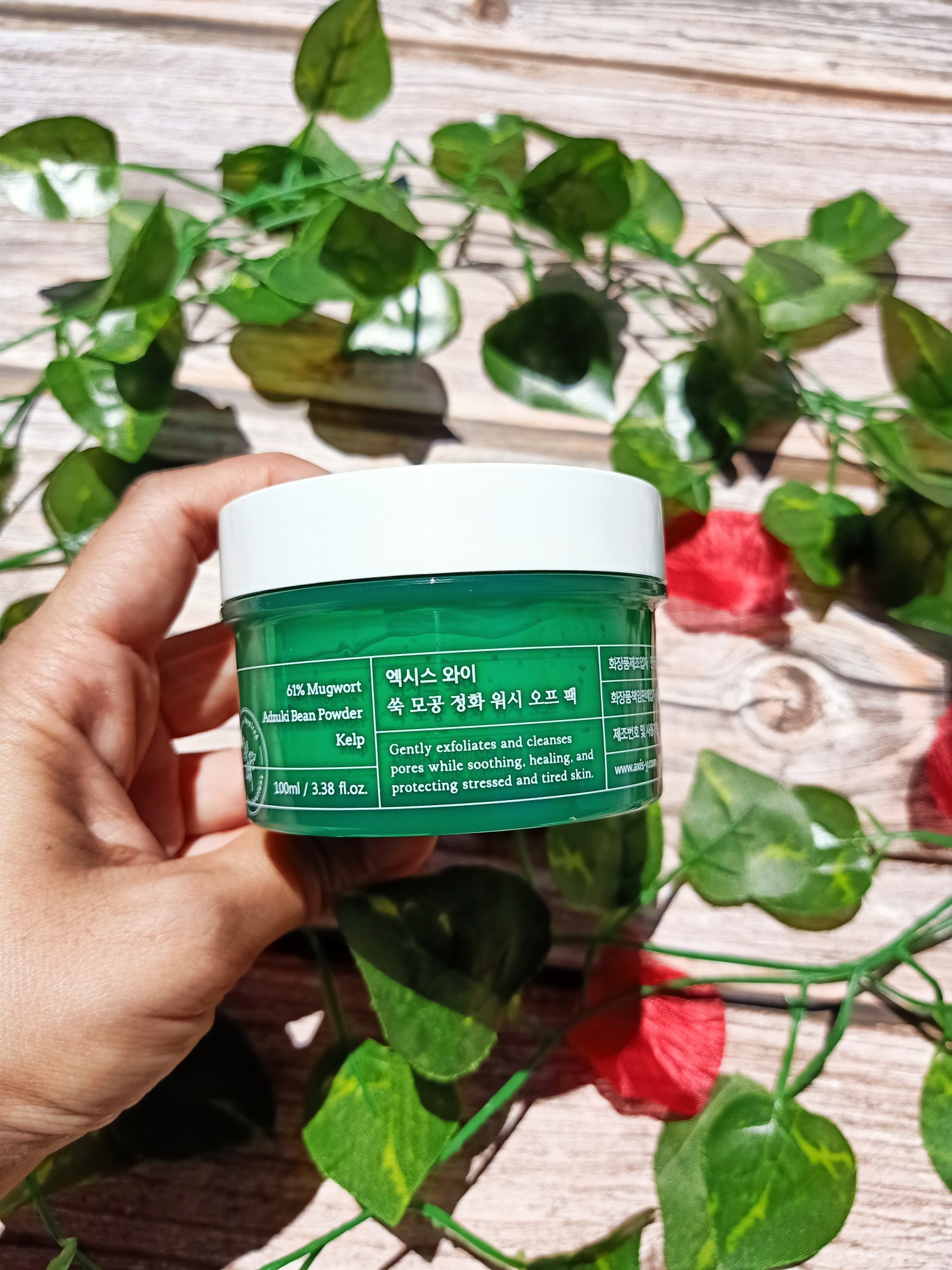 With a base of 61% Mugwort extract, this wash off pack clears the pores of impurities, soothes inflamed and irritated skin, and gently exfoliates dead skin to reveal a bright and healthy complexion with Adzuki Bean granules.
– Unclogs pores and improves appearance of pores
– Calms inflammation and irritation
– Exfoliates the skin with Adzuki Bean granules
Ingredients
Artemisia Princeps Extract, Kaolin, Dipropylene Glycol, Bentonite, Betaine, Phaseolus Angularis Seed Powder, Laminaria Japonica Extract, Eclipta Prostrata Leaf Extract, Avena Sativa (Oat) Kernel Extract, Pteris Multifida Extract, Cynara Scolymus (Artichoke) Leaf Extract, Glycyrrhiza Uralensis (Licorice) Root Extract, Vigna Radiata Seed Extract, Houttuynia Cordata Extract, Cryptomeria Japonica Leaf Extract, Nelumbo Nucifera Leaf Extract, Hydrogenated Lecithin, Sodium Hyaluronate, 1,2Hexanediol, Methylpropanediol, Xanthan Gum, Glycerin, Chromium Oxide Greens, Charcoal Powder, Water, Beta-Glucan, Polyquaternium-51, Fructooligosaccharides, Allantoin, Hydrolyzed Hyaluronic Acid, Butylene Glycol, Camellia Sinensis Leaf Powder, Saccharomyces Ferment Filtrate, Hydroxyacetophenone, Ethylhexylglycerin, Rosmarinus Officinalis (Rosemary) Leaf Oil
Product Origin
Republic of Korea
Volume
100 ml
How To Use
1. Cleanse and dry the skin
2. Use the provided spatula to scoop an adequate amount onto dry skin
3. Apply an even layer to the face, at least 0.5 mm thick
4. Leave on for 12-15 minutes and then rinse off with luke warm water
5. Follow with the rest of your routine (toner /serum etc)
Packaging
This Wash Off Pack comes in emerald green jar with a white screw cap. The material is a good plastic material and light, easy to bring it when I travel or going back to my hometown. The best part is it comes with spatula inside.
Texture
It has a creamy texture with an Adzuki granules texture that is so soft when applying on skin. It glides smoothly on my skin and didn't dry up fast. It was still damp when I removed it.
Experience
Not gonna lie, Mugwort is probably my current favourite skincare ingredient. I have to say I'm also a sucker for anything that smells herbal, so the strong, naturally-herby scent did not bother me at all. In fact, I love the smell because it reminds me of a spa. I use the mask twice a week, and I place this pack in the fridge for optimum results. Trust me this feels super refreshing on your skin. As for a clay mask, it definitely does NOT leave my skin feeling dry.
The Adzuki beads are pretty satisfying because they don't feel rough or harsh on the skin. The mask is also cool on the face, so it feels like you're giving your skin some well-deserved pampering. My skin always looks better the next day after use, too. Acne bumps surprisingly flattened, my complexion ended up a lot less dull, and my skin became noticeably calmer and smoother. I love it so much!
Rate
5/5
Where To Buy