WHAT YOU NEED TO KNOW?
Heard lot of great reviews from sheetmask hoarders about Dr.Morita sheetmasks few years back and only today I had the chance to try their mask. This brand is originated from Taiwan and the founders make use of Japan technology in the making of their infamous masks range.
I purchased Dr.Morita Glacial Clay Seaweed Moist Facial Mask. Why I bought this? The word 'clay' and the mask is in black in color caught my attention.
This mask contains glacial clay which is rich in minerals, quickly penetrates deep into skin, and effectively purifies, moisturizes skin and maintains its elasticity. The included seaweed extract and hyaluronic acid give further nourishment and replenishment of moisture.

HERMO
MASK MATERIAL
It is made of black rayon. Very smooth and a bit thicker. There are tiny loose fibre on the mask surface but the brand says it is normal for such material. The mask is protected with non woven fabric so it will be much easier to unfold.
INGREDIENTS
¹Alluvial Mud, ³Hyaluronic Acid(Sodium Hyaluronate), ²Algae Extract, ⁴Aloe Barbadensis Leaf Juice, ⁵Hydrolyzed Hyaluronic Acid, Water, Dipropylene Glycol, Glycosyl Trehalose/Hydrogenated Starch Hydrolysate (Trehalose), Xanthan Gum, Methylparaben, D-Panthenol. Phenoxyethanol, PEG-40 Hydrogenated Castor Oil, Fragrance.
Featured Ingredients:
¹Glacial Clay – natural clay containing a broad variety of minerals which can instantly penetrate into the skin, effectively purifies, hydrates and maintains elasticity of the skin.
²Seaweed – hydrates, repairs and softens your skin.
³Sodium Hyaluronate – A super hydrating ingredient which gives a complete and long-lasting effect of locking moisture in the skin, preventing loss of moisture and making your skin hydrated, tightened and elastic.
⁴Aloe Vera – Gives a soothing, hydrating and repairing effect to your skin.
⁵Micro-hyaluronic acid – Able to penetrate into the stratum corneum more swiftly and give an outstanding hydration effect with the cooperation of macro-hyaluronic acid.
Love how minimal the ingredients list that consist of hydratings and soothing stuff.
PERFORMANCE
I am impressed by this mask. I love how the mask fit me well. There are also slits at eye holes which made the mask fit more comfortably. There are no essence dripping from the mask. It contains 30g of clear liquid that has slightly thicker than water in consistency. As you can see there are only small amount left in the packaging. Most of it is drenched in the mask.
My skin also feel amazing! It felt soothing and moisturizing at the same time. The moisturizing effect lasted longer though. My skin feels silky smooth. However, I could not see a noticeable brightening effect.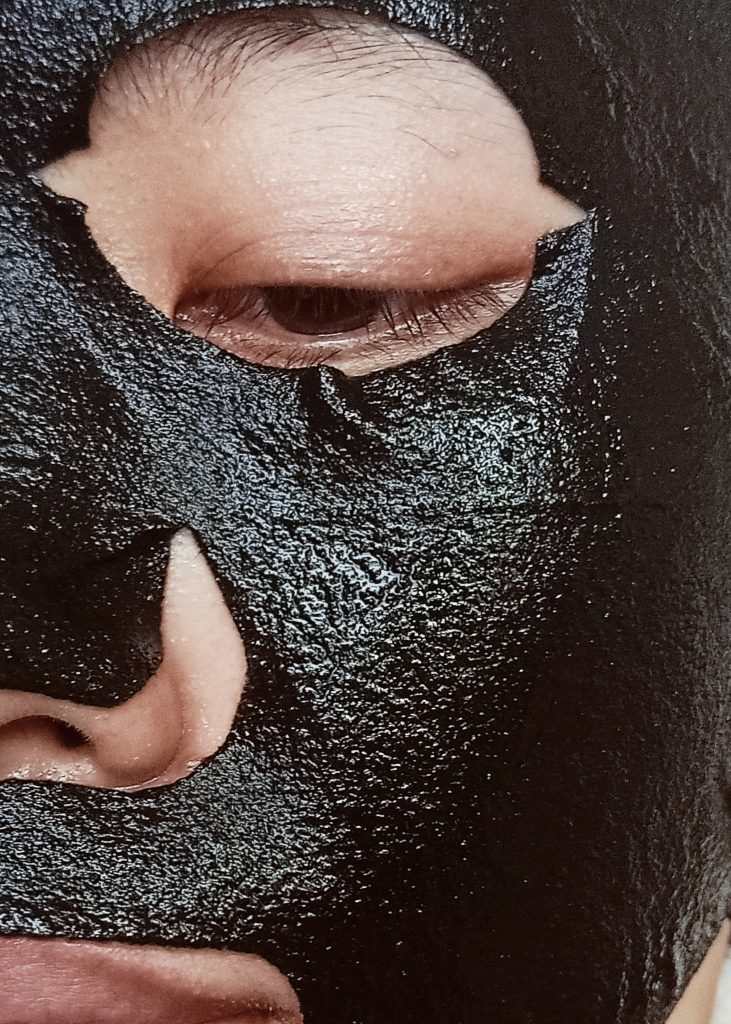 Scary isn't it?
FINAL VERDICT
This mask comes in 4 pcs in one box. The price is very reasonable so will be getting more masks from Dr.Morita.
SHOP HERE
Dr. Morita Glacial Clay Seaweed Moist Facial Mask