When it comes to my evening cleansing routine, it has always been about double cleansing to me for the past ten years; whereby I would be using two different cleansers followed by using toners as the last step of the routine. 
The first cleanser would be those able to remove the day's makeup and layers of sunscreen which are designed to stay on the face for hours while the second cleanser would be those able to cleanse the skin preferably non-drying ones; free of sulphates and have tons of gentle hydrators like ceramide and Hyaluronic Acid.
While I love cleansing oils to remove my makeup, I usually just go to simple makeup removers like makeup wipes to remove my light makeup like cushion foundations and sunscreens. While 30 pieces of makeup wipes per packet can be costly if I were to use them every single day, I'd rather go to bottled cleansing water so this Micellar Cleansing Water from Beauty Formulas is one of my makeup removers that I'm using these days.
What's good about this micellar water?:
Supposedly it's a gentle yet highly effective makeup remover that also take off pore-clogging impurities and excess oil.
How to Use:
Pour appropriate amount on cotton pad and gently wipe off your makeup.
No rinse needed.
Capacity: 200ml. About 4 months of daily use.
Water (Aqua), Propylene Glycol, Glycerin, PEG-7 Glyceryl Cocoate, Panthenol, Lavandula Angustifolia (Lavender) Extract, PEG-40 Hydrogenated Castor Oil, Sodium Chloride, Parfum / Fragrance (contains Linalool, Hexyl Cinnamal, Limonene, Citronellol, Butylphenyl Methylpropional, Alpha-Isomethyl Ionone, Coumarin, Geraniol), DMDM Hydantoin, Lauramine Oxide, Niacinamide, Cetrimonium Chloride, Tetrasodium EDTA, Iodopropynyl Butylcarbamate, Ascorbyl Glocoside, Citric Acid.
Basically, the product comes in a simple, transparent plastic bottle therefore it is easy to monitor the amount of product left in the bottle.
While I don't see Manufacturing Date printed usually at the bottom of the bottle, do note that Period-After-Opening of this makeup remover is 12 months so do write down the Opening Date somewhere on the packaging if you're willing.
This micellar water doesn't come with pump; just a simple cap with a small hole like that but that's sufficient enough given that the product itself is watery therefore easy to dispense anyway.
To show you how well this product works, I've applied some of my cushion foundations and a high-performance sunscreen at the back of my hand in attempt to remove them using this micellar water.
As you can see in the above photo, I have poured some of the micellar water onto a cotton pad that I always use to remove my base makeup and then just wiped everything off my skin.
The watery texture is indeed lightweight and colourless  although the scent is quite overwhelming to me which is something I'm not fond of especially when it comes to facial skincare products.
This micellar water doesn't need to be rinsed off afterwards but double-cleansing is a forced habit of mine although there are nights I actually used this micellar water 3 times with 3 different cotton pads to remove my makeup then proceed with layers of hydrating toner on top and be done with my routine of the day. Thankfully, my skin didn't react badly but I definitely would not recommend that to anyone under normal circumstances.
I think it's imperative to use proper makeup remover and even if you were simply applying sunscreens with powders on top, you still need to use at least a cleansing water or micellar water like this to avoid clogged pores and blackheads formed over time.
Overall, I give this 4/5. It does work nicely at removing my light makeups and doesn't irritate my overly sensitised skin. The minus point would obviously be due to the strong fragrance in the product and I believe fragrance belongs at the end of the ingredients list i.e. the least amount.
While oil-based cleansers like cleansing balms and cleansing oils can be quite expensive, you can surely get a much more affordable alternatives like this micellar water as it still does the job well and that's the most important part in my opinion. You just need to use more product in respond to how much makeup you need to remove.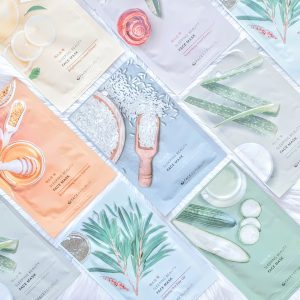 Review
If you're following me on social media like Instagram then you probably noticed that I am such a #sheetmaskjunkie and I do at least use
Read More »