Meaning "nature" and "kind", Jayeon is a brand that offers the ideal personal care from top to toe affordably. Founded in 2016, the brand has since expanded to provide various cosmetic products that aim to bring all skin types an easy way to keep skin healthy, and to inevitably restore consumers' confidence.
As I'm quite new to the brand (though I've seen it floating around both online and offline!), I'll be sure to review this sheet mask as honestly and constructively as I can!
Aqua, Glycerin, Dipropylene Glycol, PEG-60 Hydrogenated Castor Oil, Carbomer, Triethanolamine, Pearl Extract, Chlorphenesin, Phenoxyethanol, Aloe Barbadensis Leaf Extract, Hamamelis Virginiana (Witch Hazel) Extract, Synthetic Fluorphlogopite, Tin Oxide, Titanium Dioxide, Hydroxyethylcellulose, Disodium EDTA, Tocopheryl Acetate (Vitamin E), Fragrance, Allantoin.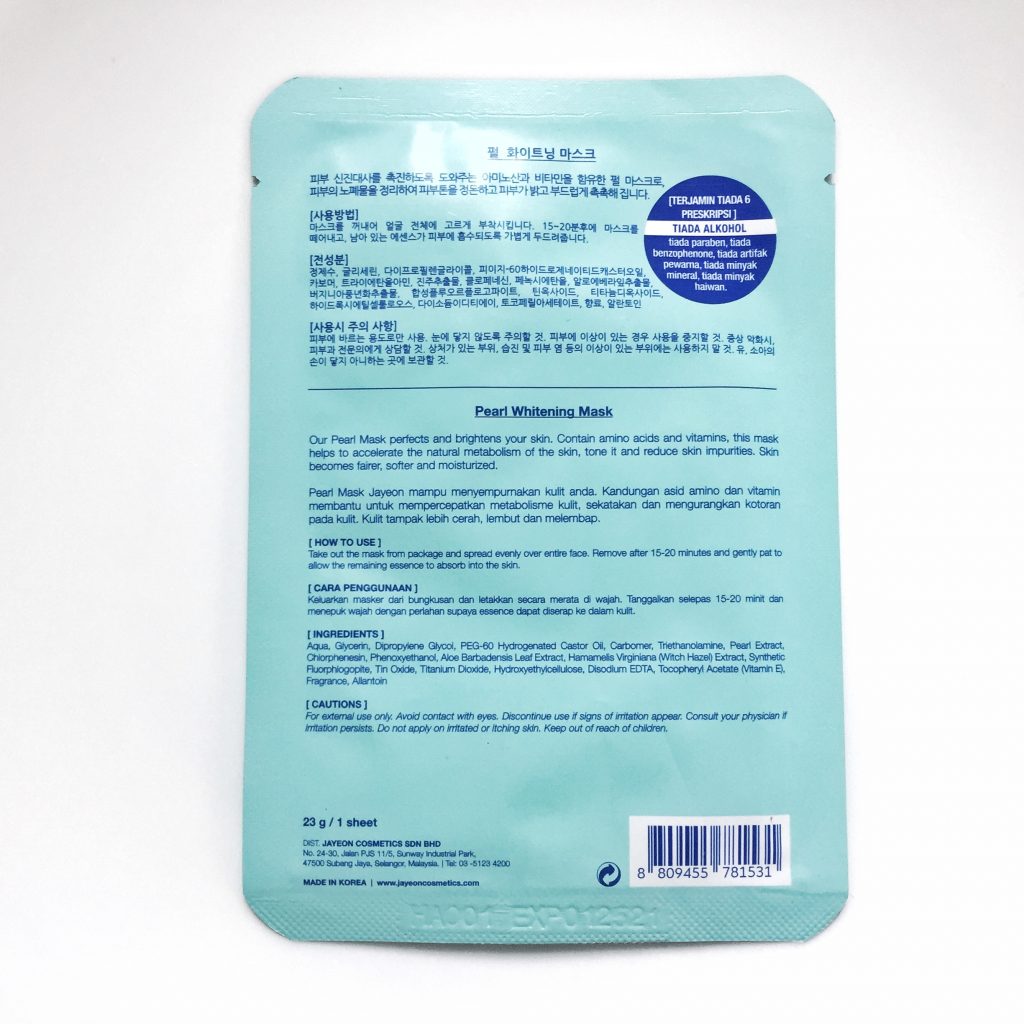 Sweet, powdery-chemical scent which dissipates overtime. It's noticeable, but quite mild overall.
VOLUME / ESSENCE TEXTURE:
23g / Light, clear watery essence with an interesting pearlescent look, as the essence actually gives off faint shimmers. Refer to video below!
Take out the mask from the package and spread evenly over entire face.
Remove after 15-20 minutes and gently pat to allow the remaining essence to absorb into the skin.
Sensitive (prone to redness and irritation), combination-dry, acne-prone and dehydrated.
OVERALL THOUGHTS & EXPERIENCE:
At first, out of the packet, the sweet scent was very noticeable, so I'm glad that it does go away or at least becomes unnoticeable as I left it on my face later. The mask also hugs the contours of my face well, though it did need adjustments here and there at first. Overall, not a huge issue, so that's great! The adherence is also great, as it doesn't feel like it's at risk of slipping down my face as I busied myself with other things while masking.
In terms of how it feels; the mask material is quite thin, though not the thinnest out there, and as it does not come with a plastic backing, it's great because unfolding the mask from the packet was easy. The mask also feels quite cooling and soothing on the skin, despite foregoing my usual practise of letting sheet masks chill in the fridge beforehand, so that's nice. Though, I did mask in an airconditioned room, so experiences might vary!
In terms of effects, I feel like the brightening effects are not as intense as advertised to be. However, this is just after one use, and maybe this might be true with prolonged use. My skin does look more even toned and feels sufficiently hydrated, though, so I'm still pleased conisidering my skin has been quite dry lately and masking with this has made it feel much better!
 (4/5)
Overall,  Jayeon's Pearl Whitening Mask is a nice, basic hydrating mask to use as a supplement to your routine, and not necessarily a must-have item. But at this super affordable price point, having it on hand isn't a bad thing at all! So definitely a plus point for the cost-effectiveness by Jayeon there! Also love how simple the ingredients are overall. However, I did not experience any noticeable brightening effects, as advertised, so docking marks there.
Just a side note: I wish brands would forego the "instant fairness!" claims in this day and age, as this does perpetuate that "fair skin = pretty" ideology that is simply not true! Love your skin, guys.