I am so excited to this Innisfree It's Real Squeeze Rice Mask #Rice since their sheet masks are a favourite of mine for daily use. I'm not surprised that rice really helps in healing and nourishing properties. My mum used to keep the rice water after washing rice and use it to rinse her face. Sounds weird to you? But yes, is a traditional way of skin brightening and is so effective and she still doing that even now. But as for me, I stay alone so I don't really cook so I don't do that. And also lazy people like me will never do that LOL. Previously I had a very good experience in using rice skin care and I have great results with rice, let's see how this sheet mask performed.
Innisfree's It's Real Squeeze Rice Mask consists of rice extract that can help skin to be smoother, brighter and remove any dullness or rough, dry patches. Just good enough to heal my dull skin. My skin is exposed to too much of sunlight everyday and I get tanned easily. By the way, this sheet mask also contains this special "Jeju Green Complex" that is filled with botanical extracts such as green tea, camellia leaves, tangerine, cactus and orchids.
Despite only having 20 ml of essence, the thick, white emulsion, there was a generous amount left inside the pack.
How to use:
Cleanse face and apply toner to refine the skin texture

Carefully remove mask from packaging, unfold, and place the sheet on your face

Apply mask evenly across face, gently smooth the mask to ensure good contact with skin

Leave mask on face for 10 ~ 15 minutes

Remove mask and discard. Pat skin lightly to absorb the remaining essence into the skin.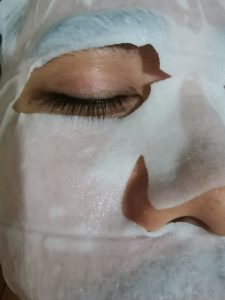 My Opinion:
I have been looking forward to use Innisfree It's Real Squeeze Rice Mask because I am a big fan of rice in my skincare. And currently I'm using a rice based toner as well. Rice always makes my skin so soft, smooth and really bright, it even removed the blackheads on my nose and cheeks. No doubt, I have very high expectations on this sheet mask also.
When I opened this, it smells like rice and a bit yeast smell. The essence is thick and more on emulsion type one, not the kind of watery and runny texture that I expected it to be. I was slightly disappointed a little, as I know that emulsion essence always leave my skin sticky.
I left this on for 15 minutes and my skin was intensely moisturized. My skin was plump and supple after the application but yes I was right, it was slightly sticky. This rice sheet mask is best for drier skin types or those who have dull and uneven skin tone. Of course, those with oily and combination skin can also benefit from the effects of rice for their brightening power. But to me, I don't think I like this sheet mask. One thing I love about it is the scent, sheet mask material and the essence of this rice mask. Their thin sheet mask is made of eucalyptus fibre and the 'Easy-Peel-Design' comes with a handle on the top of the sheet mask makes it more convenient to remove.  I would rate this 4/5 only.
Full ingredients:
Water, Glycerin, Butylene Glycol, Cetyl Ethylhexanoate, Caprylic/capric Triglyceride, Citrus Paradisi (Grapefruit) Fruit Extract, Oryza Sativa (Rice) Extract, Polyglyceryl-3 Methylglucose Distearate, Glyceryl Stearate, Dimethicone, Peg-100 Stearate, Carbomer, Xanthan Gum, Ethylhexylglycerin, Potassium Hydroxide, Aloe Barbadensis Leaf Juice, Sodium Hyaluronate, Citrus Unshiu Peel Extract, Orchid Extract, Camellia Sinensis Leaf Extract, Camellia Japonica Leaf Extract, Opuntia Coccinellifera Fruit Extract, Disodium Edta, Phenoxyethanol, Fragrance
*Results from the use of beauty product above may vary depending upon the individual and will depend on multiple factors, including your age, gender, skin type and condition, use of other products used, health history, lifestyle, diet and others