Etude House was the first ever brand that got me hooked to K-Beauty. Their Wonder Pore Freshner toner was my first purchase and I still keep the big bottle and keep my micellar water in it. 
I travelled to South Korea in 2016 and bulk-bought tons of sheet masks from Etude House 
They are affordable, effective and so comfortable to wear! 
Huh? Which sheet masks am I talking about? I'm talking about their 0.2mm Therapy Air Masks of course! There's so many to choose from so let me share with you my thoughts on one of my fav #Tea Tree 
The daily low-irritant mask made of breathable 0.2mm air sheet effectively delivers 7-free essence to your skin. The tea tree mask keeps skin feeling fresh and moisturized by soothing skin with non-sticky, refreshing moisture
inWater, Glycereth-26, Dipropylene Glycol, Propanediol, Alcohol, Hydroxyethyl Urea, Butylene Glycol, Glycerin, 1,2-Hexanediol, Melaleuca Alternifolia (Tea Tree) Leaf Extract, Sodium Carbomer, Allantoin, Hydroxyethylcellulose, Glycyrrhiza Glabra (Licorice) Root Extract, Coptis Japonica Root Extract, Zingiber Officinale (Ginger) Root Extract, Camellia Sinensis Leaf Extract, Dehydroacetic Acid, Sodium Hyaluronate, Disodium Edta, Dipotassium Glycyrrhizate, Polyglyceryl-10 Laurate, Polyglyceryl-10 Myristate, Caprylic/Capric Triglyceride, Boswellia Serrata Gum, Beta-Glucan, Hydrogenated Lecithin, Lavandula Angustifolia (Lavender) Oil, Eucalyptus Globulus Leaf Oil, Citrus Nobilis (Mandarin Orange) Oil, Citrus Limon (Lemon) Fruit Extract, Pinus Palustris Oil, Phytosteryl/Octyldodecyl Lauroyl Glutamate, Ceramide Np
MELALEUCA ALTERNIFOLIA (TEA TREE) LEAF EXTRACT is widely-used as natural antiseptic in the form of oils, creams, balms, cosmetics etc. Packed with potent antibacterial properties which highly benefit acne-prone skin to reduce skin inflammations and irritations while working on healing acnes and blemishes
ALLANTOIN is extracted from the comfrey plant, it help stimulates skin cell regeneration to help heal and protect sensitive skin also a great moisturizer to soothe and soften skin from dryness and irritation
GLYCYRRHIZA GLABRA (LICORICE) ROOT EXTRACT is also a great anti-inflammatory ingredient. It is packed with licochalcone, a molecule contained in licorice root extract which helps control oil production, great for acne-prone skin as it helps calm and soothe red inflamed acnes
Fit : 4/5
Although the fit around my eyes and mouth is a bit large, I'm pretty satisfied with it
Material : 5/5
Incredibly soft and comfortable and doesn't tear easily. The material is also thin that skin is visible underneath
Adherence : 5/5
Sufficient slits to cover and hugs your face's curves and it doesn't budge when I move around or sit upright
Scent : 5/5
Lightly-scented with tea tree and citrusy smell
Texture : 5/5
Slightly cloudy watery essence with no stickiness
Recommended Skin Types
For all skin types that in need of soothing and moisturizing
Recommended time : 15-20 minutes
Dehydrated-combination, oilier on nose and cheek area. Prone to redness and mild acne.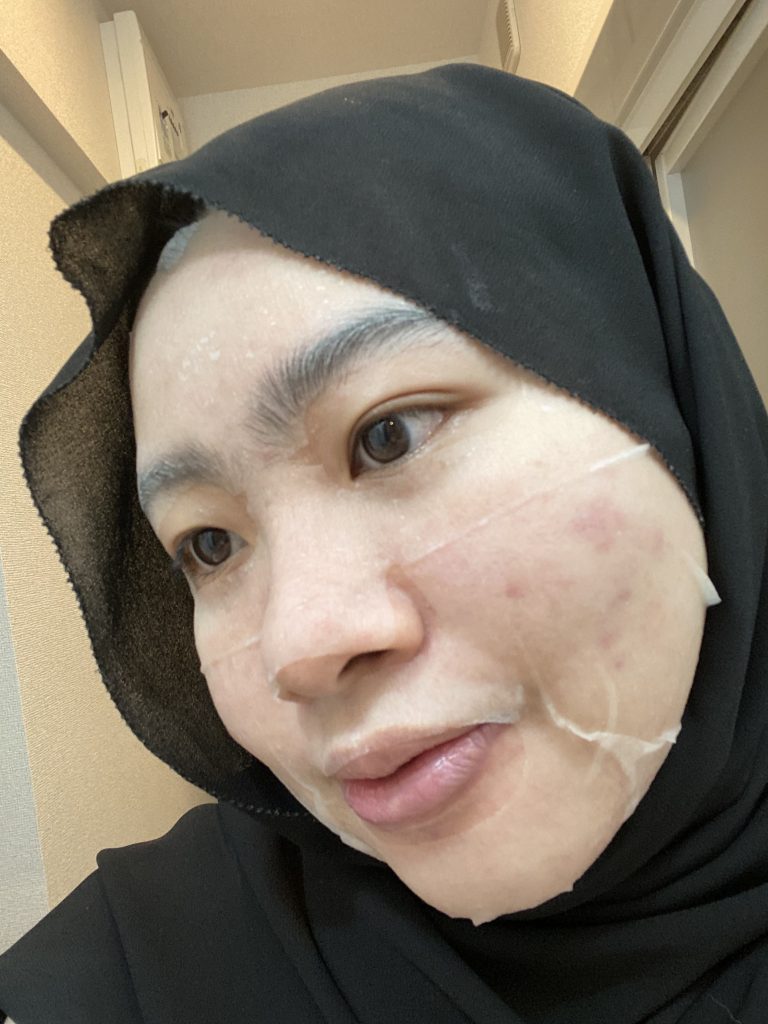 *Gasp* OMG can you see why they highlight how thin their 0.2mm sheetmask are? Look how visible my skin underneath it! It amaze me how thin this sheet mask is and it doesn't tear easily considering how clumsy I am at times 😂
The sheet mask doesn't come with a mesh separator despite how thin and soft it is but fret not it is hassle-free and I didn't take much time to unfold it. However the essence a bit drippy because it is a watery type essence. But it doesn't bothers me because the essence is lightweight and sinks right up into the skin without leaving any stickiness
I can comfortably do some light chores and move around without the sheet mask slides down or lifting. After 20 minutes, I took the sheet mask off and loveeee how refreshing my skin feels. It tones down my redness and my skin looks calmed and well-hydrated. It also soothed down one of my irritated acne that it doesn't hurt to the touch
Though I super love this sheet mask, I do wish they reformulate and omit Alcohol from their ingredient list. In my opinion, if it is not placed as one of the top ingredients, I would consider to buy/continue using it. Alcohol do benefits a little for those has extremely oily skin as it can help reduce pore-clogging sebums. Alcohol also helps products to penetrate into the skin easier. But as you probably already know it is BEST to avoid alcohol in skincare as it potentially irritating. Even if you are not sensitive to it, it might sensitized your skin barrier on the long run
So that being said, please Etude House do consider to reformulate because I am sure many more can benefit and would love these Theraphy Air Mask especially those with dry and sensitive skin. For me I would still repurchase this sheet mask because it works wonders to my skin and won't break my bank 😂
P/s: All opinions and thoughts are based by my experience and solely mine.