Moisturisers are to be applied as the last step of daily skincare routine so unless your toner is a liquefied cream then you should definitely apply creams that are suitable to your skin type and needs.
When it comes to my normal to oily skin, I would prefer to use lightweight gel moisturiser but unfortunately my current skin conditions require even more than just hydrating and moisturising ingredients in my regular creams as I have dry, flaky, redness-prone facial area along my jaws and upper cheeks so I do need soothing and calming  products in my routine.
I actually have soothing serums to treat the affected area for a much more concentrated effect; not just temporary like those regular daily sheet masks can provide but I've figured I want to also have soothing ingredients in my moisturisers that stays well on the skin in the hope that I can have the effect for prolonged period.
I have received several recommendations from fellow skincare enthusiasts and this Midnight Blue Calming Cream from Klairs is one of the few that made to my repurchase list of skincare products.
Product Description
Ingredients List
What you need to know?
This is pretty straight up soothing cream as it contains mainly soothing ingredients hence it's great for toning down redness, soothing irritated skin and to treat low sunburn after being exposed to hours of sun and heat.
Main Ingredients:
Centella Asiatica Extract - As a plant native to Madagascar, it is also known as 'tiger grass' and is often used in cosmetics as 'Centella Asiatica.' Helps regeneration in damaged skin and prevents scarring.
Guaiazulene - With herbal ingredients extracted from chamomile, it shows a dark purple color and is effective in calming the inflammation of damaged skin tissue as well as regeneration of skin cells.
How to Use:
Apply sufficient amount on the affected area in the morning and evening after using toner and serum.
Capacity: 60ml - about 3 to 4 months of daily use.
The product comes in a regular black box with English product description printed on one of the sides for your reference and in 2 sizes; 30ml tub and the above 60ml tube. Now that I don't have a lot of redness to treat, I'm going to repurchase the smaller tub sister.
At the back of the tube, there's also the product instruction on how to use so it's fine to discard the box. The tube has a small hole from where the product can be dispensed from. I do prefer this size so it's very easy to control the amount of product I need to apply on affected area of my skin.
There's the Expiration Date embossed at the top of the tube in the Year-Month-Date format.
The cream is in that blue colour thanks to guaiazulene, almost gel-like and quickly absorbed into the skin (even quicker if I were to use Supple Preparation Facial Toner from the same brand prior to this moisturiser) once spread over the facial area. My skin feels so nice and soothed after every application and there's a nice, well-hydrated finish left on skin.
There is a subtle kind of fresh scent to the cream but it doesn't linger.
Overall, I give this cream 5/5. I really like this cream has been working greatly with my skin as it does the job for soothing and calming indeed. Although I can't really capture the difference on the before and after using the cream, I can totally feel my itchiness being reduced to almost none.
While I focus on using heavy, balm-like Centella Asiatica-containing moisturiser during the first couple weeks after having severe allergic reactions which resulted my skin swollen for couple of days then reduced to dry and flaky along my jawline and upper cheeks, I will switch to a simple, lightweight hydrating moisturiser when my skin has started to recover.
It's interesting to find that I can layer the Midnight Blue Calming Cream underneath another moisturiser just on the still affected area  to really work on my dry and flaky area without feeling too heavy on the skin afterwards.

Looking at the ingredients, it's also great to know that this cream contains Ceramide which is known as a good occlusive to maintain the skin barrier. So if you don't need to layer heavy moisturiser on skin, applying this cream to your whole facial area would have sufficed.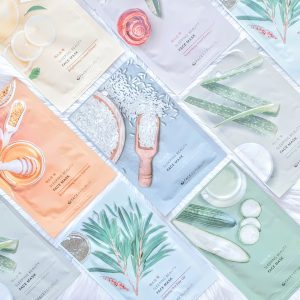 Review
If you're following me on social media like Instagram then you probably noticed that I am such a #sheetmaskjunkie and I do at least use
Read More »