With my current maskne (mask acne) issues, I've been doing a mid day double cleanse and face wash at work which has significantly improved my skin condition. The only downside is that my skin care depletes faster than usual, especially my facial cleanser. I've previously tried Faith in Face's Jelly Sheet masks (read my review here) and had a pleasant experience with it so I decided to try their Egg White Whip Cleansing Foam, mainly because I was intrigued by its really affordable price! I got it on offer for under RM20 which to me is really a great steal! 😍 Also, I was quite curious if something cheap could be good. Often people perceive brand names and higher price points relates with quality, but maybe this isn't the case?
Faith In Face's Egg White Whip Cleansing Foam is a pore-refining facial wash which can deeply cleanse pores and the excess oil and trapped dirt in the skin, while the active ingredients of egg white and yolk helps promote firmer skin and continuous hydration. Its marshmallow-like foam washes out skin impurities while keeping the skin moist even after a face wash. 
Water, Glycerin, Stearic Acid, Myristic Acid, Lauric Acid, Potassium Hydroxide, PEG-8, Sodium Methyl Cocoyl Taurate, Potassium Cocoyl Glycinate, Cocamidopropyl Betaine, Glyceryl Stearate, PEG-100 Stearate, Polyquaternium-7, Sorbitan Olivate, PEG-150 Distearate, Phenoxyethanol, Disodium EDTA, Sodium Benzoate, Butylene Glycol, Albumen Extract, Egg Yolk Extract, Methylparaben
My Review:
First off, I mean who doesn't want to achieve egg-like skin? I was initially attracted by the price and was easily convinced to get it once I saw it uses active ingredients from eggs in the cleanser. I've been a huge fan of products with egg as its ingredients since I used to do natural egg white masks when I was younger and I did see the oiliness of my t-zone area improve. I think I stopped using them because I could finally afford proper skincare as I grew older and that it was too troublesome to do.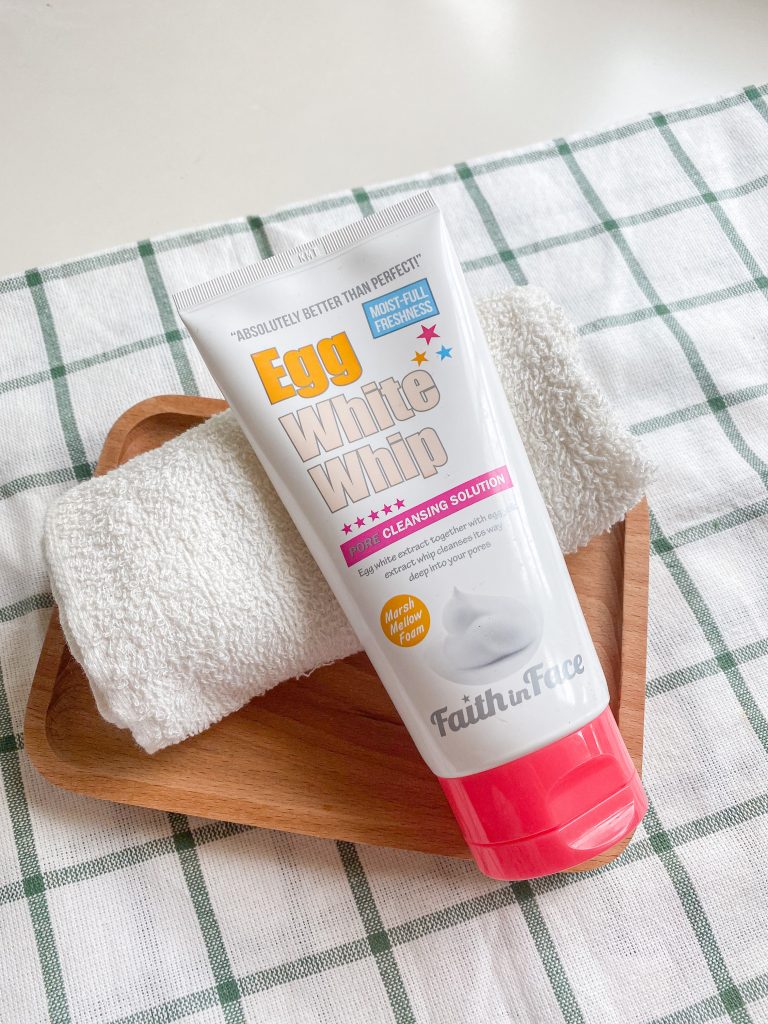 Anyway, Faith In Face's Egg White Whip Cleansing Foam came in a simple squeeze tube that was filled generously. Like, you could tell it was full of cleansing foam and no nonsense air particles in it. The texture of the cleanser is smooth and creamy, making it really easy to squeeze out from the tube. I've used cleansers that were too thick and overtime it just dried up, making it difficult to squeeze. However, it was definitely not the case for this cleanser.
The cleansing foam had a really, really minimal scent (mad love for that!) and lathered really well on wet palms. I only had to use a pea sized amount and it would easily cover my entire face.
After washing it off, my skin felt very clean and surprisingly it wasn't drying to my skin at all. Though it wasn't drying, it wasn't moisturising either. My skin did feel thoroughly cleansed which I really appreciate and I definitely noticed my pores shrinking after several uses. 
I've been using Faith In Face's Egg White Whip Cleansing Foam for over a week now and I've been enjoying it since day one. The only drawback that it was not moisturising, but it isn't a big deal to me as that's where my other skincare routine comes in for all my hydration needs. Definitely a cleansing foam suitable to try whilst on a budget.
Rating: 4.8 / 5 🌟