I've recently seen this super popular acne-care product floating on Facebook, Instagram, and social media channels and it really caught my attention, mostly due to the fact that it has microneedles in it! The Commonlabs Vitamin E Micro Needle Spot Cream is a spot treatment product that has micro-needles to help penetrate your skin and help calm down pimples and blemishes. This was such a unique concept that I was really excited to try this product out!
What are microneedles?
Now some of you may be asking what exactly is microneedles? Well, microneedles are basically tiny needles that help to penetrate the outmost layer of the skin. They are scientifically proven to help penetrate the skin to reduce scarring, help cell renewal, and better absorb products, etc. The Commonlabs Vitamin E Micro Needle Spot Cream is recommended to be used every 2-3 days as microneedles can be active up to 70 hours after application. Microneedles temporarily open up the skin to help absorb active ingredients and the skin closes after the ingredients are absorbed. The microneedles are naturally removed with discarded dead skin cells during the regeneration of new skin cells, so micro-needles do not stay in the skin.
CLAIMS
The Commonlabs Vitamin E Micro Needle Spot Cream claims to:
help penetrate into the skin with its super micro-needles which are thinner than the size of the pores
contains a patented ingredient called Gesolza which is for acne care
contains 54% tea tree leaf extract and vitamin e
INGREDIENTS
Commonlabs is a well-known Korean skincare brand famous for its vitamin centered ingredients. As such, I was pleasantly surprised that the ingredient list came out all green with all of its ingredients rating a level 1 safety!
Melaleuca Alternifolia (Tea Tree) Leaf Extract, Water, Butylene Glycol, Hydrolyzed Sponge, Glycerin, Cetearyl Alcohol, Caprylic/Capric Triglyceride, Cetyl Ethylhexanoate, Glyceryl Stearate, Beeswax, Cetyl Alcohol, 1,2-Hexanediol, Camellia Sinensis Leaf Extract, Centella Asiatica Extract, Sorbitan Olivate, Palmitic Acid, Stearic Acid, Sodium Carbomer, Panthenol, Betaine, Allantoin, Xanthan Gum, Cetearyl Glucoside, Sodium Hyaluronate, Disodium EDTA, Pinus Densiflora Leaf Extract, Beta-Glucan, Citrus Junos Fruit Extract, Madecassoside, Tocopherol, Artemisia Annua Extract
PACKAGING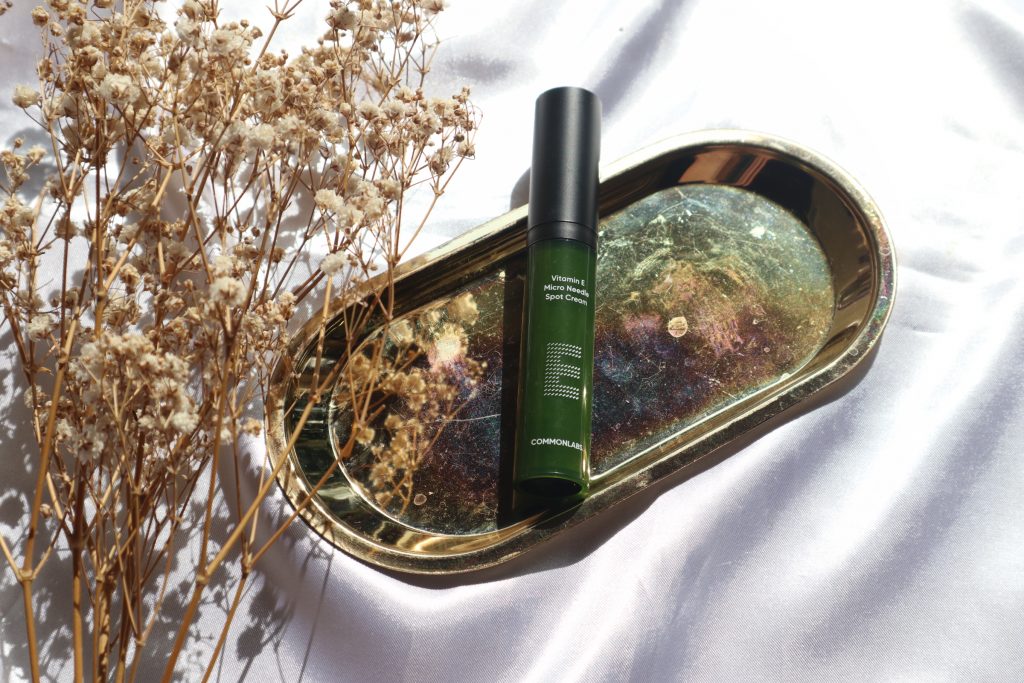 It comes in a minimalistic green tube of 10ml. The cap is a sleek black color and pops out easily. I like how they did the design of the letter 'e' to show that its vitamin e!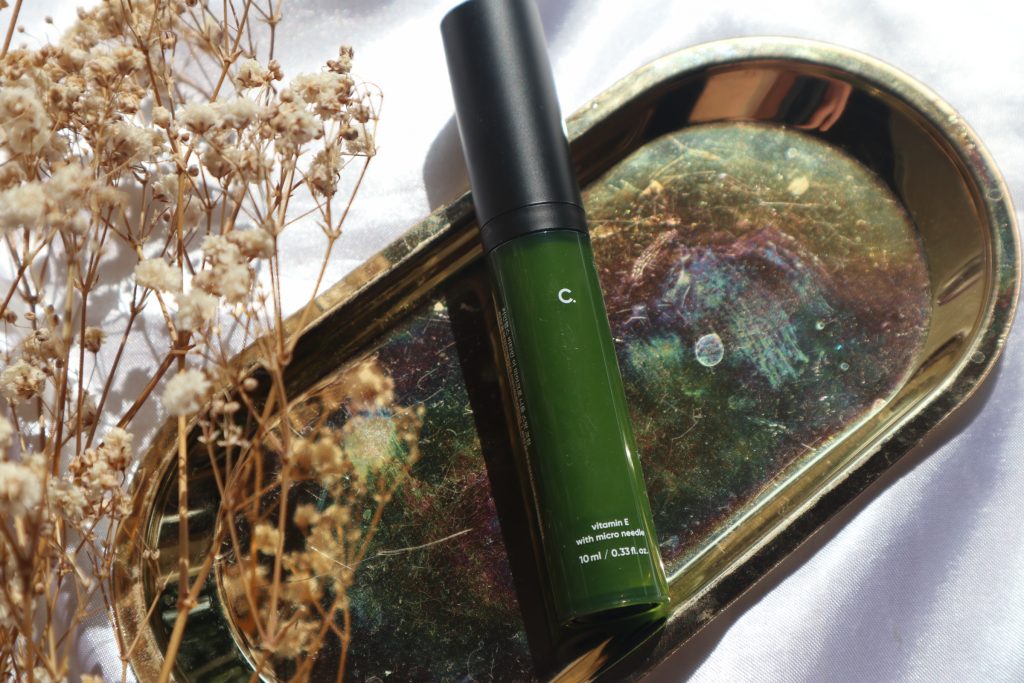 After popping the cap, you can see that the applicator looks a bit weird. It looks like a satellite dish poking out!
To pump the product out, you have to position your finger on to the applicator like so, and just push down gently.
Then, the product comes out like a white-colored worm!
PRODUCT
To use the product, you directly use the head of the applicator to spread onto the desired areas of your skin.
Apply it on your pimples, blemishes gently in a circular motion and you'll feel the slight stinging sensation almost immediately! You'll feel like there's something pricking your skin and it feels weird but that just means its working! Thanks to the tea tree leaf extract and vitamin E, this really helps to soothe and calm reddish pimples/blemishes and help fade them quicker! Plus, the applicator makes it really easy to use and you don't even have to use your fingers.
You can watch me use this here:
pros.
Microneedles help penetrate into the skin to better absorb the product
Contains 54% tea tree leaf extract and vitamin e, which helps with soothing and calming
Easy application
Helps calm pimples, blemishes, and acne-prone skin
Affordable pricing
cons.
In a nutshell,
The Commonlabs Vitamin E Micro Needle Spot Cream is an amazing product that really helps acne-prone skin. The microneedles help open up the skin temporarily and penetrate products better. It is definitely a great product for calming and soothing skin, especially if you have cystic acne or even acne in general. The ingredients are clean and safe and I definitely recommend it to anyone!