If you're a Korean Beauty enthusiast, the brand I'm From is nothing new to you as there are many hit products from this brand that are hyped by K Beauty fans. As for this particular Rice Toner, I have always seen people comparing it with the famous Laneige Cream Skin Refiner, mostly because of the consistencies and milky textures that are quite similar.
Picture credit: Hermo
However for me, this Rice Toner is more lightweight and the Laniege CSR is more hydrating. Both are great in their own ways. The ingredients are also not very similar even though both are formulated with minimal ingredients.
(This toner is from Yeoju, Korea)
This Rice Toner is not a new product and it is quite well known as this is one of the brand's earliest products. It contains rice (oryza sativa) extract that is beneficial for skin in terms of making skin feel soft, moisturised, and looking brighter.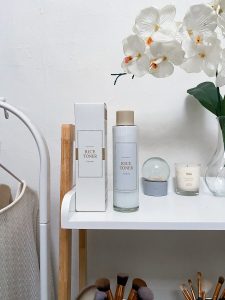 Ingredients
Rice extract, Methylpropanediol, Triethylhexanoin, Hydrogenated poly (C6-14 olefin), Niacinamide, Pentylene glycol, Common Purslane extract,  Rice bran extract, Japanese elm bark extract, Amaranthus caudatus seed extract, Hydrogenated lecithin, Distilled water, Polyglyceryl-10-myristate, Butylene glycol, Adenosine, Cellulose gum, Ethylhexylglycerin, 1,2-Hexanediol
The first thing that made me so intrigued about this toner is that it is named Rice Toner and the first ingredient is rice extract; the feeling is so satisfying – mainly because there are many products that are named, for instance, mugwort toner but mugwort is not even in the first ten ingredients or blueberry sheet mask but blueberry is among the bottom ten ingredients??? I feel cheated! Haha. So when a Rice Toner has rice extract as first ingredient (not even second or third) it gives me such a good feeling.
According to incidecoder, this toner is free from alcohol, fragrance, and essential oil. I don't really mind fragrance (as long as the smell doesn't give me headache) but I really appreciate it when my toners are free from essential oils and alcohol. This toner is also free from paraben and sulfate, if those are your concerns. I love that this toner has a minimal ingredients list (only 18 ingredients) which means there is less risk for irritation as according to Dr. Chwalek:
"The benefit of limiting your skin-care ingredients it that you reduce the risk of irritation or allergy, and that you can focus on products that have a higher concentration of active ingredients like vitamin C, pure ascorbic acid, or retinol,"
Other notable ingredients are niacinamide and adenosine.
Texture and Smell
This toner is quite different because there is a separation in the texture so you would need to shake it well before use so the two parts mix well together to deliver desired results. The texture is white and milky but not viscous at all.  It's a lot thinner than milk. It doesn't feel heavy at all but it not too lightweight either to me.
It absorbs quickly and feels more moisturising than hydrating.
It does not leave a tacky residue but there is like a moisture film kind of after feel?
Experience
This toner is great at moisturising the skin without giving it a heavy feeling and it doesn't make my skin greasy which is something that I really like since I live in a hot humid country where it is summer all year long (yes Malaysia doesn't have those four seasons sobs). It is not as moisturised as the Laniege CSR but the latter is a toner-moisturiser hybrid whereas Rice Toner is just a toner so that is why.
It comes with a stopper. I love that it sinks in pretty quickly and doesn't feel greasy but the filmy residue is there so I prefer to use this at night. I do use it in the AM still, but mostly with minimal routine. I experience no bad reactions such as breakout, redness, itchiness, a stinging sensation or irritation. However I once got a little bit of product into my eyes when applying with hands and it stings! So be careful if you are applying with your hands. I tried using cotton pads to apply but the feeling is not as nice as with hands.
What I like about this toner is that it gives a bit of a healthy glow to my complexion so I love it for no makeup days. This is also a great toner if you love toner masking as it reminds me of a classic rice skincare feeling. I have also tried doing the 7-skin method with this toner but the effect can be clammy to me. For that method, I prefer something more lightweight and fresh and hydrating instead of moisturising.
All in all for me this is a great toner if your skin really likes rice extract or if you are looking for a brightening toner that is adequately moisturising. This is a decent toner and is great for a glowing and moisturised skin but while I don't have much complaint about this, I don't find this a 5/5 material that wows me either.
My rate: 4/5
Would I repurchase: Maybe
SHOP HERE