Facial cleansers are integral part of my daily skincare routine and not a day goes by that I don't wash my face with water-based cleanser. It's a great way to sort of reset your skin as it helps removing impurities, excess oil and dead skin cells even.
With more and more facial cleansers being released by brands literally everyday so I really need to go through these products by at least checking the ingredients list and filtering out those that contain skin-drying chemicals like sulphates and preferring those with skin-protecting ingredients like ceramide, Hyaluronic Acids, etc.
While basic facial cleansers simply cleanse the skin well, there are facial cleansers that contains exfoliating agents; gentle beads in scrub cleansers or gentle acids like Alpha Hydroxy Acid (AHA) that can remove dead skin cells off the surface of the skin and this New Skin Glycolic Facial Wash from Beauty Formulas is Glycolic Acid-containing; a type of AHA that can cleanse and gently exfoliate the skin in one go.
What You Need to Know:
This cleanser delivers the active hydroxy acid agents directly to skin to help remove excess sebum and soften dry, dead skin.
How to Use:
Wet hands, dispense about 2cm of the product and then foam up by adding water to it.
Apply the foam onto your face, massage gently especially around the eye area. Rinse off thoroughly with warm water.
Capacity: 150ml. About 3 months of daily use.
Water (Aqua), Sodium Laureth Sulfate, Sodium Chloride, Glycerin, Coco-Glucoside, Cocomidopropyl Betaine, Disodium Cocoamphoacetate, Glycolic Acid, Lactic Acid, Salicylic Acid, Parfum / Fragrance, Disodium EDTA, Sodium Benzoate, Potassium Sorbate, Hexyl Cinnamal, Linalool, Limonene.
As shown above, the product comes within a tube with a nice cap; originally not sealed unlike Korean facial cleansers that I'm familiar with.
There's full product description at the back of the tube both in English for your reference.
There's no Manufacturing Date or Expiry Date printed at the top part of the tube like other products but there's Batch Code that I haven't got the chance to check with the distributor on how to read it yet. 
The gel cleanser is transparent and once mixed with some water, it lathers into lightweight foam with slight bubbles even for small amount of product but it feels so soft on skin when I actually used a bubble maker as shown in the first photo above.
It is easy to rinse off in a sense that it is not too soapy so it takes less time and water provided that you use an appropriate amount to wash your whole facial area.
I've got to say that while the scent is pleasant to most, it's quite overwhelming and I personally would rather have little to no fragrance in my skincare products.
While I think most of the claims that this cleanser being true; it's gel type that feels gentle even on the most dehydrated skin days I've had like when I was too tired to apply moisturiser the night before and the AHA (Glycolic Acid and Lactic Acid) and BHA (Salicylic Acid) did help with smoothing out my dry, flaky facial area as my face did felt soft and smoother after every wash.
However, I also felt my already dehydrated skin becoming even drier as I use this cleanser both in my morning and evening cleansing routine and I'm guessing it is due to the presence of Sodium Laureth Sulfate in the cleanser itself.
Overall, I give this foam cleanser 3/5. I can surely use it on my regular skin days but definitely going to avoid it during my sensitive skin days. When encountered with this kind of cleanser, I need to be well-prepped with soothing serum, hydrating toner and skin-repairing sleeping mask to minimise the damage onto the skin barrier.
I have to point out here that if you have sensitised skin like myself then you might as well avoid Salicylic Acid-containing cleansers altogether as the ingredient can be irritated to the skin while it is ideal to those with oily and acne-prone skin as it helps with unclogging pores. I love having low concentrations of Glycolic Acid and Lactic Acid in my cleansers and toners as these AHAs help loosening the bonds in dry, dead skin cells which was the initial reason I've gotten this cleanser in the first place.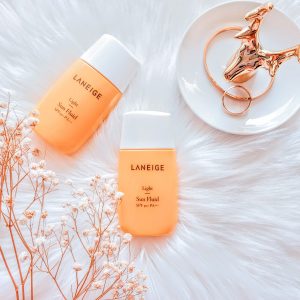 Review
I would say that sunscreen is very personal to any skincare enthusiast as I personally have tried over 50 different products before knowing my own
Read More »