Hello readers! Today I'm going to share with you my review of Colgate Twister toothbrush. But before we start, let's ask yourself when was the last time you changed your toothbrush? How long have you been using your toothbrush? What are the types of toothbrush you are using for your teeth and gums? Do you visit the dentist often? How to choose your best toothbrush?
Let's get started!
The last time I changed my toothbrush was five months back, its kind of long to me. As advised by dentist, we should replace our toothbrush maximum after three months of usage for hygiene purposes. I believe that a new toothbrush can remove more plaque than one that is worn out. As the bristles become worn they become more prone to bacterial or fungal growth.
As for myself, I don't really have sensitive gums and not really bleed when I brush my teeth. I often select the SOFT type instead of the HARD one. Personally feel that a harder bristle can clean my teeth gap better, well its not actually. Back then when I was still a teenager, I used to use a lot of cheap toothbrush from those value shops. And it really hurt my gum so badly. As I grew older, I tend to prefer a softer toothbrush and I found this Colgate Twister. I love the unique design of Twister Bristle Pattern that cleans in-between teeth and along the gum line. Not only that, the multi-height bristles fit the contours of my teeth to clean their surface properly.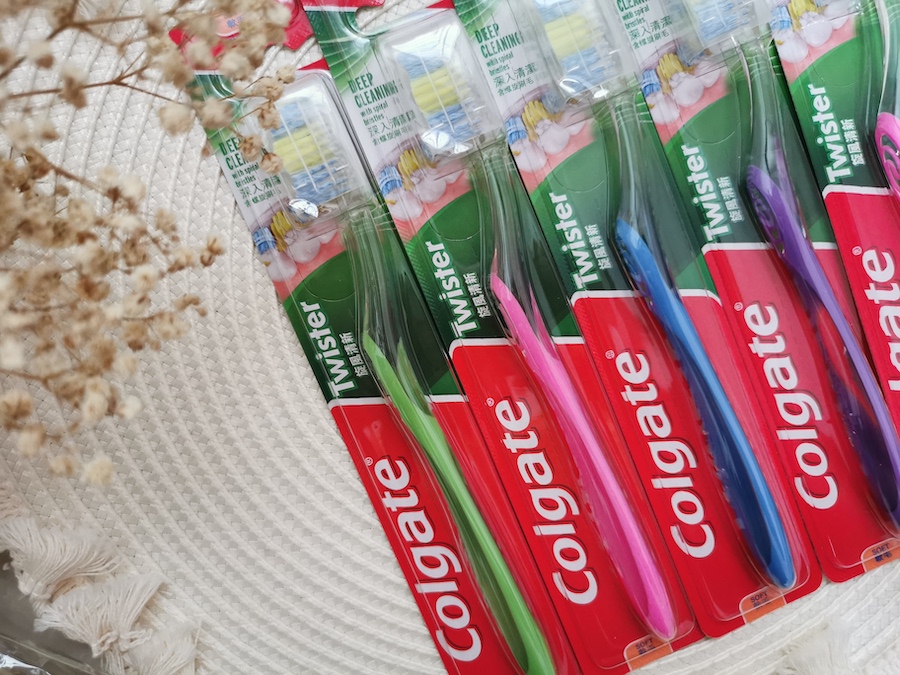 Look at how fine is the bristle, totally not hurting my gum when I'm brushing my teeth.
Direction to use:
BRUSH TEETH THOROUGHLY AFTER EACH MEAL OR AT LEAST TWICE A DAY.
My Opinion:
I would definitely repurchase this toothbrush for myself and my family members! I just realized that they came in SOFT and MEDIUM range too. If you are more to sensitive gum, I highly recommend to go for the soft one. 
One thing I really like about this toothbrush is the grip. So easy to hold and wont slip off easily when your hands are wet. Besides that, it came with hygiene cap too. No need to worry if you need to carry it along during travel and pack it in your luggage. It is nicely capped at the head of the brush to prevent the bristles from wearing out and becoming out of shape. If you notice and see it clearly, the back of the toothbrush is actually a tongue cleaner. How convenient! Its 2 in 1, why not? As a conclusion, this is a good buy and price is reasonable too. Suitable for household use as well.
I would rate 5 stars for this toothbrush. Good job Colgate!