I love a mid-day sheetmasking session to cool off my skin from the heat. Today I am sharing about one of the thinnest sheet masks I have ever used. It is the Make P:rem Comfort Me. Barrier Hole.
DESCRIPTION:
Infuse the skin with strengthening Vitamin B5 with the new Make P:rem Comfort Me. Barrier Hole Mask.
This lightweight, fitted face mask effectively infuses the skin with Vitamin B5 to provide intense hydration while strengthening its natural lipid barrier. This perfect pamper evening treat will leave the complexion feeling rejuvenated and more supple in minutes.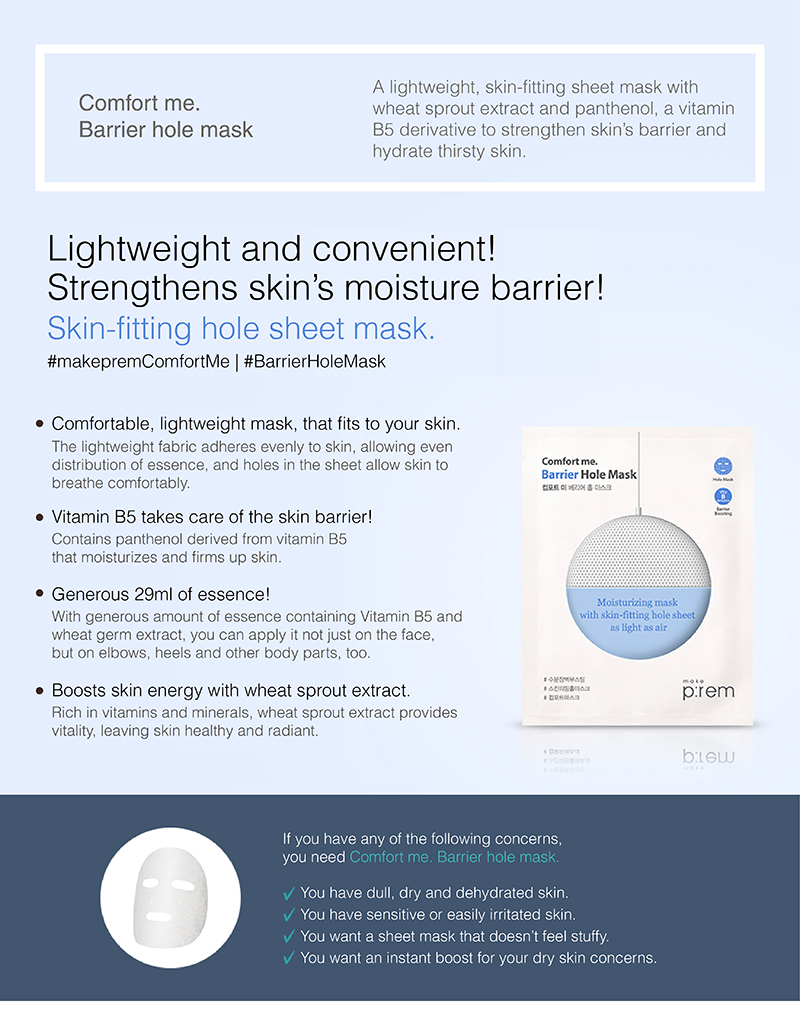 CAPACITY: 29ml/pcs
EFFECTS: Hydrating, Moisturizing
– Hermo
INGREDIENTS:
Water, Glycerin, Dipropylene Glycol, Butylene Glycol, Hydroxyethyl Urea, Centella Asiatica Extract, Paeonia Suffruticosa Root Extract, Polyglyceryl-10 Laurate, 1,2-Hexanediol, Hydroxyethylcellulose, Arginine, Carbomer, Triticum Vulgare (Wheat) Sprout Extract, Chamomilla Recutita (Matricaria) Flower Extract, Glyceryl Caprylate, Xanthan Gum, Ethylhexylglycerin, Panthenol, Citrus Aurantium Dulcis (Orange) Peel Oil, Sodium Hyaluronate, Diethylhexyl Sodium Sulfosuccinate, Citrus Tangerina (Tangerine) Peel Oil, Litsea Cubeba Fruit Oil, Myristica Fragrans (Nutmeg) Kernel Oil, Pantolactone, Houttuynia Cordata Extract, Disodium EDTA
HOW TO USE:
Remove the mask from the packaging and apply to the face. Leave on 10 to 20 minutes before removing and gently patting in any remaining essence.
THE SHEET:
Thin with perforated tiny holes on the fabric, which explains the name of the sheet mask itself: Hole Mask. It comes with a plastic separator, so unfolding it is easy.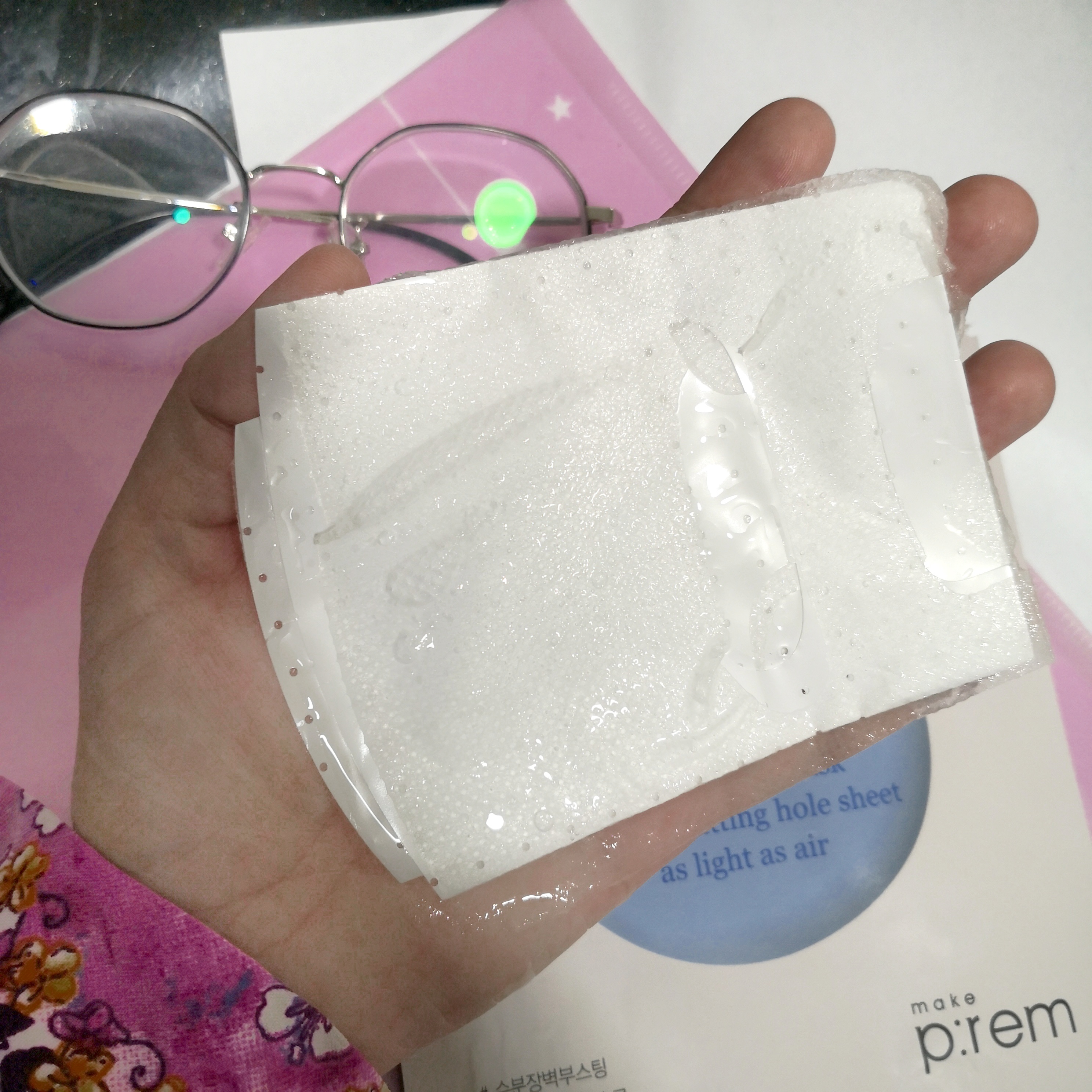 THE ESSENCE:
Runny, colourless, odourless essence that has a little of slip.
MY SKIN TYPE:
Acne prone, oily skin with blemishes and Post Inflammatory Hyperpigmentation (PIH).
MY EXPERIENCES:
If you are looking for a sheet mask that would cling onto your face, then this is a must try! The fabric of the sheet mask is very thin, and as it has holes, it is very comfortable and breathable on my skin.
This airy, skin-fitting sheet mask has a very great fitting. There is 1 cutting each at the bottom cheek area to assist adjusting it to fit your face shape.
It did not budge even when I walked around during the sheet masking session. So full marks for the mask adherence ❤️
I had a sheet masking session during a hot, humid day and I have to say that it instantly cooled off my skin from the heat. The essence is very watery so I had an expectation that it would drip but I was surprised that it didn't!
The session was so satisfying; a sheet mask that did not suffocate my skin. I had it on for 15 minutes. It was still damp when I removed it. The essence on my face absorbed quickly leaving a dewy finish, with no tackiness.
I could definitely see my face looked glowing and no more dull skin. My skin felt moisturized and hydrated. This product is so good that I am adding it to my shopping cart again.
I did not experience any adverse reaction (clogged pores, itchiness, redness, etc) from using this product.
Tips: You may use the remaining essence in the packet for other parts of the body; elbow, neck, hands, etc.
RATING:
5/5
REPURCHASE?
YES!
SHOP HERE
Make P:rem Comfort Me. Barrier Hole Mask