Quite recently, Klairs came out with two huge toners that are so appealing, they were seen in some K-Dramas and were raved by many skincare enthusisasts. They definitely look so biiiiig and they are Dear, Klairs Daily Skin Hydrating Water and Dear, Klairs Skin Softening Water.
(pictures credit here and here)
I have tried the Dear, Klairs Daily Skin Hydrating Water and I really think that it's a great splash of hydration for thirsty skin!
It's huge! Here is the Klairs toner compared to my other toners.

Luckily the PAO is 12 months so I have time to use up the whole big bottle.
𝗜𝗻𝗴𝗿𝗲𝗱𝗶𝗲𝗻𝘁𝘀
Camellia Sinensis Leaf Water, Aqua (Water), Glycerin, Propanediol, 1,2-Hexanediol, Butylene Glycol, Calendula Officinalis Flower Water, Cocos Nucifera (Coconut) Water, Betaine, Panthenol, Pantolactone, Trehalose, Sodium PCA, Sodium Citrate, Disodium EDTA
The ingredients list is really simple with only 15 ingredients. As you know (if you read my previous reviews) I am really into products with minimal ingredients because as according to Chwalek, MD,
"The more ingredients a product has, the greater likelihood that you may develop irritation or allergic contact dermatitis to one of the ingredients in the product," says Jennifer Chwalek, MD, a board-certified dermatologist from New York's Union Square Laser Dermatology. "Also, as you increase the number of ingredients in a product, there's a risk that the active ingredient becomes less bioactive, so you may not get the benefits of the most important ingredients."
Now let's look at what those 15 ingredients are:
The first ingredient (the most concentrated one) is 46% green tea water which is known for its antioxidising effect, providing in-depth hydration.
Second ingredient is water, a solvent (ingredient that dissolve other ingredients in the product).
The next ingredient is glycerine, a superstar "humectant", which means a moisturizer ingredient that helps your skin to cling onto water and hold onto it so that your skin feels nicely moisturized.
Fourth ingredient is Propanediol which is also a humectant and a solvent.
Next ingredients are 1,2-Hexanediol and Butylene Glycol which are both a solvent.
And then we have Calendula Officinalis Flower Water which is used for perfuming and Cocos Nucifera (Coconut) Water which is not only famous for its nourishing and moisturising properties but also for its antioxidant properties.
Ninth ingredient is betaine, also a humectant.
Tenth is panthenol, my favourite soothing ingredient which is also famous as a humectant, just like the next ingredients: Pantolactone, Trehalose, and Sodium PCA. The last two ingredients are for helper ingredients that help keep the formula stable.
This toner is also free from artificial colouring, artificial fragrance, paraben, sulfate, alcohol, and silicone, in case any of these is a concern to you. As for me personally I don't really mind paraben, sulfate, or silicone but I appreciate that it is free from alcohol because there are certain types of alcohol such as ethanol and denatured alcohol that make my dry areas (upper lip area, especially) dehydrated and tight.
 To be honest this is one of the safest, most appealing, and worry-free ingredients I have ever encountered as not only is it vegan and cruelty-free, it is also safe for fungal acne and for sensitive skin (EU Allergen-free). 
𝗧𝗲𝘅𝘁𝘂𝗿𝗲 & 𝗦𝗺𝗲𝗹𝗹
It's a watery toner with no viscosity. Super lightweight and runny, almost like water.
There is no slip to it and the texture doesn't feel sticky at all. It absorbs quickly and hydrates almost instantly, leaving no tacky or filmy residue.
The no viscosity nature makes it layers so well with the subsequent products, in fact it also layers well with itself for 7-skin method.
How To Use
"Skin" means toner in K-Beauty glossary so just use this right after cleansing your face. You can apply it with your hands or with cotton pads, I am comfortable with both but here is what Klairs suggested:
After cleansing, even out your skin texture using a cotton pad soaked in the toner.
Layer the toner where you feel extra dry by pressing lightly with a cotton pad or the palm of your hand.
Continue your routine with essence, cream, and so on.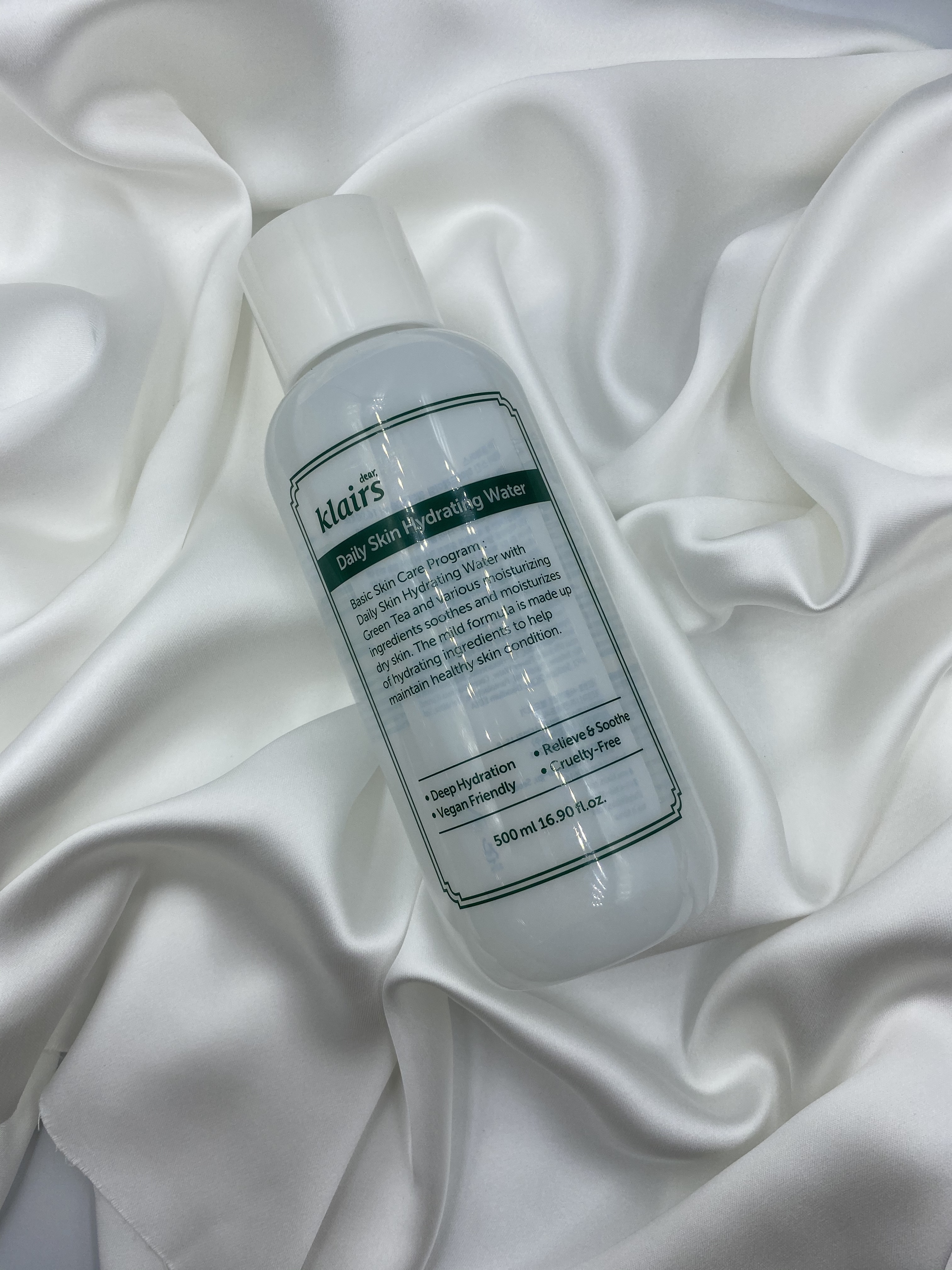 𝙀𝙭𝙥𝙚𝙧𝙞𝙚𝙣𝙘𝙚
As I have mentioned above, the ingredients and the formulation really appealed to me. The fact that the ingredients are minimal, free from anything questionable or worrying, vegan, cruelty-free, safe for fungal acne and sensitive skin makes this toner foolproof to almost everyone. It's almost like you can never go wrong with this one (but still, YMMV still applies). Other than bamboo and centella asiatice, green tea is a favourite ingredient that has been comfortably soothing to my combination skin, and this no-nonsense formulation does just that without suffocating my skin. This hydrates my skin from within and the light, long-lasting hydration is perfect for subsequent steps on the daily, especially if I'm about to follow with thicker essence/ampoules or longer routines.
What is amazing about the ingredients is that it is hydrating but it doesn't contain hyaluronic acid. This is because there are certain people whose skin cannot tolerate hyaluronic acid like the ones in Hada Labo or most hydrating products. So yeah, if you are one of those people, I would suggest you to give this a try since it only uses green tea and a lot other humectants instead. It also has a pH level of 7.0 which is neutral so it is friendly to the skin barrier. My skin shows no bad reaction to this toner – no redness, itchiness, breakout, etc. I really enjoy toner masking and doing 7-skin method with this toner especially in a chilly air-conditioned room or on a hot afternoon.
I know that hundred ringgit plus is quite a big amount to spend on toner but for 500ml, the price to size ratio is not bad at all! This can last you months, and the PAO (period after opening) is 12M so you have a whole year to finish this.
Packaging-wise, I like it that it's made of plastic instead of glass so I don't have to worry about it dropping and breaking into pieces. Plastic is also not as heavy as glass so yes, for 500ml plastic is more practical for me. I also love the see-through packaging as I can see how much is left to use.
All in all, if your skin is easily irritated or you love products with minimal ingredients or if you really want a long lasting hydrating product but cannot tolerate hyaluronic acid, I think you'll go crazy about this one.
My rate: 4.9/5
Would I repurchase? Yes!
SHOP HERE
Klairs Daily Skin Hydrating Water