If you never used or even heard about toner pads, you must be a newbie here. Fret not my friends, I'm happy to share with you what it is because the more we learn… well, highly likely the more we'll buy new stuffs 
Toner pads are basically pre-soaked pad in a tub. There are different types available in the market too; cleansing, toning, peeling etc. Some of the popular ones are from Cosrx and Neogen for example, I've personally used Cosrx One Step Moisture Up Pads and they are so good! I was transitioning from scrubs to gentler option of exfoliating and these pads are great to start if you don't want to use chemical exfoliants yet.
If you're looking for a soothing-type toner pads, you are at the right page because I'm about to introduce to you Purito Centella Green Level All In One Mild Pad 🌿✨
This is a mild daily peeling pads formulated with Betaine Salicylate (BHA) helps eliminate various wastes and dead skin cell that is remained even after cleansing. Contains safe green level ingredients such as highly concentrated Centella Asiatica extract, Asiaticoside, Asiatic Acid and Madecassic Acid to help defending skin barrier system as well as help in caring sebun and pimple
Water, Centella Asiatica Extract, Dipropylene Glycol, Glycerin, Butylene Glycol, 1,2-Hexanediol, Betaine, Betaine Salicylate, Sodium Hyaluronate, Arginine, Glycyrrhiza Glabra(Licorice) Root Extract, Allantoin, Polyglyceryl-10 Laurate, Panthenol, Polyglyceryl-10 Myristate, Caprylyl Glycol, Dipotassium Glycyrrhizate, Disodium EDTA, Melaleuca Alternifolia(Tea Tree) Leaf Oil, Asiaticoside, Asiatic Acid, Madecassic Acid
CENTELLA ASIATICA EXTRACT or also known as 'tiger grass' and is often used in cosmetics to help with the regeneration of new skin cells and prevents scarring. It also works as an effective calming and soothing agent for troubled irritated skin
BETAINE SALICYLATE (BHA) is known to improve skin tone and texture by breaking down keratin and sebum that builds up over time in the skin's pores
PANTHENOL is great humectant, great for those with dry skin. It helps to promote skin healing by enhancing cell growth. It'll binds with water and enhance hydration, making your skin feels smoother and supple
I usually use it in the morning or throughout the day to freshen up my skin. Here I include the recommended instructions down below
Contains 70pieces of pad in a white tub. Printed with easy-to-understand instructions and informations
Dual-textured pad; one side is embossed while other side is soft
Dehydrated-combination, oilier on nose and cheek area. Prone to redness and mild acne.
I've been reaching out for these pads on the mornings when I'm not waking up to a grease-ball face. Just splash some water and take a piece from the tub to swipe off any grime and sebum left behind. I use the embossed side across the face avoiding eye area for gentle exfoliation, remember to just swipe it light-handily to avoid being rough and over-exfoliate your skin. Apply the softer side gently across the face for a quick hydration across the face if you don't want the exfoliating effect.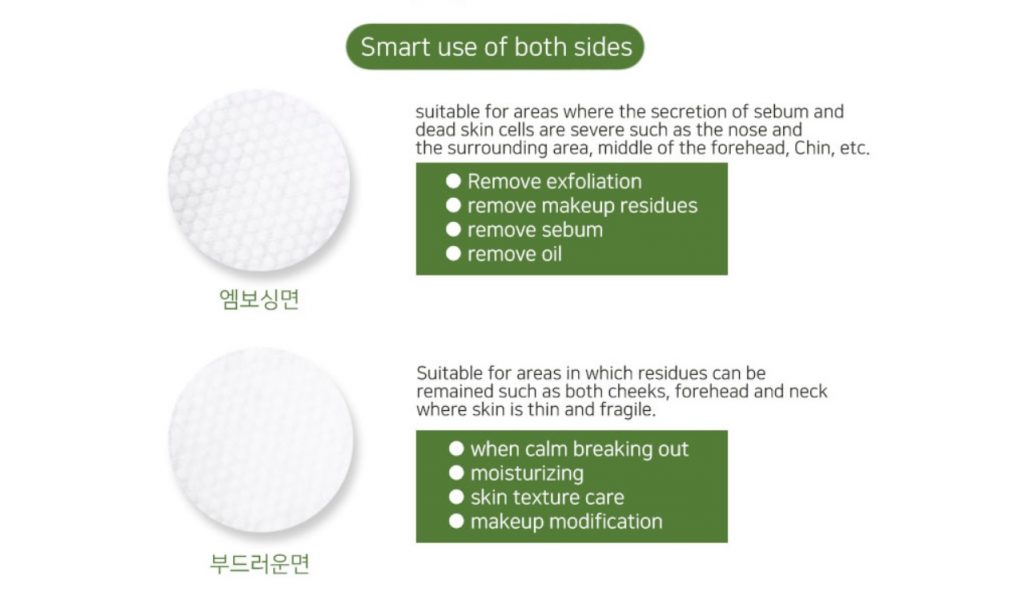 The scent is subtle and refreshing. Love how the pads are soaked with just the right amount of moisture, I didn't find them too dry or wet at all. They did a good job toning my skin, sebum stains and some debris stuck on the pads can be seen through the photo below. My skin feels hydrated and soft to the touch. Amazed how they didn't exacerbate my skin's redness because these Purito's pads are loaded with my fav soothing and calming ingredients like Centella Asiatica and Licorice root extract. However, could feel there's a thin film left on the skin which eventually disappear after a while. I would just continue with my next step routine to counter the slightly greasy feeling and it works like a charm 
I will surely be restocking soon, tho I love layering my toners, serum etc but on some days when I just want it to be quick and simple, these are the products I will definitely reaching for. Infact, toner pads were a staple during my college life because I need to be quick for early classes and these pads get the job done: cleansing + toning + hydrating 💧✨
P/s: All opinions and thoughts are based by my experience and solely mine.