Exfoliation involves the removal of the old dead skin cells on the skin's outermost surface. Exfoliation is involved in all facials, during microdermabrasion or chemical peels. There are various ways to exfoliate the skin especially the mildest way. I'm not a fan of face scrub so I always opt for chemical exfoliator. I've been using Aha & Bha solutions in my routine for many years.
So today I'm going to introduce you the new chemical exfoliator toner from Tiam – AC Fighting Aha Bha Pha Toner. It contains Aha, Bha & Pha but the percentage is quite low so it can be use single everyday. Let's get through to the details.
Product Description
A toner that solves various skin troubles by opening up the pores clogged with dead skin cells, and help sebum excretion.
The triple active ingredients AHA/BHA/PHA gently removes dead skin cells, and resolve skin troubles caused by keratins and sebum. It balance the oil and moisture in skin to adust the sebum secretion, making the skin cleans and healthy. The AC Fighting AHA BHA PHA Toner is suitable for all skin types including troubled skin.
Benefits

: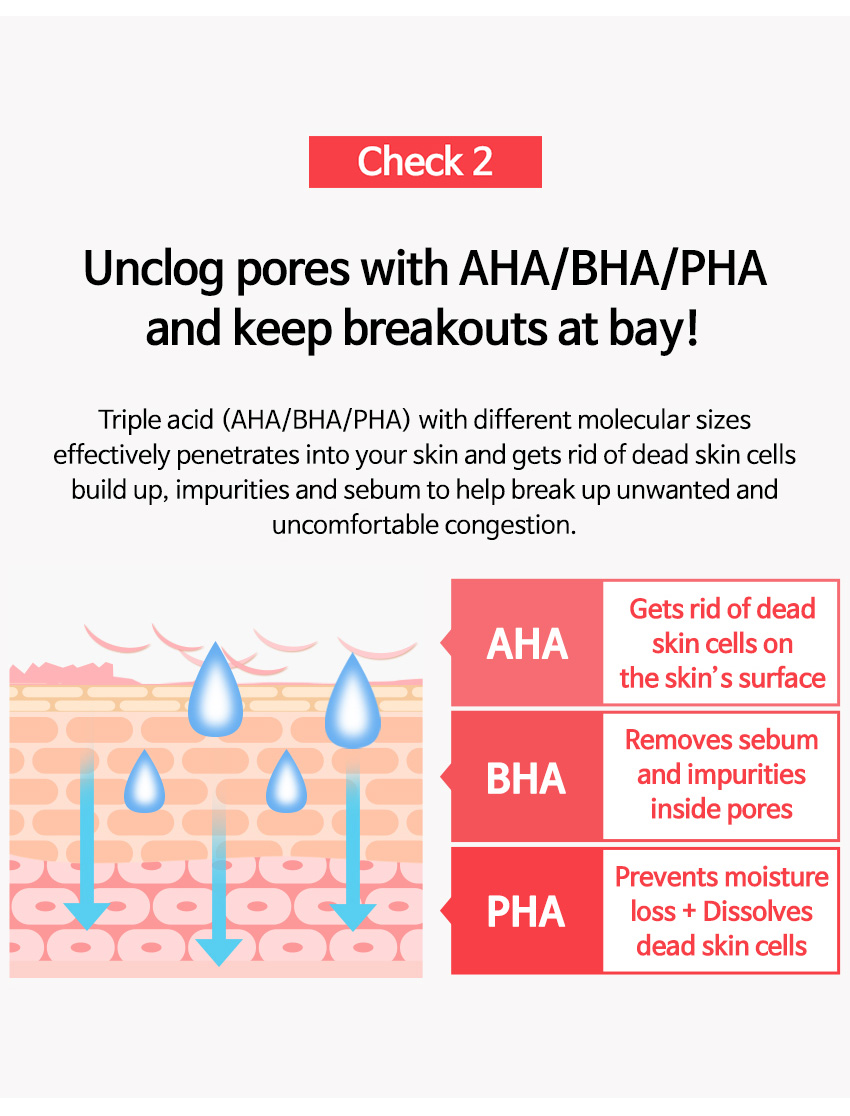 A toner that is specially formulated for acne-prone skin, revealing a healthy-looking complexion.
Infused with AHA, BHA, and PHA to gently remove dead skin cells while restoring an optimized water/oil balance.
Ingredients
Water, Alcohol, Butylene Glycol, Glycolic Acid (2.1%), Sodium Hydroxide, Lactic Acid (0.9%), Gluconolactone (0.5%), Polysorbate 60, Betaine Salicylate (0.3%), Cassia Obtusifolia Seed Extract, Lactobionic Acid (0.2%), Salicylic Acid (0.2%), Panthenol, Allantoin, Citrus Aurantium Bergamia (Bergamot) Fruit Oil, Sodium Hyaluronate
Product Origin
Republic of Korea
Volume
180ml
How To Use
1. Use after cleansing.
2. Dispense a moderate amount on a cotton pad, and wipe along the skin texture.
3. Lightly pat for better absorption.
4. It also can be use in various ways like the illustration below.
Packaging
This toner being housed in a sturdy frost plastic bottle with a white screwed cap. The red & black writing on the white label is very clear and easily to read.
Texture
It has a runny texture, almost like water. The watery texture made it easy to dispense and apply to skin.
Scent
For me, the scent of the alcohol is quite overpowering. But lucky, it's not linger on skin.
Experience
This toner contains 3 exfoliator agent like Glycolic Acid, Salicylic Acid and Gluconolactone but for me the percentage is quite low so that I can used it everyday. It does help smoothen my skin texture as it refines congested pores and removes excess sebum to improve skin problem caused by clogged pores. The watery texture feels comfortable on my skin as it doesn't leave me with a sticky feeling or tightness. The downside – alcohol. It has a strong scent if alcohol but luckily it didn't broke me out. So if your skin can't get long with alcohol, this toner it's not for you
I really recommend this toner for oily and acne prone skin as it really help to unclog the gunk in you skin. For beginner, please slowly incorporate this toner in your routine from once a week to every two days and so on.
Rate
4/5
Where To Buy
Tiam AC Fighting AHA BHA PHA Toner