W.Dressroom may not be as well known in our country as it is in Korea but if you are familiar with the Asian Beauty community #abcommunity on Instagram, you might have seen many posts about this brand especially their Clear Perfumes edition. Also if you are one of the K-Pop idol fan you might have seen this perfume spotted on some male stars such as BTS.
(picture from Hermo)
"This fragrance brand is launched by a renowned Korean designer and star of the popular webtoon "The King of Fashion", Bum Suk Choi. It was his wish to capture the momentary scents and fleeting feelings he experience whilst travelling the world. After all, he believes that fragrances complete a look. That is, they are able to influence how we feel about a person or space.

To create natural, captivating scents as opposed to artificial fragrances, Bum Suk Choi carried out over 30 tests per product and purchased an excess of 100 different products to analyze and compare."
Source: StyleKorean
Recently I had a hand cream haul for me and for my mum because in this Covid season we noticed our hands feeling drier and drier. I hoarded a lot of moisturising and hydrating ones and only one perfumed type and that is this W. Dressroom Hand Cream in 26 Herb Woody. I specifically chose this because I have used this before and the smell is not so overpowering but is still pleasant.
Ingredients
Cyclopentasiloxane, Cyclohexasiloxane, Butyrospermum Parkii (Shea) Butter, Argania Spinosa Kernel Oil, Hippophae Disodium EDTA , Glycyrrhiza Glabra (Licorice) Root Extract, Aqua,Glycerin, Caprylic/​Capric Triglyceride, Cetearyl Alcohol, Stearic Acid,Glycereth-26, Rhamnoides Oil ,Helianthus Annuus (Sunflower) Seed Oil,Hydrogenated Lecithin, Ceramide NP,Phytosphingosine, Lavandula Angustifolia (Lavender) Flower Water,Citrus Aurantium Dulcis (Orange) Flower Water, Rosmarinus Officinalis (Rosemary) Leaf Extract, Aloe Barbadensis Leaf Extract, Corchorus Olitorius Leaf Extract, Salvia Officinalis (Sage) Leaf Extract, Artemisia Vulgaris Extract,Camellia Sinensis Leaf Extract, Butylene Glycol, Madecassoside, 1,2-Hexanediol, Caprylyl Glycol,Polysorbate 60, Petrolatum,Carbomer, Triethanolamine, Sorbitan Stearate, Fragrance (Herb Woody 0.9 %)
Main ingredients according to the writings on the packaging are madecassoside, ceramide, argania spinose kernel oil, shea butter, and herb/leaf extract. According to www.incidecoder.com:
Madecassoside is one of the main biologically active components of the famous medicinal plant, Centella Asiatica, aka Gotu Kola. It has pretty well established wound healing, skin soothing and antioxidant activities. Madecassoside is known to induce collagen expression and ⁄ or to modulate inflammatory mediators thus might prevent and correct some signs of aging.
Ceramide (my favourite ingredient especially for hand, feet, elbows, knees, and neck) plays a super important role in having a healthy skin barrier and keeping the skin hydrated.
Argania Spinose Kernel Oil or argan oil contains 80% nourishing and moisturizing unsaturated fatty acids, mainly oleic (38-50%), linoleic (28-38%) and palmitic (10-18%). It also contains a relatively large amount of antioxidant vitamin E (600-900 mg/kg, about twice as much as olive), small amounts of antioxidant phenols (including caffeic acid, ferulic acid, and epicatechin), as well as some rare sterols with soothing and anti-inflammatory properties. Thanks to all the above goodness in argan oil, it can greatly nourish and moisturize the skin and hair. It's also claimed to be able to neutralize collagen-damaging free radicals, help reduce scars, and revitalize and improve skin elasticity.
Shea butter and argan oil are top ingredients so for those of you whose hands are not comfortable with a high amount of these two, you might want to consider. This hand cream is also free from paraben, sulfate, and alcohol. I don't mind paraben but I appreciate it if there is no alcohol in my hand cream (mind you that not all alcohol are bad, only some of them can be drying).
Texture
As you can see in the video, the texture is creamy and viscous. To be honest it's quite thick but as you spread it, it doesn't feel as heavy as you would expect it to be.
It is not sticky but it can feel slightly greasy at first. Absorbs fairly well and doesn't take long to sink in.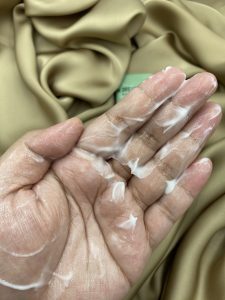 It leaves a filmy residue after you spread it because if your hand gets wet after, the surface can be tacky so yeah.
Smell
What I like about this is that it smells subtle and not overpowering at all. I like my hands to smell nice but not drawing too much attention to it. The top notes for this Herb Woody are bergamot, orange, and tangerine. The middle notes are lavender and rosemary while the base notes are of cedarwood and pine.
Experience
First off I love that I get a big 50ml tube at only a reasonable price and it is a quality product; not just some knockoff ones that doesn't really deliver.
This hand cream feels moisturising and hydrating, which is just what my cracked fingers need after probably hundreds of pumps of hand sanitizers. I love that it repairs the skin cracks near my outer cuticles. The skin on top of my fingers also feel nourished. While it doesn't feel lightweight, it is not overly thick at all. Yes it is viscous but it spreads nicely.
This is my night hand cream as after a day of pumping hand sanitizers, washing the dishes and being exposed to the chillies and spices when I am cooking, this definitely feels like an instant pick-me-up. The shea butter and argan oil really provide moisture while madecassoside soothes my tired and rough skin. I love how this works as an overnight repair for my precious hands.
If you have oily or sweaty hands however, this can be a bit too much for you especially on a hot afternoon as it can leave a filmy residue that can feel uncomfortable. I think this would be really great in winter or colder months to carry around in your handbags. You can also use this on your feet or elbow or knees or other dry areas as this will help strengthen the skin barrier. Besides the herb woody smell is also very subtle and light and it feels so refreshing!
My rate: 4.8/5
Would I repurchase? Yes.
SHOP HERE