I have been using some of Shiseido's hair care products and I would say I really like it. Do you guys remember the Tsubaki conditioner that I have reviewed previously? They are one of Shiseido's line as well. I still remember the day I discovered how soft and tangle free Tsubaki made my split ends. And it really left a very good impression on me. I literally shared with my friends and family about how good the product is. Every time there is a promotion, I will stock up a few tubes! 
That's why I believe Ma Cherie Air Feel Shampoo will definitely be a star product as well. I purposely bought this travel-sized shampoo because I'm going for a short trip to Langkawi this soon. But I couldn't resist and I just used it before my trip. I'm just so obsessed with their fancy packaging.
Have you ever wondered what is the meaning of Ma Chérie ? I actually googled it and found that it means 'my sweetheart' in French. Awww, so sweet huh? Their packaging is targeted more towards the young ladies because of the sweet pink and princess-y packaging, I'm seriously a sucker when it comes to cute bottle. Packaging of course doesn't really matter to me but it does add some prettiness to my toilet and vanity LOL. By looking at it makes me happy. For Ma Chérie, there are 2 ranges which is Air Feel and Moisture. The one that I'm reviewing now is their Air Feel range which helps to add volume to limp and flat hair  like me. It was also formulated with Champagne Honey Gelee, which is a potent combination of both champagne and honey!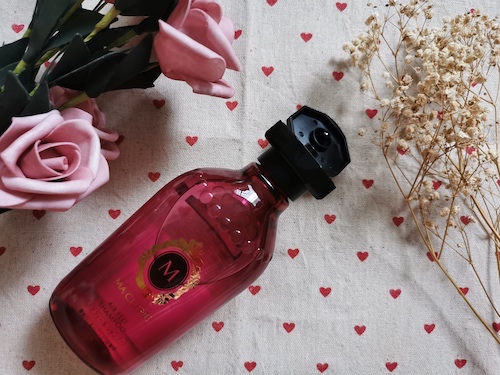 How to use:
APPLY AN APPROPRIATE AMOUNT ON WET SCALP AND LATHER WITH AN ADEQUATE AMOUNT OF FOAM. RINSE WELL
My Opinion:
It tested this product for the very first time and I been extra careful when I use this. I literally read each of the ingredients on the bottle before I used it. You know I hate those shampoos with chemicals, but this is a non silicone shampoo, exactly what I want in my hair care range. And it helps to add volume on flat hair, double bonus for me! After washing, I could see my hair feels fluffier and the texture is a lot softer. Not so flat like a pancake and my it does not dry up my hair. It neither leaves any oily residue nor weighs my hair down. Basically, my hair just feels really healthy and fine! Between Tsubaki and Ma Chérie, I find Ma Cherie more moisturizing and my cup of tea! Indeed, it was slightly pricey for this small little bottle, but definitely worth a try. You will love the scent! Trust me!
Full ingredients:
Water, Sodium Laureth Sulfate, Cocamidopropyl Betaine, Dipropylene Glycol, Sodium Lauryl Glycol Carboxylate, Sodium Chloride, Polyquaternium-10, Propyltrimoniumchloride Acrylamide/Dimethylacrylamide Copolymer, Starch Hydroxypropyltrimonium Chloride, Hydroxyethyl Urea, Lactic Acid, Urea, Sodium Lactate, Glutamic Acid, Inositol, Honey, Hydrolyzed Wheat Protein, Wine Extract, Hydrolyzed Wheat Starch, Peg-2 Laurate, Citric Acid, Disodium Edta, Ppg-70 Polyglyceryl-10 Ether, Ammonium Lactate, Butylene Glycol, Bht, Phenoxyethanol, Sodium Benzoate, Fragrance, Red 33, Yellow 5.
*Please refer to the ingredients list on the product packaging for the most accurate list of ingredients. 
*Results from the use of beauty product above may vary depending upon the individual and will depend on multiple factors, including your age, gender, skin type and condition, use of other products used, health history, lifestyle, diet and others
Shop Here: