There are several factors affecting my reasons to buy several different moisturisers and one of them being the environment I'd be spending in for  a known period of time so this Jeju Cherry Blossom Jelly Cream from Amorepacific's brand Innisfree was purchased sometime early this year when I had to start working from home due to our country's Movement Control Order (MCO).
While I usually prefer lightweight cream for my day skincare routine, that is because I'm working in air-conditioned office therefore in need of hydrating moisturiser that retains the moisture level well on skin and works nicely under my sunscreen. But throughout the 2 months of MCO, I simply just worked in my apartment's living room and enjoyed the nice breeze of wind from morning till evening so I switched to this lightweight gel cream instead.
What's good about this moisturiser?
Basically, it's a nice brightening and also hydrating moisturiser at the same time with jelly-like texture that my normal to oily combination skin loved so much especially for day time use.
How to use?
Just take appropriate amount for your facial area and apply on cleansed, toned skin from inner to outward of your face. Do apply a little bit extra on dryness-prone facial area; that's my upper cheeks and massaged well until all the cream well-absorbed into the skin.
Capacity: 50ml – About 2 to 3 months of daily use depending on your usage but I actually finished this in merely 2 months as I've reapplied this even in my midday skincare routine.
Water / Aqua / Eau, Dipropylene Glycol, Niacinamide, Betaine, 1,2-Hexanediol, Carbomer, Tromethamine, Fragrance / Parfum, Ammonium Acryloyldimethyltaurate / Beheneth-25 Methacrylate Crosspolymer, Disodium EDTA, Ethylhexylglycerin, Propanediol, Prunus Yedoensis Leaf Extract, Tocopherol
The product comes in a pretty, minimally designed pink and white box with English product description printed on one of the sides with full ingredients list for your reference.
Period After Opening (PAO) is 12 months like most regular Korean moisturisers so just make sure to keep away from light and heat.
At the back of the tub, there's also the product description although in Korean but not to worry as you can get more information on the brand's website.
The tub was sealed with plastic material and there's no separate inner lid so make sure to twist the outer lid tightly while on travel.
There's the Expiration Date embossed at the bottom of the tub in the EXPYYYYMMDD (Year-Month-Date) format so definitely write down the opened date for this product on your skincare journal; assuming you have one or simply right on the product will do too.
The cream is transparent / clear, lightweight, jelly-like indeed and quickly absorbed into the skin (even quicker if I were to use skincare booster prior to this moisturiser) once spread over the facial area. My skin feels so nicely well-hydrated after every application and I can comfortably apply a tone-up sunscreen on top.
There is a subtle, kind of fresh floral scent to the cream but it doesn't linger although definitely making me reaching for it everyday.
Overall, I give this cream 3/5. I do liked it as I found the hydration power it provides quite sufficient on normal skin days. The lightweight texture is the main reason I've gotten the cream in the first place and it surely done its job well at keeping my skin feeling nicely hydrated all day long. I love the floral scent very much too!
When it comes to the brightening effect however, I haven't really seen any difference even after finishing the whole tub but I'm the type of skincare enthusiast that rely on concentrated essences, serums or ampoules for a much prominent result anyway so I'm just happy that it works greatly as a simple day cream for my skin and doesn't irritate my sensitised facial area.
While I think this cream works best for younger skin with less skin problems, I also love the fact that I can mix it with tone-up cream to tone down the white cast effect a little bit; some tone-up creams are just too thick, intense and quite drying for my medium skin tone and leaving a nice finish before I can apply my sunscreen or base makeup for the day.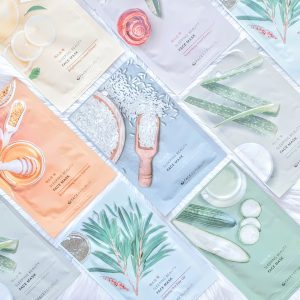 Review
If you're following me on social media like Instagram then you probably noticed that I am such a #sheetmaskjunkie and I do at least use
Read More »