I know some skincare enthusiasts do believe that toners aren't that important but for me it's a step that helps in preparing my skin for treatment steps i.e essence, serum and ampoules, allowing these treatment products to be well absorbed into the skin.
Most toners are meant to hydrate the skin especially after cleansing steps where skin's moisture being stripped off by surfactant presence in common cleansers but these days, I've got the opportunities to explore different types of hydrating toners.
There are regular bottled type, pre–soaked toner pads infused with other functional ingredients, facial mist type that mostly are watery and comes with spray heads and my favourite type of  hydrating toner would be those in thicker consistency that I layer in between my treatment skincare products; creating moisture 'sandwich' to help them absorbed into the skin better which exactly is this Supple Preparation Facial Toner from Klairs that I've been loving so much lately.
What's Interesting about this Toner
Formulated with a base of various botanical extracts to balance the skin's pH level and provide full nourishment to the skin.
Also helps prepare the skin to better absorb following products and boosts their effectiveness.
How to Use: Apply on a clean face, gently pat all over the facial area using palms until fully absorbed.
Capacity: 180ml – About 3 to 4 months of daily usage.

Water, Butylene Glycol, Dimethyl Sulfone, Betaine, Caprylic / Capric Triglyceride, Natto Gum, Sodium Hyaluronate, Disodium EDTA, Centella Asiatica Extract, Glycyrrhiza Glabra (Licorice) Root Extract, Polyquaternium-51, Chlorphenesin, Tocopheryl Acetate, Carbomer, Panthenol, Arginine, Luffa Cylindrica Fruit / leaf / Stem Extract, Buta Glucan, Althaea Rosea Flower Extract, Aloe Barbadensis Leaf Extract, Hydroxyethylcellulose, Portulaca Oleracea Extract, Lysine HCL, Proline, Sodium Ascorbyl Phosphate, Acetyl Methionine, Theanine, Lavandula Angustifolia (Lavender) Oil, Eucalyptus Globulus Leaf Oil, Pelargonium Graveolens Flower Oil, Citrus Limon (Lemon) Peel Oil, Citrus Aurantium Dulcis (Orange) Peel Oil, Cananga Odorata Flower Oil, Copper Tripeptide-1.
The product comes in its own box with similar design and there's English product description and all the information you need on the sides of the box with the Distributor sticker at the bottom.
The product doesn't come with a pump or anything; just a simple screw cap with seal that needs to be removed before using and with the small hole at the cap, I'd say it's easy to dispense the toner whether on cotton pads or right onto my palms.
The product has a slightly thick consistency which quickly absorbed into the skin and there's a subtle scent to this but if you're not into fragrance at all then you should definitely check out the unscented version of this toner.
The toner leaves a well-hydrated finish that's just perfect for me to follow up with my treatment serums and ampoules.
I find this toner is simply hydrating and thanks to its slightly heavy texture, I have been using it a lot in both of my morning and evening skincare routines but the one method that I have been enjoying very much is when I used the toner to soak compressed sheet masks for toner masking.
You can simply placed the compressed sheet into the cap and pour the toner in a little by little then let the sheet absorb the toner well. Proceed with applying the sheet onto your facial area and you can even pour the toner right onto the sheet until it's fully saturated. Keep the sheet on for about 5 minutes before you continue the rest of your skincare routine or keep adding more toner if you need an intense hydration treatment.
I do love bringing sheet masks while traveling back to my mum's hometown but staying in fully air-conditioned hotel rooms can be drying for my already dehydrated skin so I always decant this toner into a smaller bottle and pack it with the rest of my skincare minis.
I actually have several different hydrating toners with similar consistency to this toner from Klairs. While the most common ingredient would be Hyaluronic Acid, it's important to also keep on applying suitable moisturiser on top of these hydrating toners as I saw some misconceptions among my social media followers that one can simply skip moisturiser.
While Hyaluronic Acid is a humectant; ingredient that pulls in moisture from the environment into the skin, emollients in the form of creams, gels or lotions serves to protect the skin barrier from external stressors and also to sort of lock the moisture inside the layers of the skin.
Overall, I give this toner 5/5. It's working very well with my skin conditions; whether I'm having normal skin days or dehydrated mornings. I can totally feel the difference on how my serums and ampoules being absorbed into the skin whenever I skipped this  toner and use other hydrating toner with lighter consistency.
It's a huge plus I can use this toner in several ways too so including using it as a medium to mix my powder clay mask with as I don't want the clay mask to further drying out my skin even if I were to keep it on my face for like 10 minutes.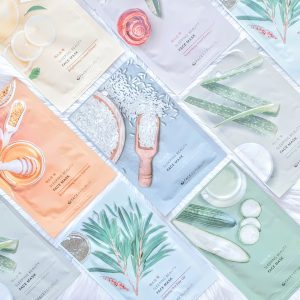 Review
If you're following me on social media like Instagram then you probably noticed that I am such a #sheetmaskjunkie and I do at least use
Read More »