So last week me and my husband joined our friends' family road trip to Kawaguchiko Lake, one of the famous five Mount Fuji lakes. We stopped at Oishi Park, probably the best spot to view the majestic Mount Fuji. It is a beautiful park with flower garden and when I was there, they have Kokia bushes that will turn red later in autumn! In the flower garden are different types of roses but some of them already dropped because it's the end of summer 
I'm drafting my review on Etude House 0.2 Therapy Air Mask 3pcs [#Damask Rose] while reminiscing about the roses in the Oishi Park. There was this one particular rose that stand out the most in my memories, it was named Elina roses; white roses with slightly yellow tint. They have lush petals and smells fragrance too.  Maybe I should revisit there again next year and check if they have damask roses 🌹
The daily low-irritant mask made of breathable 0.2mm air sheet effectively delivers 7-free essence to your skin. This mask contain Damask Rose extract and Niacinamide, a skin whitening agent, keeps skin moisturized for long hours by providing instant moisture and vitality to tired skin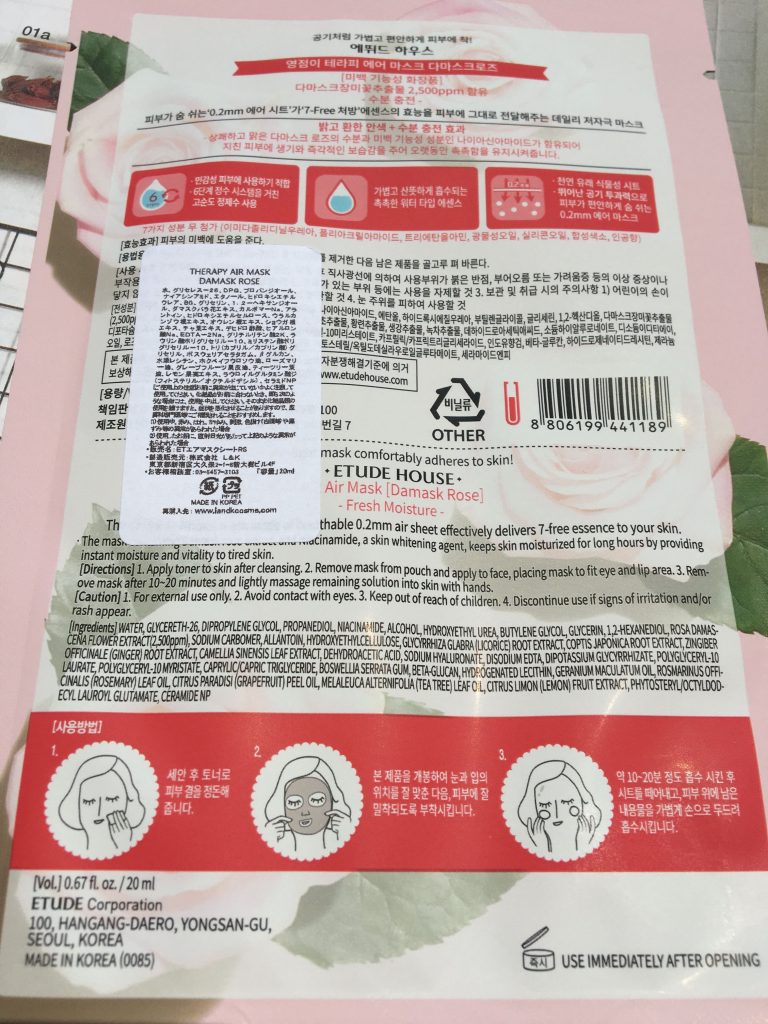 Water, Glycereth-26, Dipropylene Glycol, Propanediol, Niacinamide, Alcohol, Hydroxyethyl Urea, Butylene Glycol, Glycerin, 1,2-Hexanediol, Rosa Damascena Flower Extract, Sodium Carbomer, Allantoin, Hydroxyethylcellulose, Leaf Extract, Dehydroacetic Acid, Sodium Hyaluronate, Disodium Edta, Dipotassium Glycyrrhizate, Polyglyceryl-10 Laurate, Polyglyceryl-10 Myristate, Caprylic/Capric Triglyceride, Boswellia Serrata Gum, Beta-Glucan, Hydrogenated Lecithin, Geranium Maculatum Oil, Rosmarinus Officinalis (Rosemary) Leaf Oil, Citrus Paradisi (Grapefruit) Peel Oil, Melaleuca Alternifolia (Tea Tree) Leaf Oil, Citrus Limon (Lemon) Fruit Extract, Phytosteryl/Octyldodecyl Lauroyl Glutamate, Ceramide Np
NIACINAMIDE is wildly use in skincare products due to its multi-benefits for skin such as minimizing enlarged pores, tighten lax pores, improve uneven skin tone, soften fine lines and wrinkles, diminish dullness, and strengthen a weakened skin barrier
ROSA DAMASCENA FLOWER EXTRACT  has strong antibacterial and antiseptic activity to protect skin against bacteria and infection. Studies also shows that it has anti-inflammatory properties which is great for fighting inflammation and redness
ALLANTOIN is extracted from the comfrey plant, it help stimulates skin cell regeneration to help heal and protect sensitive skin also a great moisturizer to soothe and soften skin from dryness and irritation
Fit : 4/5
Fit nicely for my face although the cut around my eyes and mouth is a bit large
Material : 5/5
Incredibly soft and breathable.  The material is so thin that skin is visible underneath but it doesn't tear easily
Adherence : 5/5
Sufficient slits to cover and hugs your face's curves and it doesn't budge when I move around or sit upright
Scent : 3/5
Strange that I expected it will smell like roses but in reality it smells more citrusy IMO
Texture : 5/5
Clear runny essence with no stickiness
Recommended Skin Types
For all skin types that in need of refreshing skin-rehydration
Recommended time : 15-20 minutes
Dehydrated-combination, oilier on nose and cheek area. Prone to redness and mild acne.
After opening the packaging, took a quick whiff of the scent (Like I always do lol who else like this?
), weirdly enough it didn't actually smell like roses, more of citrusy scent. Highly likely because it does contains grapefruit oil and lemon extract at the bottom of the list. But if you're concerned about the scent, it is pretty mild and it doesn't linger while you have it on your face in my opinion.
The essence was quite drippy because of the runny texture, easily-absorbed and feels lightweight on the skin. The material is soft and thin, although it didn't come with any separator it is not flimsy and pretty easy to smooth it out on the skin. No bubbles trapped and no lifting on the edges, just comfortable and breathable experience. 
After a good 15minutes, I took the sheet mask off and pat in the remaining essence. Love how it didn't leave any tacky or greasy feeling. Post-masking makes my skin feels hydrated enough and soft to the touch. My skin is visibly calmed because the redness around the center of my face is greatly reduced. Overall my skin looks lively, bright and healthy. Though it didn't help flatten this one acne itching to emerge on my chin, I'm quite happy with the result.
I would highly recommend this sheet mask if you enjoy thin sheet masks with light and runny essence. It'll provide you a refreshing rehydration with no annoying residue for your skin. However I do notice that some of my friends' skin doesn't tolerate rose extract well. If your skin feels the same way, please avoid using any rose-infused skincare. YMVV 
✨ Always listen to your skin ✨
P/s: All opinions and thoughts are based by my experience and solely mine.