Do you do the double cleansing method in your skincare routine?
If you do, you probably know that there is a few options for a first cleanser. One of them is cleansing oil. What if you could have a cleansing oil that is travel friendly and pocket sized  for convenience to bring around anywhere you go so you don't skip your double cleansing routine?
Let me share with you about Innisfree Apple Seed Cleansing Tissue which is a cleansing oil packed in a cleansing tissue packet!
Description:
Cleansing wipes that gently exfoliates dead skin cells while keeping the skin clean and supple.
Features:
1. Gentle and clean removal of makeup and impurities 
Cleansing oil contained in tissue gently and cleanly removes impurities inside and outside the pores.
2. Refreshing and moist finish with apple extract 
Non-sticky, refreshing and moist cleansing with apple extract.
3. Gentle cleansing with apple seed oil 
Apple seed oil, rich in moisture and nutrients. gently cleanses your face.
– Hermo
How To Use:
Gently wipe off make-up with the cleansing tissue and cleanse your face with facial cleanser.
Capacity:
15 sheets/pack
Period After Opening (PAO) : 
6 months
Packaging:
The cleansing tissue comes in a opaque white plastic packet with a green sticker seal that can be easily open and close.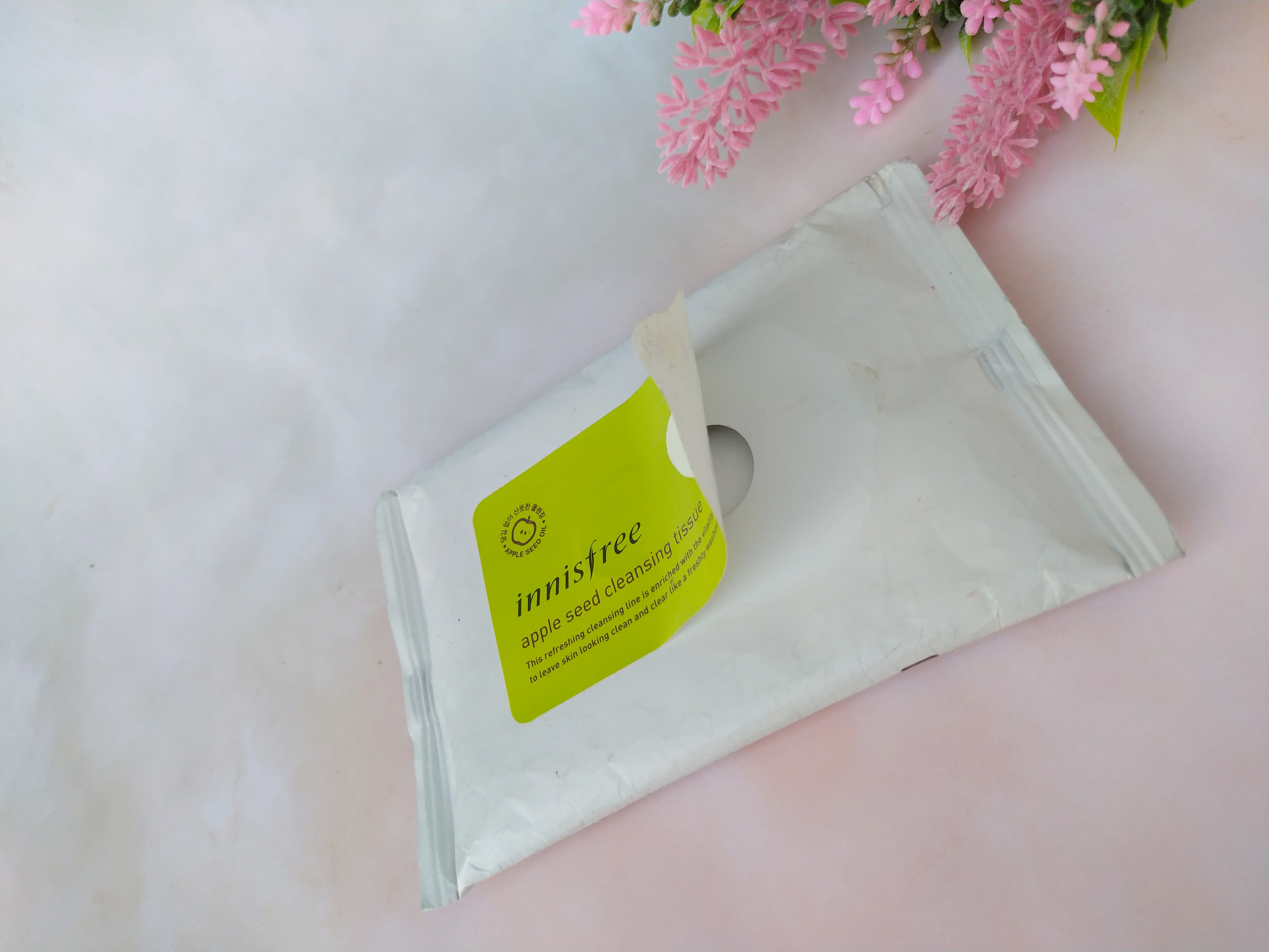 It is light to bring around to travel and the packaging is convenient for a small handbag size too.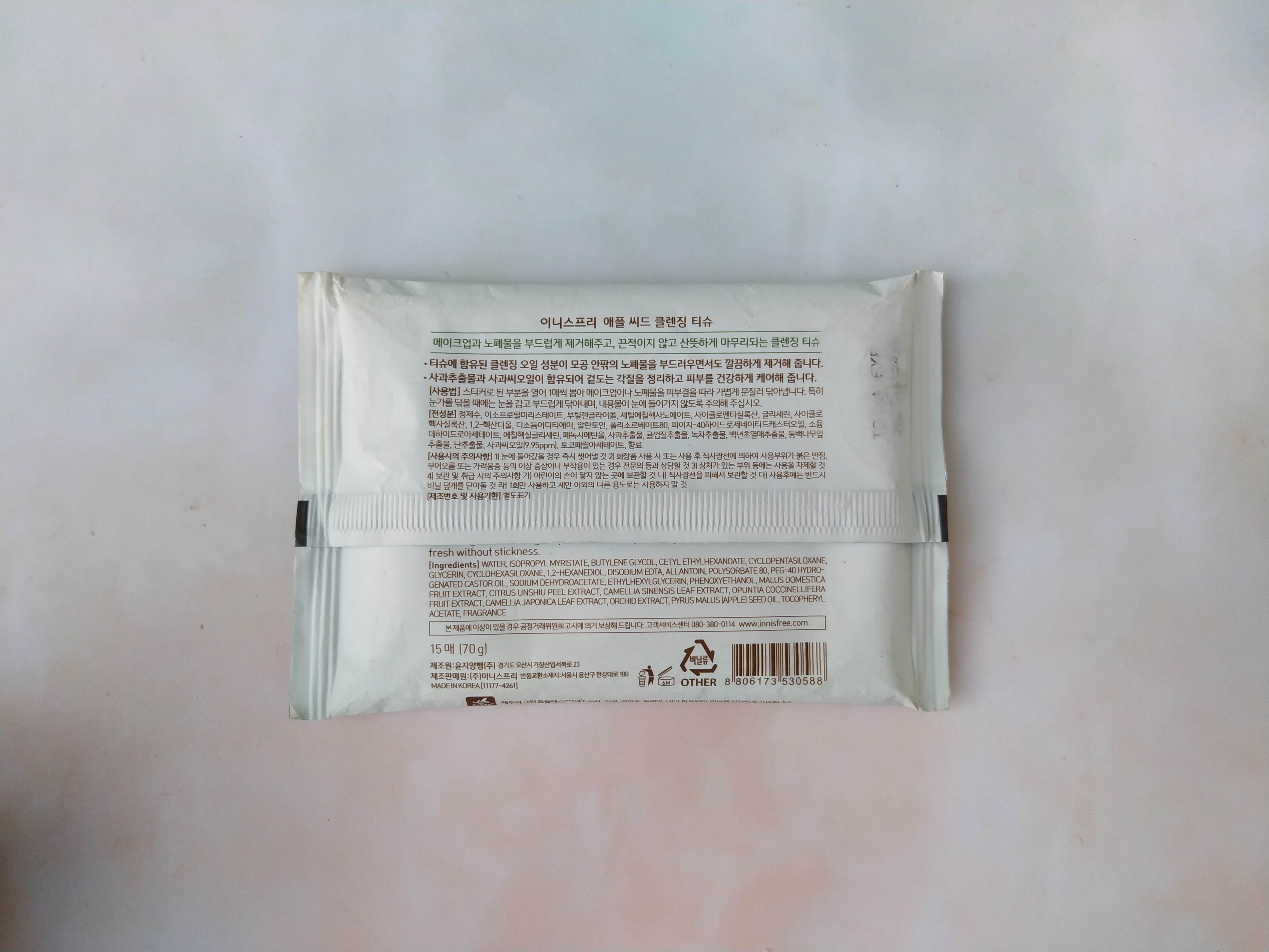 Scent: 
It has a fresh apple scent.
My Thoughts:
Upon opening the seal of the packet, the scent of apple is quite strong ,but somehow I find it calming. I am not bothered by the scent but it may be a little overpowering for those who do not like fragranced product.
The material of the tissue is cotton- like material that is stretchable and soft on my skin. I love that it is does not irritate my skin because you know some cleansing tissue has rough material that may not be good to swipe over our skin.
This cleansing tissue feels like oil because it contains Castor Oil and Apple Seed Oil which was meant to be a first cleanser to remove makeup, even the waterproof ones easily.
The cleansing oil is lightweight and does not sting my eye areas, so I also love using it to remove my eye make-up such as eyeshadow powders, liquid eyeliner and mascara.
Okay let's talk the performance;
It removes makeup such as foundation, concealers, cream blush and contour, powders, liquid lipstick, waterproof mascara, eyebrow pencil, and gel eyeliner effortlessly .
As for liptint, there is a minimal stain left , which is better removed using a Lip Makeup Remover.
I am amazed by the result. My skin is clean with just 1 sheet of the cleansing tissue. It is drenched with the cleansing oil so it will definitely leaves a greasy residue. Please use a water based cleanser after using this cleansing tissue to remove the oily residue.
Rating:
5/5
SHOP HERE
Innisfree Apple Seed Cleansing Tissue