By now I have already tried quite a lot of brightening products and one of the memorable ones would be Tiam Vita B3 Source Serum.  By the way, have you heard of the brand Tiam?
This brand was originally known as O.S.T C20 before rebranding to TIA'M, which is a Persian word that translates to "a twinkle in your eye when you see someone for the first time". (source: medium.com) So cool, right? The star product that made this brand popular is their Original Pure Vitamin C20 Serum which is now called My Signature C Source.
TIA'M focuses on skin concerns with an end goal to make your skin healthier, more luminous, and overall better. So it makes perfect sense that their one of their most popular products are a Vitamin C serum that is focused at brightening skin tone. Therefore, when they came up with another brightening serum (this time a niacinamide + arbutin one and not vitamin C), I knew I had to get my hands on it!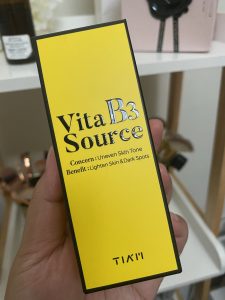 Tiam Vita B3 Source Serum is a skin brightening serum that is infused with highly-concentrated niacinamide and arbutin to blur the appearance of dark spots and correct uneven skin tone.
Ingredients
Water, Niacinamide(Vitamin B3; 10%), Butylene Glycol, Arbutin (2%), Allantoin, Dipotassium Glycyrrhizate, Lindera Erythrocarpa Extract, Cornus Officinalis Fruit Extract, Geranium Thunbergii Extract, Hydroxyethylcellulose, Sodium Hyaluronate, Methylpropanediol, Laurylpyridinium Chloride, Chlorphenesin, 1,2-Hexanediol
This has a high percentage of niacinamide which is 10% and arbutin 2%. It is basically a powerhouse solution that balances out uneven skin tone and reduces dark spots. Niacinamide is superbly popular for its brightening property which controls melalnin production to give a brighter looking skin. The high percentage of niacinamide synergistically works with arbutin which is also a star brightening ingredient that treat acne scars and pigmentations, and also inhibits the negative effects of UV-radiation so one would expect a very promising effect from this serum.
Besides, niacinamide also has an anti-acne property in which it controls sebum production so oily and acne-prone skin are excited for this one too. This also contains sodium hyaluronate and allantoin for hydration and soothing properties. It is free from silicone, sulfate, alcohol, paraben, and EU allergen in case any of these ingredients is your concern. Plus I also love that this product has minimal ingredients – only 14 ingredients!
Texture & Smell
It is not viscous and has a texture that is thinner than most serums but thicker than most toners. It is quite runny and feels really watery for me.
It does not feel sticky and as it sinks in, it doesn't leave a greasy feel.
However it needs a short time to absorb and dry down.
There is no slip to it and I don't feel any filmy residue whatsoever. It also layers well with other products in the routine.
Experience
This is my second Tiam product after their Hyaluronic Acid serum (which I like to mix with my matte foundations) and I am happy to report that this does not disappoint. I have been using this for 3 months straight and 10 months on and off and have monitored a decrease in my uneven skintone especially on my cheek areas close to the ears. My skin tone seems to even out after about a month and a half. For fresh acne scars, (PIE), the red ones, they seem to fade after about the same time too. It took me a full three months to conclude and finalise my thoughts about this serum. My dark scars (PIH) are still there though, but it has lightened a lot after five months.
Well with skincare it is definitely going to take time especially to treat scars and even out skin tone. That is why some people choose to opt for laser treatments or any aesthetics procedures for that matter because they are way quicker and deliver faster results than skincare.
I have read many glowing reviews and seen people raving about it so I thought I would like to experience this myself too and I am so glad that this doesn't disappoint me! In three months' time I can see that my skin tone has evened out, together with proper routines and other brightening ingredients in the other products that I used. This doesn't irritate my skin, thanks to the minimal ingredients & it doesn't make my skin dry too. I think niacinamide really agrees with my skin not only because of the effects that I've explained above, but also helps control sebum and keep acne at bay especially during my hormonal days.
However, this doesn't get a full 5/5 from me because I kind of have an issue with its packaging. It comes in a dark but quite see-through glass dropper bottle with vibrant yellow sticker. It is a normal packaging, nothing too fancy but it's not the aesthetic point that I want to complain about; it's the practical one.
As you can see in the video I find the dropper of the vial to be drippy? The product kind of drips bit by bit as I took it out even though I did not squeeze the dropper. Well evidently I faced that problem during the early phase of using this serum when the bottle is still full. Now that I almost finished it, it has become less drippy.
Other than that, I think that this can really help minimize the appearance of discoloration for a more radiant looking complexion and the 10% niacinamide can help reduce excessive sebum production and help reduce breakouts.
My rate : 4.9/5
Would I repurchase: Probably yes (gotta think twice about the dropper)
SHOP HERE