To be honest I haven't heard of this brand before it was made available on Hermo. Now I have seen more and more people reviewing their sheet mask so yeah, the brand is growing!
They have more than just sheet masks though, there are body care line, hair care line, lotion, hand cream, and more. There are two sheet mask lines which are the Aromatherapy one and the Skin Probiotics one. The Aromatherapy sheet mask line consists of Bergamot & Geranium Radiance Mask which is formulated with Glutathione, Lavender Recovery Mask to relieve inflammation and dryness, Rose Renewal Mask with Charcoal, and Rosemary Moisture Mask with Aquaxyl™ for an immediate surge of moisture and a boost of radiance.
As for the Skin Probiotics line, there are three variants which are Skin⁺ Balance Probiotics Mask with Hyaluronic Acid that helps strengthen the protective barrier of the skin, Skin⁺ Revival Probiotics Mask to restore skin radiance and elasticity and smoothen skin texture, and lastly the Skin⁺ Glow Probiotics Mask to lighten complexion and balance optimum hydration level for healthier glowing skin.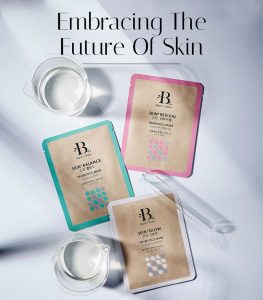 These probiotics sheet masks contain lysate that "awakes" once it comes into contact with skin. There are a lot of probiotics skincare available right now but there are not so many variations of probiotics sheet mask so this would be a great start for me.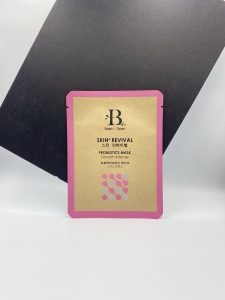 This Skin⁺ Revival variant is infused with damask rose oil to restore skin radiance and elasticity, while charcoal refines and smoothens skin texture. Skin appears revitalised and firmer. Now let's look at the full ingredients.
Ingredients:
Water, Glycerin, Dipropylene Glycol, Caprylic/Capric Triglyceride, Polysorbate 60, 1,2-Hexanediol, Glyceryl Stearate, PEG-100 Stearate, Hexylene Glycol, Hydroxyacetophenone, Carbomer, Hydroxyethylcellulose, Arginine, Allantoin, Trehalose, Ricinus Communis (Castor) Seed Oil, Dipotassium Glycyrrhizate, Disodium EDTA, Rosa Damascena Flower Oil, Sodium Hyaluronate, Butylene Glycol, Lactobacillus Ferment Lysate, Bifida Ferment Lysate, Saccharomyces Ferment Lysate Filtrate, Charcoal Powder.
The main ingredient as written on the website is damask rose oil but it only comes as the 19th on the list so yeah. Glycerin (a moisturizing ingredient) comes as the second top ingredient so no wonder it feels moisturising. There are quite a few goodies that come before damask rose oil which are arginine (a natural moisturising factor), allantoin (soothing ingredient), trehalose, and castor oil. Other notable ingredients include sodium hyaluronate (a hydrating ingredient), lactobacillus ferment lysate, bifida ferment lysate, saccharomyces ferment lysate filtrate, and charcoal powder.
Sheet: 3.5/5
The sheet is made of cellulose that feels quite thick as compared to most of the sheet masks fabrics that I have tried.
It comes with a plastic separator to avoid tearing during the unfolding process.
The sheet is not see-through, is strong and does not tear easy.
However, it doesn't feel as soft or as comfy as other types of sheet fabrics such as hydrogel or bio-cell but worry not it is not irritating or uncomfortable. It's just that I have tried better ones. I am not sure if it feels breathable because after about 8 minutes, it feels like the sheet has dried. It's not bad but it could be better.
𝗙𝗶𝘁𝘁𝗶𝗻𝗴 (4.5/5)
I am satisfied with the fitting because having a big round face is not really a plus point to enjoy Asian Beauty sheet masks. However this one really is a surprise because it really is bigger than most.
It covers my nose fully and that really makes me happy. The mouth cutting is a bit big for me but I don't mind that at all.
It fits all areas of my cheeks and I am confident to say that this is the sheet mask that covers the most of my forehead. I have almost given up in finding a sheet mask that can cater my 'airport' forehead and oh yes this gives me hope. Thank you Bare for Bare!
𝗔𝗱𝗵𝗲𝗿𝗲𝗻𝗰𝗲: 4/5
While this sheet mask does not slide down, it doesn't really adhere to my face specifically my nose and under my eyes after 8 or 10 minutes which is the time it started to dry off. I hoped this doesn't really bother me but oh who am I kidding, it does. Sobs. It doesn't feel as snug but it still sticks on without sliding down so I can still wear this to do house chores and move about.
𝗘𝘀𝘀𝗲𝗻𝗰𝗲 (4/5)
There is still a bit of essence left in the pack. The essence texture is a milky white essence that feels quite rich and very moisturising.
The essence is quite drippy as I take the mask out of the pack, and as I placed it onto my face I can feel my hands feeling a bit tacky. It is not that lightweight but it is not suffocating or sweaty either.
Upon removal there is some essence retained in the sheet so it's very moisturising the whole masking time. There is also leftover essence on my face so I pat it in and it takes some time to sink in so skin surface feels kinda tacky for about five to ten minutes and the moisture is really long-lasting which is perhaps 5 hours? Especially if you finish it off with a hydrating cream in the routine.
Overall Experience (3.5/5)
Sheet masking experience with this one feels a lot like a roller coaster ride as like I have mentioned above, the fitting really makes me happy as it caters to my big round face and covers 98% of my forehead but after 8 minutes of wearing it, some parts of the sheet dried off and just refused to stick to my upper lip and under eye areas. Having said that, this is a pretty decent sheet mask to me but there are of course room for improvement especially considering the price as compared to other mask prices.
I think people with dry skin would enjoy this more than people with super oily skin. Skin looks absolutely dewy and feels more fresh and soothed.  There is a bit of itchiness felt on the nose and cheeks.
My rating: 3.5/5
Would I repurchase? No but I really like the size and how it fits so maybe I will repurchase when they have upgraded this line.
SHOP HERE