Darlie has been so innovative lately and they came up with something new and fresh looking, which is the Darlie Toothpaste Baking Soda. This is my very first time seeing toothpaste that contains baking soda. I didn't know baking soda can be used in toothpastes too. 
I used to see and heard a lot about baking soda used in skin care to treat acne scars, to help remove dead skin cells or soothe inflammation. Some people even included baking soda in facial scrubs or masks. I am really excited to share my experience and review here after using it. So keep reading babe!
I'm always a loyal user of Darlie even before I was selected to be part of the reviewer. A tea/coffee lover like me can never survive without caffeine in a day and I actually consume coffee/tea quite frequent in a day, probably up to 3 cups a day. No doubt and I know its gonna be bad on my teeth, one day will teeth will turn yellowish if I don't take good care of it. Rinsing your mouth after taking beverage with heavy colourant would help but how often we do that? My teeth is not really that yellowish I guess, but in the long run there's definitely colour changes. 
This toothpaste was formulated  with a high concentration of SWA Advanced Whitening Factors that also helps in smoothen the uneven surfaces and prevent the stain build-up. Finger crossed that my teeth could be whitened after using this toothpaste with baking soda. Oh did I mention this is a food grade baking soda, so yea no worry that its harmful to our body or so.
How to use:
DO NOT SWALLOW. RINSE AND SPIT OUT AFTER USE. BRUSH YOUR TEETH AT LEAST TWICE A DAY. CONTROL SUGAR INTAKE. VISIT YOUR DENTIST AT LEAST ONCE A YEAR.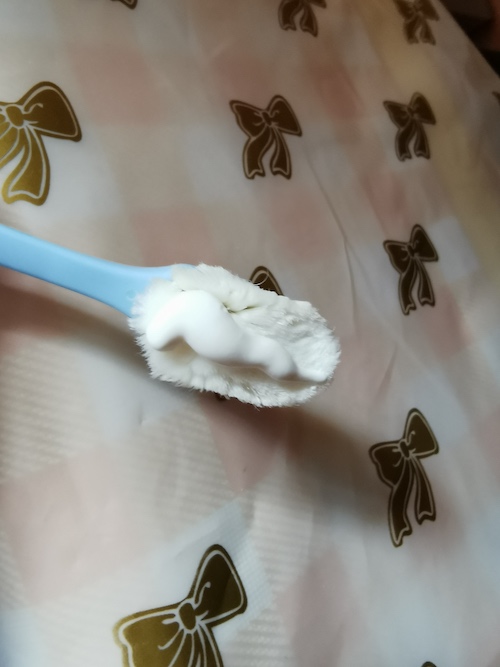 My Opinion:
The Darlie All Shiny White Baking Soda Toothpaste is not as minty as the usual fluoride toothpaste from Darlie but of course it still leaves a fresh and clean breath. I personally prefer something that is more minty and menthol but this is good to go too. As mentioned earlier, this is not as minty as the usual one so even kids suitable to use. 
When squeezed, the dispensed paste is thick and creamy in colour. It doesn't have any fancy colour stripes like the other ranges. Since this toothpaste focuses on their stain removal, I would say that it is indeed helps in lightening my teeth but not really very obvious though. Probably lighter by one shade? With this toothpaste, now I can enjoy more food without the fear of stain build up! Hooray! Recommended or not? Yes, why not?! I don't see any cons for this toothpaste to be honest and it is quite reasonable price for this size of tube. I would rate 5 stars for this product.
Full ingredients:
Water, Sorbitol, Hydrated Silica (SWA, Speedy Whitening Agent), Glycerin, PEG-12, Sodium Lauryl Sulfate, Flavor, Sodium Bicarbonate (Baking Sosa), Cocos Nucifera (Coconut) Oil, Sodium Fluoride, Tetrasodium Pyrophosphate, Disodium Pyrophospate, Cellulose Gum, Sodium Saccharin, Cocamidopropyl Betaine, Carrageenan, Titanium Dioxide (CI 77891) *Please refer to the ingredients list on the product packaging for the most accurate list of ingredients.
*Please refer to the ingredients list on the product packaging for the most accurate list of ingredients.
*Results from the use of beauty product above may vary depending upon the individual and will depend on multiple factors, including your age, gender, skin type and condition, use of other products used, health history, lifestyle, diet and others