I bet most of you know that Senka is a brand that is powered and developed by Shiseido. They first made their name and gained fans through their Perfect Whip cleanser that is the No. 1 cleanser in Japan for so many years. I have reviewed that star product myself here.
Senka Perfect Aqua Rich Luminous Moist Mask
I purchased this in a sheet mask haul for its affordable price. The dewy and glowing claim really caught my attention and my purchase intent with this one is to be used as a great 'no-makeup makeup' look prep.
Ingredients:
Water, Butylene Glycol, Dipropylene Glycol, Glycerin, Peg-32, Peg-6, Peg-8, Peg/Ppg-14/7 Dimethyl Ether, Phenoxyethanol, Xanthan Gum, Isostearic Acid, Methylparaben, Peg-60 Hydrogenated Castor Oil, Hydrogenated Polydecene, Polyglyceryl-2 Diisostearate, Sodium Citrate, Disodium Edta, Citric Acid, Sodium Hyaluronate, Sericin, Hydrolyzed Conchiolin Protein, Potassium Sorbate, Sodium Acetylated Hyaluronate, Tocopherol.
At the packet there is a picture of a silk cocoon and a pearl so I'm guessing that these are their star ingredients? Other than these two, hyaluronic acid is also the key ingredient as according to the description on Hermo website:
'Senka's Perfect Aqua Rich Luminous Moist Mask is infused with rich moisturizing essence and Pearl Essence to improve skin regeneration for healthier, dewy and glowing skin.

Senka's Perfect Aqua Rich Luminous Moist Mask is formulated with Senka's signature Naturally Derived Cocoon Silk Essence and Double Hyaluronic Acids for deep and rich long-lasting moisture that lasts up to 24 hours!

Infused with rich moisturizing essence and Pearl Essence to improve skin regeneration for healthier, dewy and glowing skin.'
This mask also contains vitamin E (tocopherol) and citric acid which are both good for anti-aging. There is also castor oil in the ingredients list. This mask is free from colorant, sulfate, alcohol, fragrance, and silicone if any of these is a concern to you. Also according to SkinCarisma this sheet mask is not safe for fungal acne (Malassezia)
Sheet: 3.8/5
The information on the sheet material is sadly not easily available online so while I know that this is definitely not hydrogel or biocellulose or foil or rubber, I cannot confirm whether it is cotton or microfiber or tencel or cupra. Feels a lot like cotton, though?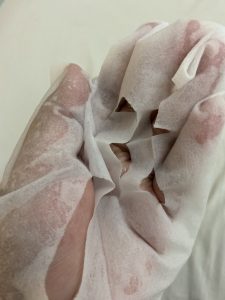 It could not be the silk cocoon because the description says that the ingredient is Naturally Derived Cocoon Silk Essence so silk cocoon is used as a part of the essence and not the sheet. It comes with a plastic separator to make unfolding easy:
It comes with a plastic separator to ease the unfolding process. The sheet feels moderately comfortable.
This feels quite thicker than my usual favourite sheet masks, but it is not suffocating. It is quite see-through even though it feels thick.
𝗙𝗶𝘁𝘁𝗶𝗻𝗴 (4/5)
The fitting for me is just slightly above average as it manages to cover my whole face that is really big and round, good job! It still doesn't cover my whole forehead but I am okay with that as my forehead is the XXL size and not the average population size so very few sheet masks find their way to the end of it.
It covers most of nose but the mouth cutting is quite wide. The eye holes are great, though! It gives just enough space to the eyeballs while still covering the under eye area so the area can still enjoy the goodness of the essence.
There is also a cut in the middle of the cheeks side so you can adjust it according to your own preference.
𝗔𝗱𝗵𝗲𝗿𝗲𝗻𝗰𝗲: 4/5
It grips nicely onto the face without sliding down when I move about and that is convenient and worry-free. I don't need to lie down to enjoy this mask as my skin can still soak the goodness of it even when I am washing the dishes or playing with my son or doing laundry. I would say the adherence is good but 5/5 as I only reserve the full score to sheet masks that sticks on like a second skin. The adherence for this one is surely average.
𝗘𝘀𝘀𝗲𝗻𝗰𝗲 (4.5/5)
There is quite a lot of remaining essence in the pack which I gladly took and pat it in.
The essence smells like their cleanser, soapy and slightly powdery. It is almost white and feels like a rich essence. It is quite viscous but not very tacky. Love that the essence is not dripping when I took the sheet out of the pack. There is no tacky feel on my hands as I placed it onto the face.
Overall Experience (4.3/5)
I think it really makes my skin look dewy, doesn't it?
(above: before)
(above: after)
So glad that this didn't let me down at all and did a great job at moisturizing and hydrating my skin. If your skin is feeling dehydrated then I would really really recommend this as it instantly hydrates and I can feel that the hydration is felt deep within the skin and not just sitting on top of the skin.
I can see that my redness is reduced so it does have a calming effect too, at least for me. I am so glad there is no bad reaction from this to my skin.
Skin feels a lot smoother, too. Say hello to a perfect canvas for a dewy healthy makeup look! Besides, this can help strengthen your skin barrier by providing a packed hydration and moisture so yeah, this would be a must for an SOS squad or before a big event.
All in all, this sheet mask really makes me happy and impressed. I would love if the fabric is improved but then I think it is so because they wanted to keep the price cheap and affordable.
My rating: 4.3/5
Would I repurchase? Already did!
SHOP HERE
Senka Perfect Aqua Rich Luminous Moist Mask