With wearing face mask part of the new norm, I'm holding myself from wearing base makeup like liquid foundation even cushion foundation as I'm focusing on keeping my skin clear of products that potentially can make me break out and that includes makeup especially along my jawline and cheeks area. Therefore I've only been using sunscreen as the last step of my skincare routine then applied my face powder of the day and some brows makeup.
Following to my discovery of Shiseido's brand Anessa line of sunscreen, I cannot help myself getting this Whitening UV Sunscreen Gel SPF50+ PA++++ because I simply adore the elegant formulation of Perfect UV Sunscreen Skincare Gel SPF50+ PA++++; the sister in the gold tube so much! I actually use functional treatment skincare products to brighten up my dull skin but I'm curious to see how it's like to use sunscreen with brightening ingredient hence I've gotten this to try as well.
What's Interesting about this Sunscreen?
Formulated with m-tranexamic acid; an active brightening ingredient that aid in improving skin tone. This sunscreen provides slightly dewy, smooth texture with refreshing and hydrating finishes on my skin.
While this sunscreen is water resistant, it can also be used as makeup primer. Applied on its own, it can be removed easily using merely cleansing water or makeup wipes and body wash if I were to apply the sunscreen on my arms and legs.
How to Use:
Apply an adequate amount on the face and neck at the final step of skincare.
Apply generously 15 minutes before sun exposure (or makeup).
Capacity: 90g – About 5 to 6 months of daily applications.
Water, Diisopropyl Sebacate, Zinc Oxide, Alcohol, Ethylhexyl Methoxycinnamate, Butylene Glycol, Tranexamic Acid, Bis-Ethylhexyloxyphenol Methoxyphenyl Triazine,Diethylamino Hydroxybenzoyl Hexyl Benzoate, Dimethicone, Hydrated Silica, Glycerin, Ethylhexyl Triazone, PEG-60 Hydrogenated Castor Oil, Phenoxyethanol, PEG-12 Dimethicone, Dimethylacrylamide / Sodium Acryloyldimethyltaurate Crosspolymer, Isostearic Acid, Fragrance, BHT, Succinoglycan, Hydroxypropyl Methylcellulose Stearoxy Ether, Camellia Sinensis Extract, Leontopodium Alpinum Extract, Prunus Speciosa Leaf Extract, Tocopheryl, Sorbitan Sesquiisostearate, Sucrose Tetrastearate Triacetate, Sodium Acetylated Hyaluronate, Potentilla Erecta Root Extract, Aloe Barbadensis Leaf Extract, Soluble Collagen.
The sunscreen comes in a plastic packet  like that with Japanese wordings all over it but not to worry because there is ample product information printed at the back of the packet in English!
The Manufacturing Date is printed at the lower part of the back in DD/MM/YYYY (Day/Month/Year) format one the official distributor sticker.
As shown above, the sunscreen comes with a simple screw cap with a small tube-end for easy product dispense and there's whole (I'm assuming) product descriptions printed at the back of the tube although in Japanese.
If you look closely at the top of the tube, there is the product Batch Code – 8193LB embossed which translates to 12 July 2018 via Cosmetic Batch Code around the Internet which also close to what has been stated on the official distributor sticker above.
The sunscreen comes in that almost opaque white and gel-like cream but once spread even on skin, there is a bit of white cast visible on skin thanks to the physical sunscreen agent; Zinc Oxide.
The texture is lightweight so it is easy to spread on skin whether you're using fingers or air puff like me. I would say that the scent is quite subtle and doesn't bother me at all.
The finishing is looking a bit dewy to some but I totally don't mind that except for my oily T-zone which I'd be applying my favourite sebum-controlling loose powder on.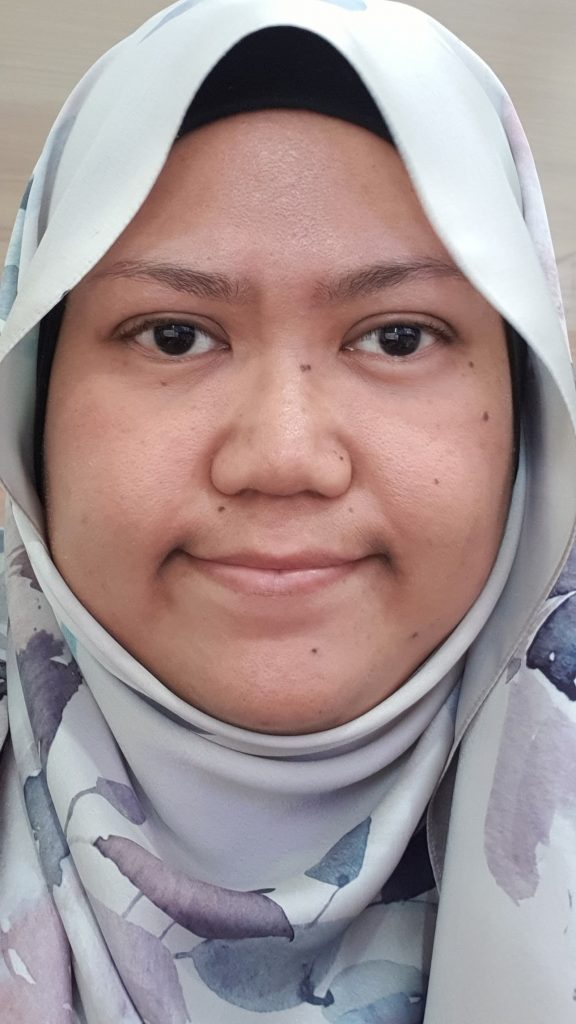 When it comes to the amount of sunscreen, there's no exact rule of measurement of how much you're going to need for your whole face but for easy reference, you can use your fingers and squeeze the tube along; 2 fingers for face and add 1 finger for neck area.
As you can see in the above photo, that's the finished look with the sunscreen and loose powder on top. I've used 2 fingers and there's almost no noticeable difference when it comes to the white cast once powdered down so this is a perfect physical sunscreen to my preference.
Overall, I give this sunscreens 5/5 as well as the other sister. I've been obsessed with applying and reapplying the sunscreen throughout the day as it works well with my currently dehydrated normal to oily skin. Also, this sunscreen doesn't sensitise nor irritate my sensitive facial area which is great because I've been working hard in keeping up with soothing and hydrating skincare products to enable myself using brightening skincare products that can be too intense for me.
When it comes to the whitening effect, I cannot really say because I've been alternating sunscreens on daily basis nor do I have the intention to exclude functional brightening skincare products just to see if this sunscreen really does contribute to the overall brightening effect.
Now, if you're using brightening skincare line from the Anessa's sister brand SENKA (as in the first photo) which contains Tranexamic Acid that is known for its ability to fade discolouration, brighten up skin and reduces the appearance of acne scars then you might be interested to include this sunscreen in your skincare routine as it contains that very ingredient. That's what appealing to me to get this sunscreen in the first place anyway because I have always loved using skincare line as a whole and using other products that complement the routine well.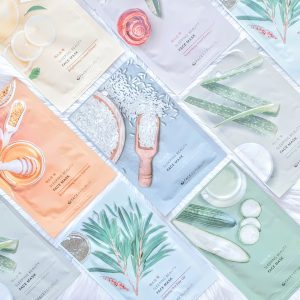 Review
If you're following me on social media like Instagram then you probably noticed that I am such a #sheetmaskjunkie and I do at least use
Read More »