I don't usually condone nose strips as they can cause enlarged pores in the long run, but when I saw these cute, affordable ones from My Scheming, I knew I had to get one – just for entertainment's sake! And considering I've tried another 3-Step product from the brand to surprising results, why not give this one-off version a try too, right?
At least, if it doesn't work as well, I'd derive some fun to keep me sane during these self-quarantine times. 😂
PRODUCT DESCRIPTION:
This complete 3 STEPS mask will combat deep-seated dirt and sebum while unclogging problematic pores. Bonus that you will also look cute in it!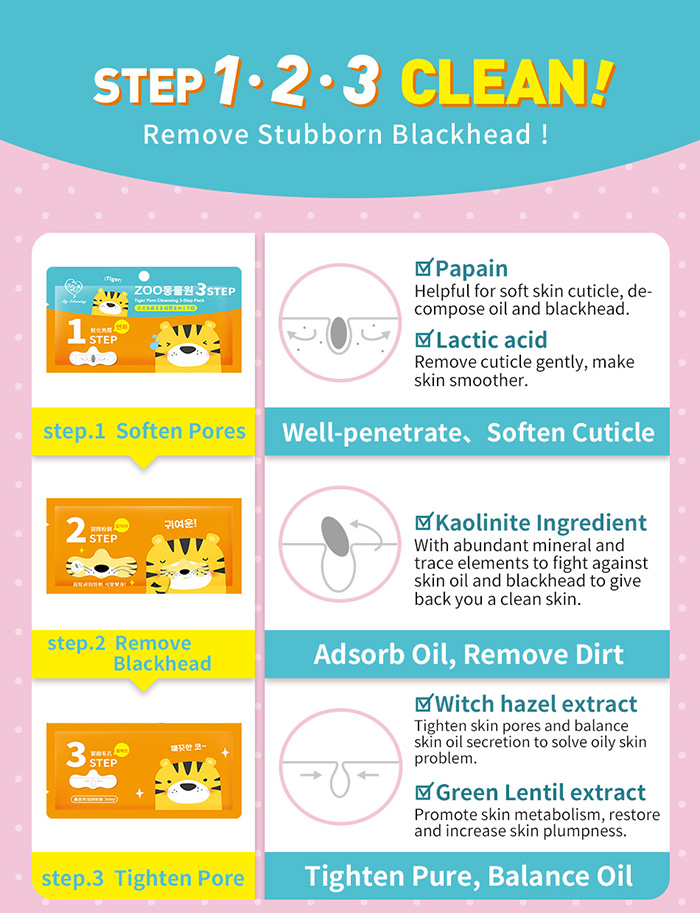 FULL INGREDIENTS:
Step 1 – Soften Pores
Water, Polysorbate 20, PEG-400, Butylene Glycol, Sodium Lactate, Lactic Acid, Octoxynol-11, Hydroxyacetophenone, Phenoxyethanol, Xanthan Gum, Citrus Aurantium Dulcis (Orange) Peel Oil, Sorbitan Caprylate, Glycerin, Papain, Calcium Pantothenate, Caprylyl Glycol, Urea, Magnesium Lactate, Ethylhexylglycerin, Potassium Lactate, Alanine, Magnesium Chloride, Proline, Serine, Sodium Citrate.
Step 2 – Remove Blackheads
PVP, Water, PEG-12 Dimethicone, Kaolin, VP/VA Copolymer, Titanium Dioxide, Propylene Glycol, Butylene Glycol, Phenoxyethanol.
Step 3 – Tighten Pores
Water, Glycerin, Diglycerin, Sorbitol, Zinc PCA, Methylparaben, Chlorphenesin, Niacinamide, Hamamelis Virginiana (Witch Hazel) Water, Glycosyl Trehalose, Zinc Phenolsulfonate, Hydrogenated Starch Hydrolysate, Sodium Hyaluronate, Mannitol, PEG-40 Hydrogenated Castor Oil, Lens Esculenta (Lentil) Seed Extract, Xanthan Gum, Ammonium Glycyrrhizate, Butylene Glycol, Menthol, Menthyl Lactate, Phenoxyethanol, Melaleuca Alternifolia (Tea Tree) Leaf Oil, PEG-60 Almond Glycerides, Caprylyl Glycol, Caffeine, Zinc Gluconate, Citric Acid, Bioflavanoids, Chlorogenic Acids, Ethylhexylglycerin, Glucose, Propylene Glycol, Diazolidinyl Urea, Aesculus Hippocastanum (Horse Chestnut) Seed Extract, Sodium Citrate, Propylparaben, Carbomer, Nordihydroguaiaretic Acid, Oleanolic Acid, Sodium Metabisulfite, Biotin.
PACKAGING:
Bright orange plastic sheet with light blue, white and yellow details. Each step is labelled and packaged in individual "compartments" within the sheet, with foldable perforated sections and an indicated tear opening within each Step.
MY SKIN TYPE:
Sensitive (prone to redness and irritation), combination-dry, acne-prone and dehydrated.
HOW TO USE / THOUGHTS & EXPERIENCE:
Step 1 – Soften Pores
This is the prep Step before the actual physical exfoliation which is used to soften the pores and make them easier to extract. For this step, just tear open the packet according to the indicated opening.
Once taken out, you should unfold the nose mask, where you will see a soft, light blue gauze backing to help unfold the actual white cotton sheet. Place it on your nose like this and wait for 10-15 minutes.
While waiting for it to work its magic, I did notice a sweet, slightly chemical scent whereby the sweetness might be contributed by the Orange Peel Oil. Overall, Step 1 is comfortable and honestly just feels like you're placing a thin cotton pad on your nose.
Step 2 – Remove Blackheads
Getting to the actual meat of the 3-step process, Step 2 is in charge of the sebaceous filaments/blackhead extraction. It's very similar to those traditional Pore Strips everyone has at least tried once in their lifetime, but this strip does contain Kaolin which is commonly known to be found in clay masks.
To use, just wet your nose (lightly clean off the Step 1 formula) so that Step 2 is able to adhere properly to the nose. Then wait until the pore strip hardens – there is no time mentioned in the packet, so it's up to your discretion.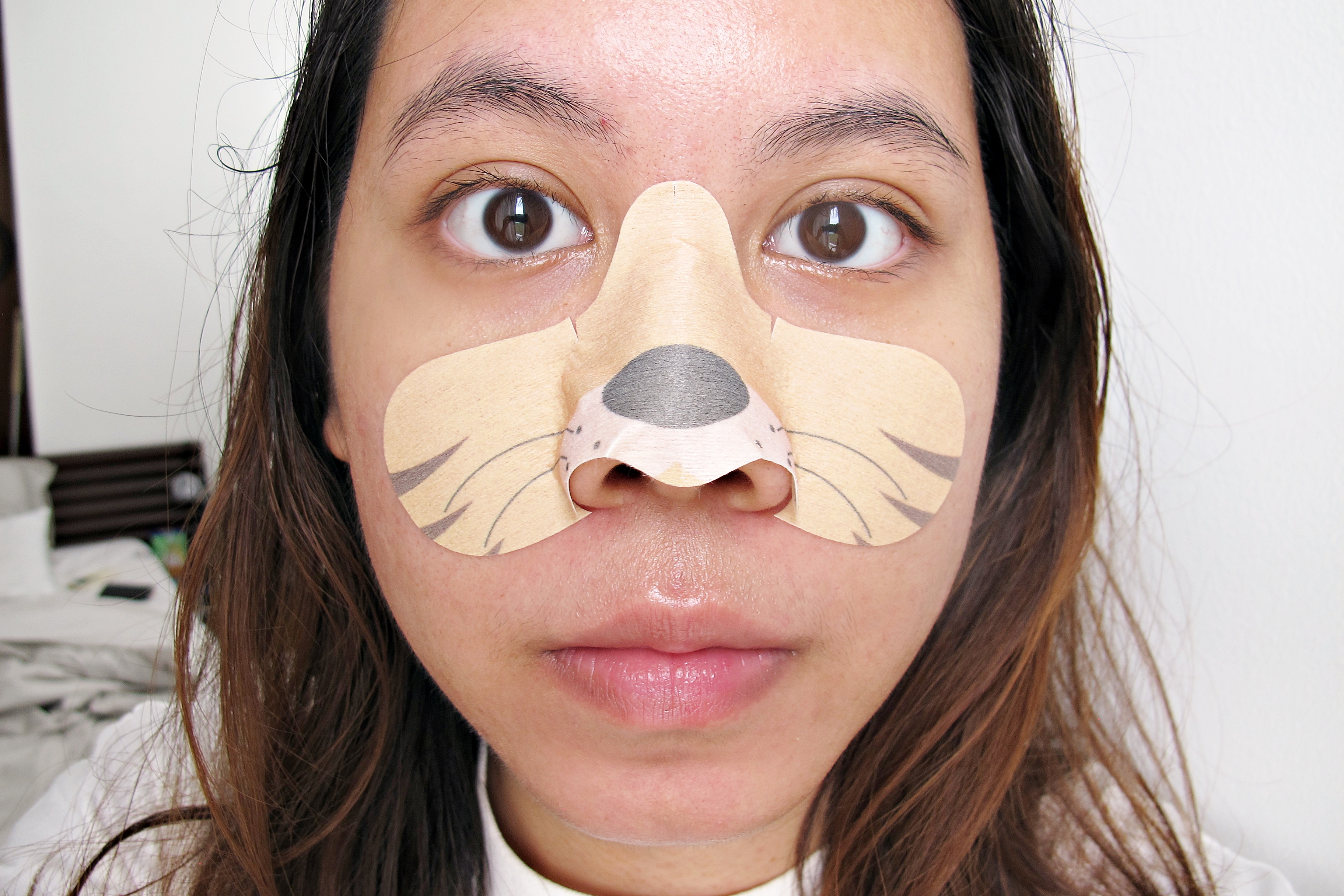 In the meantime, just look at how cute this printed design is! It also fits perfectly on my nose and covers my inner cheeks (where I do have large pores too) which is less common with traditional pore strips. There is a slight chemical scent, but overall unnoticeable. And don't worry if you find that this Step 2 strip is already hard to the touch prior to placing it on your nose – it will harden even more later.
Once you find the strip hard enough to the touch and you can grip the edges easily, you may take it off. But as you can see, I just tore it off from the sides… whereas the instructions do say to tear it off from below. Whoops!
Step 3 – Tighten Pores
Last but not least, you have the final step to seal the deal and tighten those pores! Similar to Step 1, Step 3 has a soft, light blue gauze backing to easily detach the cotton strip. Of the three, I found this the least scented (couldn't detect anything, really) which is nice. You will also notice that it's really wet.
Once placed on the nose, this actually feels cooling on the skin. Also note that you do place this directly on the nose after Step 2 without washing beforehand.
BEFORE & AFTER COMPARISON:
MY RATING / OVERALL CONCLUSION:
3.5/5! Honestly, this was fun to use, but as you can see from the peeled off pore strip and my before and after, this did not work as well as I'd hoped. Don't get me wrong, you can see how it did clear up some congestion due to the multiple cleansing/exfoliation steps, but I found that it wasn't as effective as say, My Scheming's Blackhead Removal Activated Carbon Mask Set. I did also notice some redness present post-masking, despite the use of Step 3, which is unfortunate… But! It definitely made me smile during these tough times, so kudos for that. 😊 All in all, it's still a great option compared to those 1-step nose pore strips!
SHOP HERE