When I first saw this toothbrush, it reminded me of the Japanese inspired nano toothbrush. I was like wow, even Colgate invented a new thing in their oral care range. I was pretty captured by their cute appearance of the pastel colour toothbrush and it came in a pack of two. Haha meaning to say, cute toothbrush together with my boyfie, eeyay?! 
Its really really super hard to find a perfect toothbrush for myself and my sensitive gum. Its like if I use the ones that are too soft, I don't feel that my teeth are fully cleaned or brushed well and ended up having cavities due to lack of cleaning. Our wisdom tooth at the back is especially harder to clean compared to those in front. Last year I just extracted my wisdom tooth due to cavities and it really freaked me out so I am super particular when comes to choosing toothbrush. I used those slightly harder one, and it just made my gums bleed so badly. So yea, it was really a headache for me.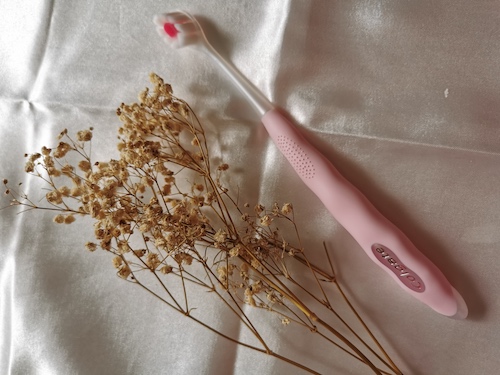 I was so surprised when Colgate launched this toothbrush and is really a must buy for me. To be honest it was slightly expensive for this toothbrush but worth it as I'm struggling to find a good toothbrush for myself. And they are having a promotion when I bought it, so its great deal! 
If you take closer look on the brush bristles, it was so so fine and soft at the same time. Some may look fine but the bristle is hard to touch. It is 7 times more dense than the normal toothbrush we used. Did you notice that this toothbrush head size is way smaller? Yes, this is the unique selling point for this toothbrush. The 3.5mm thin head gives an easy access to clean your teeth in the back which is hard to reach using a normal toothbrush. How cool is it!
How to use:
BRUSH TEETH THOROUGHLY AFTER EACH MEAL OR AT LEAST TWICE A DAY.
My Opinion:
If you have sensitive gums like me, or wearing any braces, I would highly recommend you to try this out and you will be surprised by how good it is! The grip is pretty sturdy as well, you don't have to worry it will slip off from your hand while you brushing your teeth. Its not those plastic kind of holder in fact it is a silicone-like rubber kind of feel. So it gripped pretty well even though your hands are wet during shower. I would say that this is suitable for children due to its softness of the bristles! If I were to choose, this toothbrush will definitely be my favourite ever! Needless to say, of course a 5 stars product!