I've seen galactomyces as the main ingredient in numerous k-beauty brands from Some By Mi to IUNIK and one of my favourite's – COSRX hopping onto that galactomyces bandwagon as well. 
What is galactomyces anyway? It's basically a type of yeast which came from the sake fermentation process. Galactomyces has the ability to increase product absorption and also has known antioxidant effects. It has been shown to improve sebum levels in oily skin, brighten and tackle acne, alongside providing great moisturising properties. 
Galactomyces can be used on all skin types, but people facing the following skin concerns will benefit better from galactomyces:
Enlarged and clogged pores

Blackheads ✅

Oily skin

Dull skin

Closed comedones ✅

People whose skin is easily affected by the external environment ✅✅✅
Made with a high concentration of 95% Galactomyces as the key ingredient, the Galactomyces 95 Tone Balancing Essence acts to awaken, whiten, hydrate, and tighten the skin. The Galactomyces fermentation technology provides nourishment and moisturization to the skin while enhancing skin renewal to promote anti-aging, wrinkle-free benefits. 
How to use:
Lightly apply the essence on the forehead and the nose areas.

Proceed to spread a generous amount on the cheeks and massage until absorbed.

Tap the undereye area as if playing the piano, allowing the skin to absorb the blend.
---
My review:
I almost didn't try this because I wanted to replenish my COSRX Advanced Snail 96 Mucin Power Essence since it has worked slowly, but well for me since day one. Of course, thoughts went in my head thinking maybe galactomyces could work even better for me since my skin concerns checked several boxes of what it could help with. At last, the beauty junkie in me had to try it as I didn't want to keep wondering further! 😂
Anyway, the texture is slightly less slimy compared to the snail 96 essence, which I ain't complaining about because it was smoother to apply and easier to absorb on the skin. I typically use 2 pumps of snail 96 essence, but this one I could use 1.5 pumps to cover my skin completely. There wasn't any scent in the snail 96 essence while this one had a very mild fermented, yeast scent. The scent was super light which you will barely notice during application.


There was a mild glow after application, not as glowy as the snail 96 essence but it was definitely as hydrating throughout the day. I didn't notice much difference with my blackheads but I did notice that my skin was not as easily irritated from the environment (eg. wearing masks, air conditioned rooms and haze). I was also getting less closed comedones after a week of usage, particularly in the chin area caused by friction from wearing masks. As for anti-aging, there wasn't anything significant as I've only been using it for a week but I'm definitely excited to see the results after finishing a bottle.
PS: Notice a brighter & slightly smoother skin! (Before > After)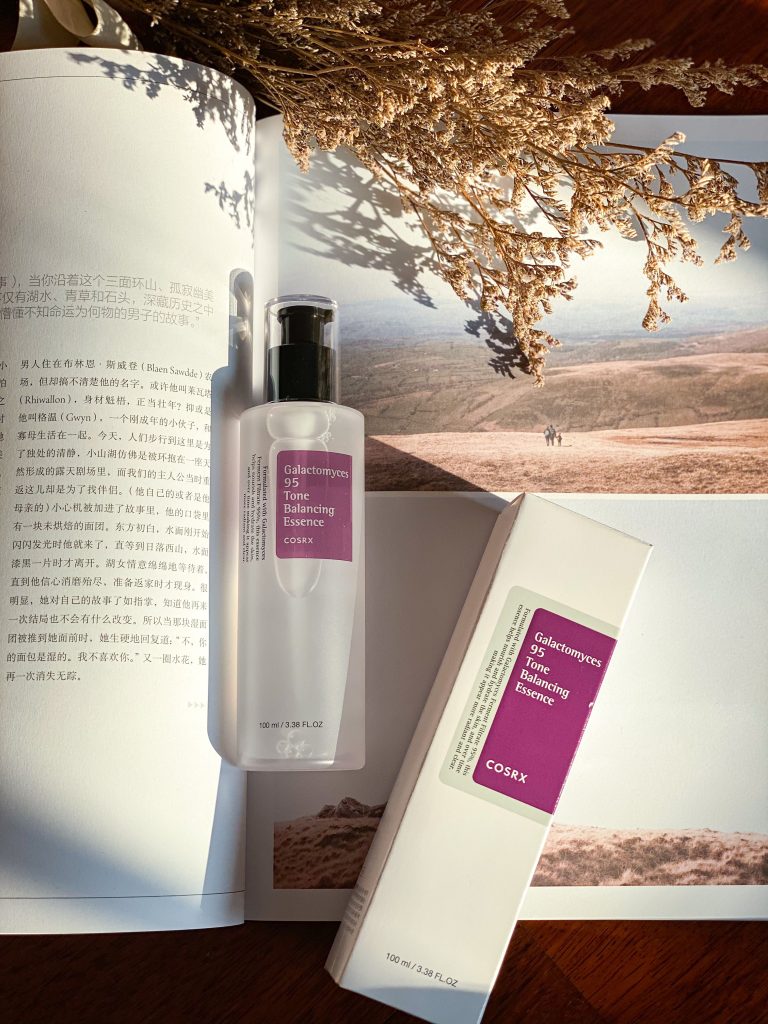 Overall, I'm quite satisfied with the results so far and I can say that it is promising. Definitely an essence you can try if your skin needs some nourishment and brightening.
Rating: 4.5 / 5 🌟
Ingredients list: 
Galactomyces Ferment Filtrate, Niacinamide, Panthenol, Glycerin, 1,2-Hexanediol, Butylene Glycol, Betaine, Sodium Hyaluronate, Allantoin, Xanthan Gum, Ethyl Hexanediol, Adenosine
SHOP HERE
Cosrx Galactomyces 95 Tone Balancing Essence