What's the deal with Snail?
Snail secretion filtrate or snail mucin is nothing new in KBeauty, in fact it is one of the reasons people are so intrigued in Kbeauty. Holy moly snail! I first put on snail goo on my face in 2016 (it was the famous Cosrx Snail 96 Mucin) and it started to become a staple in 2017 when I started incorporating chemical exfoliation in my routine. Chemical exfoliation and snail products are what helped my skin's texture and sebum and overall wellbeing, basically. Not forgetting hydration. My skin type was oily back then, now it is combination type.
Other than the Cosrx Snail 96 Mucin Power Essence, I also incorporated the Snail 92 All in One Cream from the same brand. Now it is the end of 2020 and there are so many brands coming up with their own snail products such as essence, ampoule, cream, and all-in-one cream such as Secret Key and Mizon. I love the concept of all in one cream especially on my lazy or hectic day when I need to rush so yeah, I decided to try this one.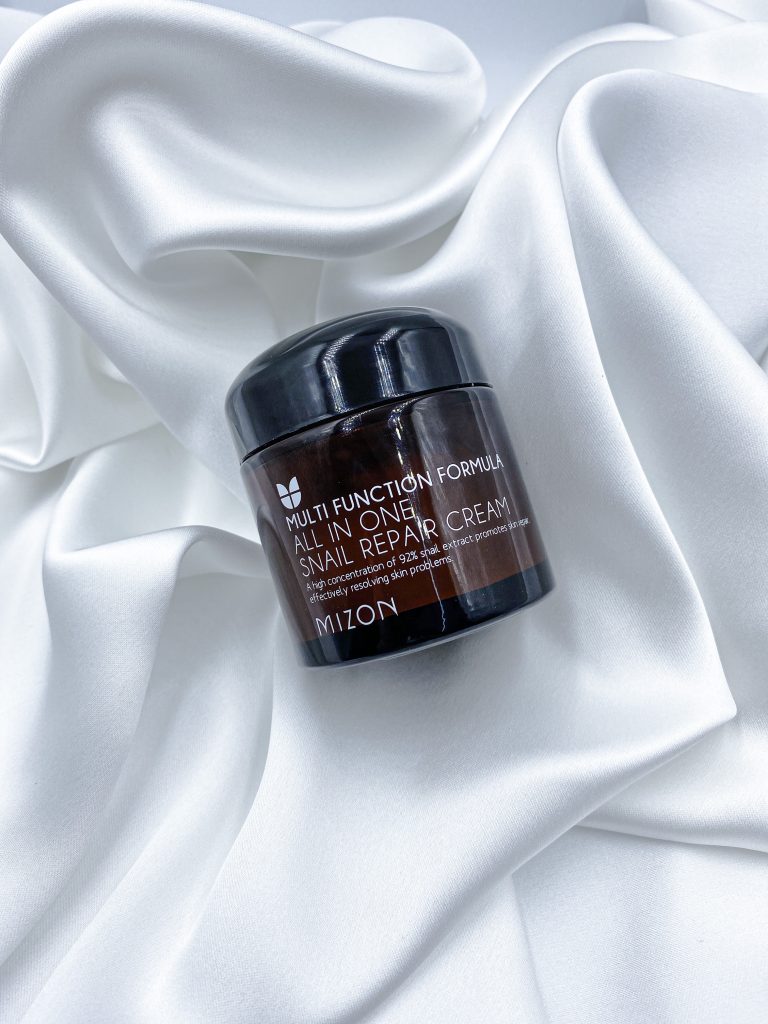 Snail mucin is used for its skin strengthening and recovery benefits. I read that this cream is formulated to help people with excessive sebum concern, tiny bumps, and pores.
A little bit about the brand
According to Yes Style, Mizon has been around for more than two decades and they have produced a wide selection of beauty products before launching their snail slime range.
MIZON was established by the Nabion R&D Company in 2000, and behind the brand are dedicated researchers from Korea's top cosmetics companies. MIZON has developed its own specialized techniques as well as acquired the knowledge to produce the most advanced skin care formulas. MIZON's CEO, Lee Dong-gun, is committed to producing extensively researched and high-quality formulations for the brand.
𝗜𝗻𝗴𝗿𝗲𝗱𝗶𝗲𝗻𝘁𝘀
Snail Secretion Filtrate, Cetearyl Olivate, Sorbitan Olivate, Cetearyl Alcohol, Stearic Acid, Glyceryl Stearate, Hydrogenate Vegetable Oil, Dimethicone, Triethanolamine, Carbomer, Butylene Glycol, PEG/PPG-17/6 Copolymer, Polyacrylate-13, Polyisobutene, Polysorbate 20, Sodium Polyacrylate, Caprylyl Glyocol, Ethylhexyglycerin, Tropolone, Adenosine, Sodium Hyaluronate, Portulaca Oleracea Extract, Betula Platyphylla Japonica Juice, Amica Montana Flower Extract, Artemisia Absinthium Extract, Achillea Milefolium Extract, Gentian Lutea Root Extract, Alcohol, Camellia Sinensis Leaf Extract, Centella Asiatica Extract, Copper Tripeptide-1, Human Oligopeptide-1, Propylene Glycol, Rubus Idaeus (Raspberry) Fruit Xtract, Beta-Glucan, Palmitoyl Pentapeptide-4, Disodium EDTA
The first ingredient is 92% snail secretion filtrate or snail slime extract which helps nourish and hydrates skin from within while improving its texture, diminishing fine lines and wrinkles, and reducing the appearance of scars and blemishes. Other notable ingredients include centella asiatica extract which is a popular and well-loved soothing ingredient, sodium hyaluronate which is a form of hyaluronic acid (a hydrating ingredient), adenosine that is great for skin barrier repair, and beta glucan which is a great anti-aging and moisturising ingredient. However, this also contains dimethicone so if your skin cannot tolerate it, this would be something to put into consideration. This cream is also free from fragrance and essential oils.
𝗧𝗲𝘅𝘁𝘂𝗿𝗲 and 𝗦𝗺𝗲𝗹𝗹
As it is made of snail secretion, the slightly slimey texture is of course expected. However, it is not as gooey as the Cosrx All in One Cream or Cosrx Snail 96 Mucin Essence.
The texture really deserves hype from me because for a snail product, it really impressed. It is not gooey at all for me as I am so used to the sticky snail mucin products from Cosrx that feel like snot haha. It is also wonderful because it sinks in so well! This reminds me of the Jumiso Have A Good Cream that I love so much but in a hydrating way. I can't detect any smell
𝙀𝙭𝙥𝙚𝙧𝙞𝙚𝙣𝙘𝙚
In my opinion, what makes this cream one of Mizon's best-selling products is its texture. If you're interested in trying snail products but the ick factor turns you off, then perhaps you would like this one as it does not feel gooey. It is only slightly sticky but once it settles down on the skin, there is no stickiness or slimey feeling at all. Besides, I think acne prone and oily/combination skin types would love the non-greasy and no slip texture of this.
My skin reacts well with this cream not only because snail is an ingredient that is proven to be suitable and benefiting to my skin but also because of other ingredients such as green tea and centella asiatica. Using this at night enables me to wake up with the softest skin! As an all in one cream, it sufficiently hydrates my skin, and it says that it can reduce the appearance of fine lines so this fits alright in my anti-aging regime. This reminds me of the Jumiso Have A Good Cream that I love so much but in a hydrating way. That one feels more moisturising (which suits dry skin more I reckon) while this one feels more hydrating (which suits oily/combination skin types more I guess).
The thing about snail is that how it repairs the skin from inside and how deeply soothing it is from within so I can feel my skin getting healthier and healthier each day. My redness has subsided and my skin rarely looks dull. My pores are still gigantic, though. I guess my pores need more than just skincare to make it appear less visible and wide.
This all in one cream is also my go to when I am feeling lazy or in a rush or sick as it is already so wholesome so my skin doesn't feel so left out even when my routine is super minimal. Other than that, it also sits well under makeup except for when paired with my CLIO cushion foundation because the combination makes my skin itchy ugh.
All in all, this brand's snail mucin collection is especially beneficial for those with oily/combination and also aging skin.
My rating: 5/5 This really works well for my skin and impressed me.
Will I repurchase: Definitely.
SHOP HERE
Mizon All-In-One Snail Repair Cream