Axis-Y is a brand that is quickly gaining love and popularity among KBeauty lovers especially the ones in Southeast Asia. With a tagline 'Climate-based Skincare', Axis-Y really appeals to my liking with their climate-inspired skincare solution such as the mugwort mask that they came up with in response to the recent Covid-19 pandemic that triggered the new coined term 'maskne' – acne that people get from wearing face masks for too long or simply an irritation to the fabric when worn sweaty or face is greasy. I have reviewed that Mugwort Mask before and now there is something new that I have repurchased: Axis-Y Cera Heart My Type Duo Cream.
This is a duo, 2-in-1 kind of cream that consists of a U-Zone Cream and a T-Zone Cream in the same packaging. The name Cera-Heart is attributed to the key ingredients of the two cream: Cera for Ceramide (U-Zone cream) and Heart for Heartleaf (T-Zone). The T-Zone one is formulated to hydrate oily skin without greasiness while the U-Zone is supposed to soften and support dry skin.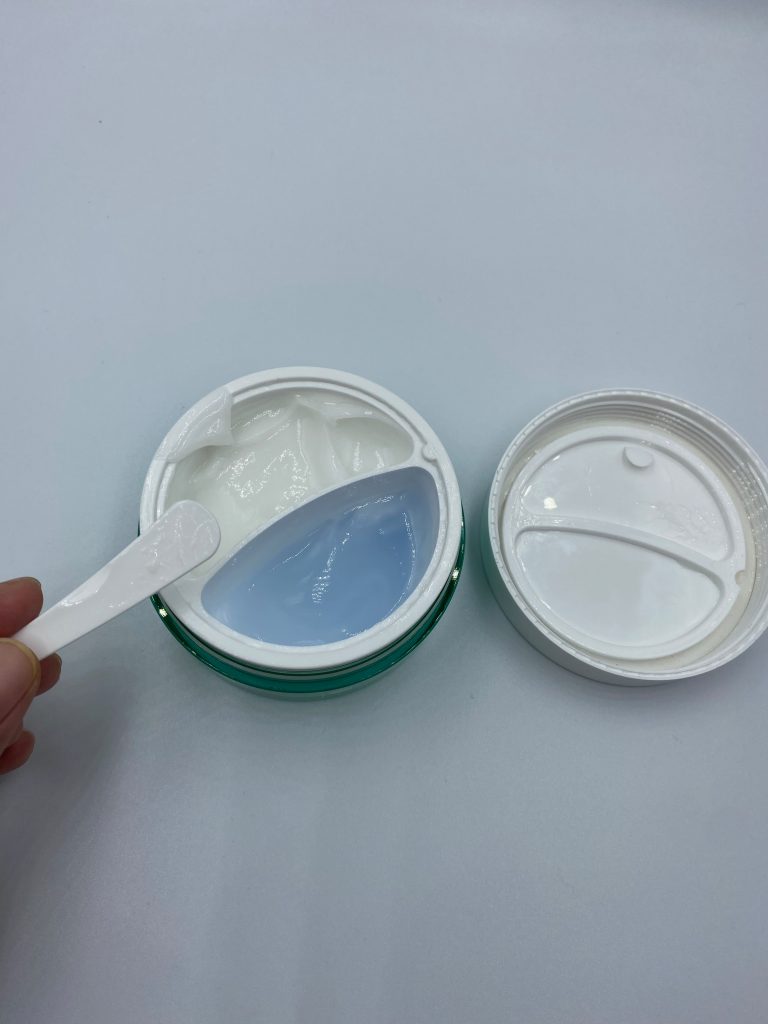 Ingredients
T Zone Cream
Water, Propanediol, Glycerin, Sodium Hyaluronate, Butylene Glycol, Sorbitol, Isohexadecane, Caprylic/Capric Triglyceride, Houttuynia Cordata Extract, Betaine, Centella Asiatica Extract, Glyceryl Stearate, Salvia Officinalis (Sage) Extract, Glycyrrhiza Glabra (Licorice) Root Extract, Sorghum Bicolor Leaf/Stem Extract, Aspergillus Ferment, Chlorphenesin, Arginine, Acrylates/C10-30 Alkyl Acrylate Crosspolymer, Allantoin, Sorbitan Sesquioleate, Ethylhexylglycerin, Xanthan Gum, Guaiazulene
U Zone Cream
Water, Butylene Glycol, Glycerin, Cetyl Ethylhexanoate, Simmondsia Chinensis (Jojoba) Seed Oil, Caprylic/Capric Triglyceride, Isohexadecane, Sodium Hyaluronate, Ceramide NP, Sorbitan Stearate, Glyceryl Stearate, Microcrystalline Wax, Sorbitol, Centella Asiatica Extract, Candelilla Cera, Sorbitan Sesquioleate, Sorghum Bicolor Leaf/Stem Extract, Aspergillus Ferment, Portulaca Oleracea Extract, Salicornia Herbacea Extract, Phragmites Communis Extract, Chlorphenesin, Arginine, Carbomer, Xanthan Gum, Allantoin, Ethylhexylglycerin *Please refer to the ingredients list on the product packaging for the most accurate list of ingredients.
Other than ceramide and heartleaf, these two unique formulas contain other notable ingredients such as centella asiatica which is rich in antioxidant to fight premature aging and improve skin moisture level, sage which is great at regulating sebum production + defending skin against bacteria and fungi + soothing irritation, rice to help brighten skin and reduce oil production, allantoin that aids in the healing of skin, increases skin smoothness and fights premature aging, purslane that is great for sensitive skin and stimulates collagen production, and sorghum that reduces appearance of wrinkles and supports the development of new skin. This product is vegan, Cruelty-Free, and is free from mineral oil, artificial fragrance and colouring, and paraben (if any of these is your concern, if it's not then it's okay I just thought that it's worth mentioning).
Texture and Smell
The T-Zone Cream comes in a light blue water gel cream texture that feels so hydrating from deep within. Me likey! It's almost like it melts into the skin.
Love how it spreads nicely on the skin. It takes some time to absorb and dries down quite dewy. This feels a lot like water creams. It also leaves no sticky or filmy residue.
The U-Zone Cream on the other hand is a rich creamy texture that feels velvety. It is not super viscous so it doesn't feel too heavy but not too lightweight either.
This one doesn't take long to absorb and it dries down velvety. It also leaves no sticky or filmy residue too.
How to Use
After toning and serum, apply appropriate amount of t zone cream for oily areas and u zone cream for dry areas or mix both for areas that need moisture and hydration. Use this as you would your moisturiser.
Experience
This concept really caters to my preference as I find that it works well for someone with a combination skin like me. Not only can I use both the T-Zone and U-Zone Creams according to the areas of my face, I can also use it according to the time of day too – for example, the T-Zone during the day and the U-Zone at night since I sleep in an air-conditioned bedroom.
The T-Zone cream really is a water gel cream with an adequate hydration level but a long-lasting one, making it a great cream for T-Zone and also for oily skin. On my skin it is not super greasy in the afternoon. Upon applying, I can feel the surge of hydration deep into the skin. I think people with oily or combination skin would really love the texture & the effect of this Heartleaf cream, really. If you are into water creams or water gel creams like the Krave Beauty's Oat So Simple one, Klairs Fundamental Water gel Cream one or even the high-end Tatcha one, I think you'll love this.
As for the U-Zone cream, I tend to reach for it at night (even for my T-Zone) because it really locks in moisture for someone who sleeps in an air-conditioned room all night. I don't really use it in the AM because it can feel quite heavy. This ceramide cream also calms any flaky patch or dry spot, especially after a night of chemical exfoliation. If your skin is irritated or feeling tight or taut (which indicates that your skin barrier is compromised) this would be a great choice to repair your skin barrier because it is also calming and great for barrier repair. The moisture provided is also long-lasting. Both of the creams do not clog my pores or make me itchy or irritated etc. I experience no bad reactions such as stinging sensation or redness or breakouts. To be honest, I repurchased this mainly for the T-Zone Cream hehe so if in the future should Axis-Y decides to sell this cream separately I would definitely be the first in line to stock up!
My rate: 5/5 for the T-Zone cream, 4/5 for the other so 4.5/5 for both
Would I repurchase this? I have repurchased this, baby!!!
SHOP HERE
Axis-Y Cera Heart My Type Duo Cream